Novo Nordisk A/S Closes the Books on a Tough Year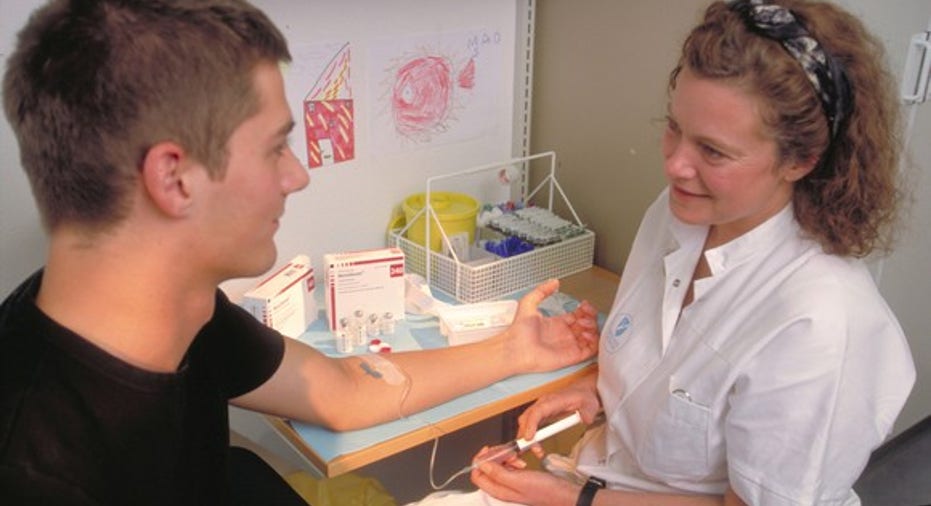 Novo Nordisk (NYSE: NVO) reported fourth-quarter earnings on Thursday with a warning that prices for insulin in the U.S. may continue to fall.
Image Source: Novo Nordisk.
Novo Nordisk results: The raw numbers
| Metric | 2016 | 2015 | Year-Over-Year Change |
| --- | --- | --- | --- |
| Revenue | 112 million DKK | 108 million DKK | 4% |
| Income from operations | 48.4 million DKK | 49.4 million DKK | (2%) |
| Earnings per share | 15.96 DKK | 13.52 DKK | 11% |
Data source: Novo Nordisk. DKK = Danish kroner.
What happened with Novo Nordisk this year?
Year-over-year sales growth in 2016 was 6% when measured in local currencies.
Victoza, Novo Nordisk's GLP-1 drug, continued its strong showing with a 12% year-over-year increase in sales in local currencies. The weight-loss version of the drug, Saxenda, saw sales increase by 245%, but its sales are only a fraction of Victoza's sales.
Sales of Tresiba, the once-daily new-generation insulin, grew 221% in local currencies, but its sales are still small compared to Novo Nordisk's other insulins -- NovoRapid, NovoMix, and Levemid -- which all saw sales fall year over year in local currencies.
Sales of its hemophilia drug NovoSeven were flat in local currencies.
In November, Novo Nordisk received FDA approval of Xultophy, which combines Victoza and Tresiba. Xultophy will be launched in the first half of this year.
Last month, EU regulators approved Fiasp, which will also launch in the first half of the year. The FDA rejected Fiasp last year, but management thinks it's addressed the problems the FDA identified, and plans to resubmit a marketing application within the next three months.
What management had to say
Novo Nordisk plans to use some of its cash to repurchase shares, but CFO Jesper Brandgaard noted that things could change: "The Board of Directors will additionally propose a new 12-month share repurchase program of up to DKK 16 billion. The total program may be reduced in size if significant product in-licensing or bolt-on acquisition opportunities arise during 2017."
Victoza has plenty of competition with other GLP-1 drugs, but new president and CEO Lars Fruergaard Jorgensen said the company is holding its own: "Despite intensified competition in the GLP-1 segment, Victoza continues to grow its sales volume. And with a market share of 50%, Victoza remains the market leader within the U.S. GLP-1 segment."
Looking forward
Management said revenue could fall 1% this year, or might grow by as much as 4%. Guidance for operating profit was just as wide, with a range of a drop of 2% to an increase of 3%.
Longer term, Novo Nordisk needs to diversify away from insulin that has become a commodity allowing insurers to negotiate better prices. The company could complement its hemophilia business with an acquisition, and growing sales of weight-loss drug Saxenda could also help deaden the blow from lower insulin sales.
10 stocks we like better than Novo Nordisk When investing geniuses David and Tom Gardner have a stock tip, it can pay to listen. After all, the newsletter they have run for over a decade, Motley Fool Stock Advisor, has tripled the market.*
David and Tom just revealed what they believe are the 10 best stocks for investors to buy right now... and Novo Nordisk wasn't one of them! That's right -- they think these 10 stocks are even better buys.
Click here to learn about these picks!
*Stock Advisor returns as of January 4, 2017
Brian Orelli has no position in any stocks mentioned. The Motley Fool recommends Novo Nordisk. The Motley Fool has a disclosure policy.