November Was a Great Month for Frack Sand Suppliers for 2 Reasons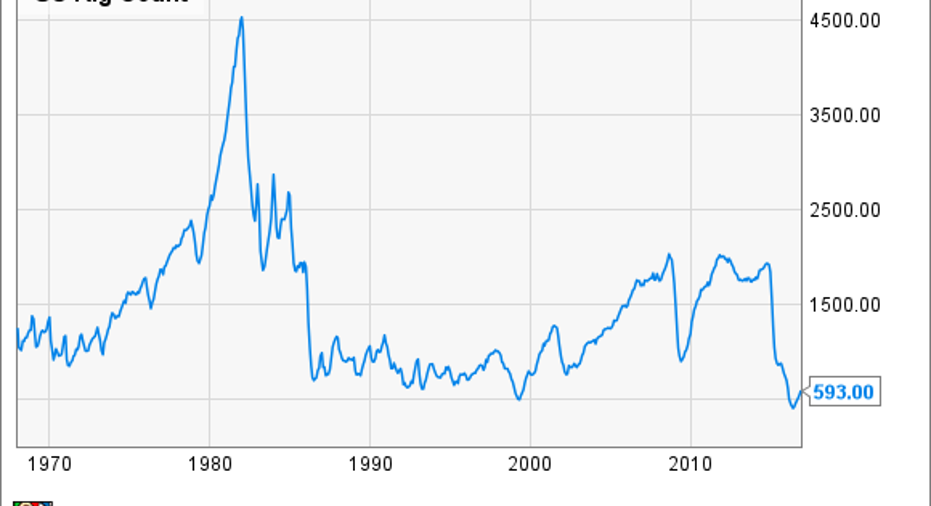 Image source: Getty Images.
What happened
Shares of frack sand suppliers saw large gains in November. Of the five largest sand suppliers, four saw gains greater than double digits. The one exception -- Emerge Energy Services (NYSE: EMES) -- had only a tiny increase, though.
So what
Before looking at the two big news events that sent shares of these companies soaring last month, there are some things that have happened over the prior few months to consider as well. Back in May, drilling activity across the United States hit one of the lowest points we have seen since we found out we could drill for the stuff. The total active rig count -- a proxy for overall drilling activity -- was at the lowest levels since we started keeping track, and some historians think it was the lowest rig count since the 1860s.
US Rig Count data by YCharts.
Since that time, though, rig counts have been on a steady rise to close to 600 total active rigs. More wells being drilled typically translates to more sand use from the oil and gas industry, and higher revenue for these companies.
We saw a bit of this recovery when all of these companies reported earnings in either late October or November that showed gains in volumes of sand sold. It didn't all translate to higher revenue, as sand prices are still low, but it is certainly a move in the right direction. The one company that didn't see a gain in volume was Carbo Ceramics; many producers have moved away from Carbo's manufactured ceramic proppant in exchange for mined white sands.
So with a little bit of optimism filling these companies' sails, the election of Donald Trump and his pledge to loosen restrictions on oil and gas drilling had a positive effect on just about every oil company, but it was especially significant for frack sand producers, since almost all of their business is in U.S. based shale drilling and their stocks are all coming off of huge declines over the past two-and-a-half years.
While that was a decent jump that seemed to change many investors' sentiments about the industry, it was still hard to parse out the tangible impact. The real change came at the end of the month, though, when OPEC announced that it was cutting the group's production by 1.2 million barrels per day. This cut should help clear the glut of excess supply in the market today, raise prices, and increase drilling activity from U.S. shale producers eager to fill that void.
The only reason that Emerge Energy Services didn't see the gains that others did this past quarter was because its early November earnings results didn't impress investors. While sand volumes rose, its operational losses stayed flat as increased costs of ramping up production offset any revenue gains.
Now what
The mood for oil and gas stocks has shifted quite a bit in recent months, and these two events in November will have some benefits for these stocks going forward. There are a couple things to keep in mind if you are looking to invest in this industry.
The first is that there are a lot of trends in the oil patch that favor frack sand suppliers. All of the technological advancements in drilling have all translated to increased sand use per well drilled, so the industry doesn't need to get back to the same levels of drilling for these companies to do well. According to several industry presentations, demand for sand in 2017 is expected to be higher than at the peak in 2014 because of these trends in drilling.
On the not-so-good-news side, several of these companies are still dealing with some balance sheet issues that will need to be fixed before shareholders reap the benefits. On top of some high debt loads, Hi-Crush, U.S. Silica, and Fairmount have been issuing shares to either fund current operations, pay off debts, or in the case of U.S. Silica, fund some small acquisitions. These will ultimately mean that per-share gains will be a little muted. Also, as master limited partnerships, Emerge and Hi-Crush may need a little while longer before they can reinstate their suspended distributions.
If you are looking to invest in the second wave of shale drilling in the U.S., frack sand suppliers may be the place to go. But investors do need to know that because of debt or various other reasons they may not be slam dunks.
10 stocks we like better than U.S. Silica Holdings When investing geniuses David and Tom Gardner have a stock tip, it can pay to listen. After all, the newsletter they have run for over a decade, Motley Fool Stock Advisor, has tripled the market.*
David and Tom just revealed what they believe are the 10 best stocks for investors to buy right now... and U.S. Silica Holdings wasn't one of them! That's right -- they think these 10 stocks are even better buys.
Click here to learn about these picks!
*Stock Advisor returns as of November 7, 2016
Tyler Crowe has no position in any stocks mentioned.The Motley Fool has no position in any of the stocks mentioned. Try any of our Foolish newsletter services free for 30 days. We Fools may not all hold the same opinions, but we all believe that considering a diverse range of insights makes us better investors. The Motley Fool has a disclosure policy.