Not Digging It! Here's Why Coeur Mining Inc. Shares Fell as Much as 10%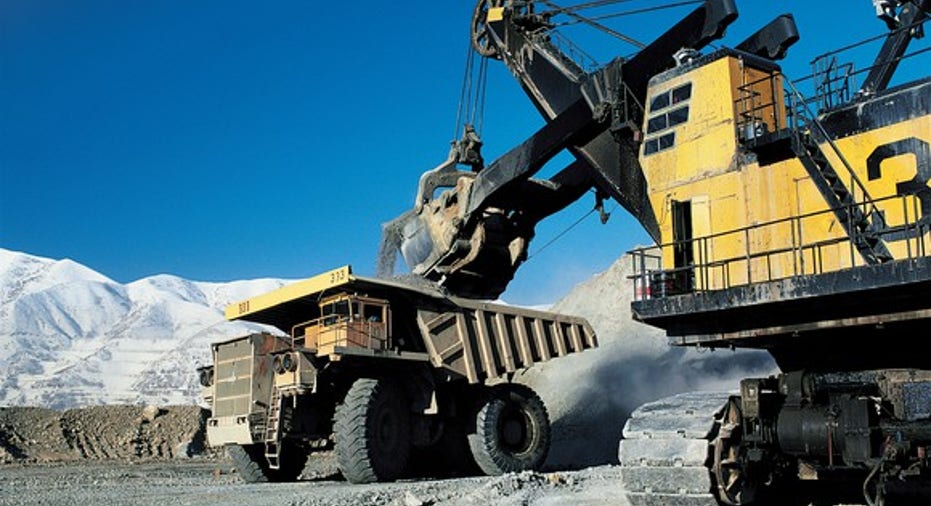 What happened
Shares of Coeur Mining (NYSE: CDE), a gold and silver mining company with assets located in North and South America, tumbled as much as 10% on Thursday following the release of its first-quarter earnings results after the closing bell on Wednesday. Shares of the company rebounded to close down only 6%, but it was pretty clear that Wall Street wasn't digging what Coeur Mining delivered.
So what
For the quarter, Coeur Mining reported $206.1 million in revenue, representing a 29% sequential quarterly increase and a 39% year-over-year improvement. This revenue was derived from the production of 3.9 million ounces of silver and 88,218 ounces of gold. As a whole, this works out to 9.2 million silver equivalent ounces (SEO), representing an 8% quarter-over-quarter decline and a 14% year-over-year increase.
Image source: Getty Images.
On a bottom-line basis, Coeur Mining generated $7 million in adjusted net income, or $0.04 per share. It also saw its quarterly cash flow from operating activities increase to $55.3 million, which represented a $48.7 million increase from Q1 2016.
So, what's the issue? Wall Street had been counting on Coeur Mining to report a more robust adjusted quarterly profit of $0.08 per share. This marked the second straight quarter that Coeur's earnings per share (EPS) missed the Street's EPS consensus.
Now what
Despite the earnings miss, there were clear bright spots. For example, companywide, all-in sustaining costs on an SEO basis fell by 6%, to $13.65 an ounce. Coeur Mining has aggressively been expanding existing operations and exploring its La Preciosa project, which has resulted in the company having among the highest AISC in the industry. To see its costs falling is a good step in the right direction.
Coeur Mining also ended the first quarter with $210 million in cash and cash equivalents, representing a $50 million increase from Q1 2016. Part of this increase relates to its $27.4 million sale of the Joaquin Project, but it also speaks to Coeur's growing operating cash flow and its ability to reduce its existing debt.
Image source: Getty Images.
Perhaps the most important line within Coeur's report was the following: "Concurrent with our increased exploration activities, our expansion initiatives at Palmarejo, Rochester and Kensington remain on schedule and on budget." Palmarejo is expected to yield a 50% production increase in 2017 from higher ore-grade underground operations, while higher-grade ore at Kensington should help further reduce costs.
Currently, Wall Street is projecting $1.43 in annual cash flow per share (CFPS) for Coeur Mining in 2018, implying a forward CFPS of just 6.2. With most gold and silver miners valued closer to 10 times their CFPS, Coeur Mining may actually be an intriguing value here, after its latest tumble.
It's always possible that its aggressive spending could come back to bite shareholders for another quarter or two, but over the long term, Coeur's efforts should pay off handsomely for shareholders.
10 stocks we like better than Coeur MiningWhen investing geniuses David and Tom Gardner have a stock tip, it can pay to listen. After all, the newsletter they have run for over a decade, Motley Fool Stock Advisor, has tripled the market.*
David and Tom just revealed what they believe are the 10 best stocks for investors to buy right now... and Coeur Mining wasn't one of them! That's right -- they think these 10 stocks are even better buys.
Click here to learn about these picks!
*Stock Advisor returns as of April 3, 2017
Sean Williams has no position in any stocks mentioned. The Motley Fool has no position in any of the stocks mentioned. The Motley Fool has a disclosure policy.