Norwegian probe: Gearbox failure cause fatal 2016 crash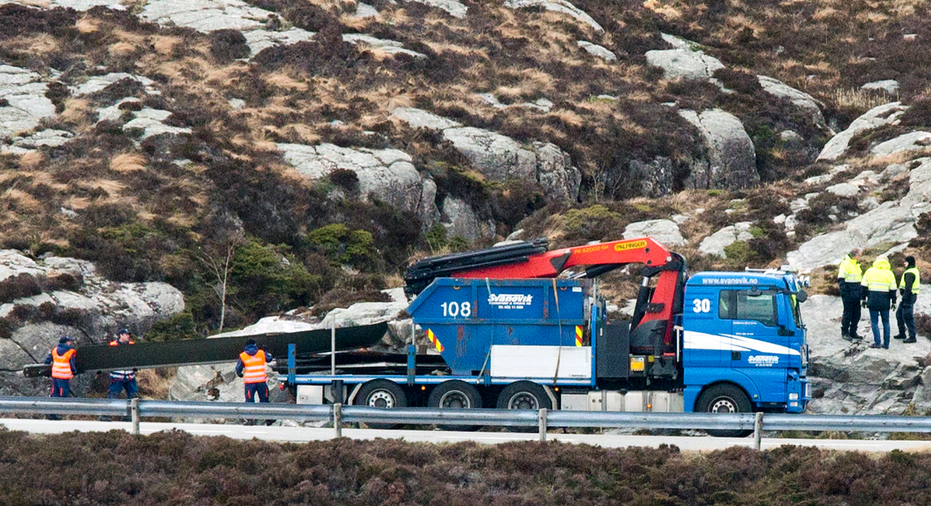 "A fatigue fracture" in the main rotor gearbox caused an Airbus helicopter to crash off western Norway in 2016, killing all 13 people on board, Norway's Accident Investigation Board said Thursday.
The Airbus EC-225 helicopter was carrying workers from an offshore rig in the North Sea before it went down on Turoey, a tiny island outside Bergen, Norway's second-largest city. Eleven Norwegians, one Briton and one Italian were killed.
The helicopter's rotor blade spiraled down minutes before the aircraft crashed, and the rotor was found on land, a hundred meters (yards) from the fuselage that crashed into the sea.
The board's final report excluded human error and maintenance actions by the helicopter operator.
The probe "has shown that the combination of material properties, surface treatment, design, operational loading environment and debris gave rise to a failure mode which was not previously anticipated or assessed," it said in its conclusion.
Agency spokesman Kaare Halvorsen urged Airbus to revise the gearbox design.
The Toulouse, France-based Airbus Helicopters "welcomes the conclusion of the investigation and takes notes of the findings in the report" the company said in a statement.
The group stressed an "extensive analysis of the accident has led to the development of a set of safety measures approved by global aviation authorities."
The crash bore similarities with a fatal 2009 accident off Scotland with a similar type of helicopter in which 16 people died. In that accident, a helicopter plunged into the North Sea during clear, calm and sunny conditions, killing two crew and 14 oil workers.
Airbus Helicopters acknowledged similarities yet said "without key evidence at the time, it was impossible to put in place measures which might have prevented" the accident in Norway.
Norway's largest oil and gas company — then known as Statoil, now Equinor — said the 11 passengers killed were employed by various companies: the Houston-based Halliburton Co. and Schlumberger N.V., Norwegian firms Aker Solutions and Karsten Moholt, the Danish robotics company Welltec, and Statoil.