Northrop Grumman to Expand DARPA's Hush-Hush Drone Project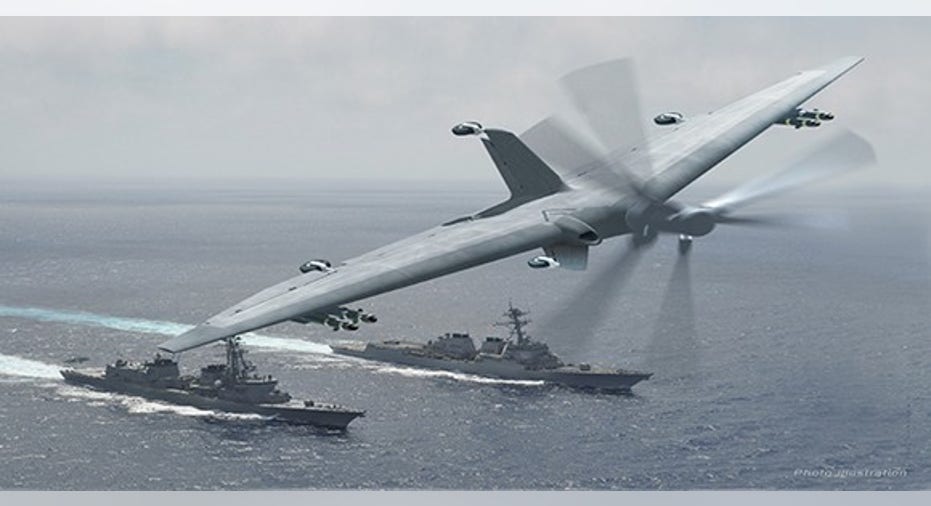 Artist's concept of Northrop Grumman's new TERN combat drone in action. Image source: DARPA.
It's been eight months now since we got our first hint that AeroVironment had lost its shot at building a shipborne combat drone for the U.S. Navy. It's been five months since we received confirmation that Northrop Grumman had won the contract and would begin work building a tactically exploited reconnaissance node drone, or TERN, for the fleet.
Now, we're getting our first information on how much bigger of a deal this will be for Northrop Grumman -- and how much bigger of a loss for AeroVironment -- than initially thought.
Time for TERN
Described as a "flying wing helicopter," powered by two "10-foot counter-rotating rotors," triangular in shape and measuring 40 feet on a side, TERN will initially be designed for reconnaissance missions, hence the name. But as mil-tech website BreakingDefenseexplained last year, the ultimate goal is to turn TERN into a weapons system.
Carried aboard a small warship -- as small as one of the Navy's new littoral combat ships -- TERN will be capable of launching from the warship's helo deck carrying 600 pounds of ordnance, striking targets hundreds of miles distant, and then returning to land back on deck -- no aircraft carriers required.
TERN by the numbers
Back in January, DARPA named Northrop Grumman the winner of a $93.1 million "phase 3" contract to "design, develop, and demonstrate enabling technologies and system attributes for a medium-altitude long-endurance unmanned air vehicle and shipboard-capable launch and recovery system allowing operations from smaller ships." But it seems this sum was just the beginning of the money flow for Northrop -- not the end.
On Friday, the Pentagon's daily digest of contracts awarded confirmed that DARPA is paying Northrop Grumman an additional $17.8 million "for additional tasks" under the phase 3 contract awarded in January. Specifically, Northrop will build, assemble, and "check out ... a second TERN TDS Air Vehicle (AV-2)."
What it means to investors
Does $17.8 million sound like an insignificant sum? In a sense, it is. According to data from S&P Global Market Intelligence, Northrop Grumman generated in excess of $23.5 billion in revenue last year, so $17.8 million doesn't amount to even a drop in that bucket of revenue.
Even so, Friday's contract news conveys two crucial pieces of intelligence to Northrop Grumman investors: First, there's the fact that the funds will be used to build "a second" TERN tells us that Northrop has already successfully built a first TERN -- and presumably, that it works as intended. (Otherwise, it wouldn't be duplicating it.) The company is on track with this contract.
Second, the $17.8 million awarded tells us that TERN is a more valuable program than we initially thought. In January, I posited a $10 million hypothetical purchase price for each TERN produced and argued that if the Navy buys just one TERN for each of the 272 warships in its "battle force," that could make TERN a potential $2.7 billion moneymaker for Northrop Grumman.
Will the Navy ultimately buy 272 TERNs for its fleet? Maybe, maybe not. It could buy TERNs for less than its full fleet. Or it could buy two per ship -- 544 TERNs total. Or three -- 816 TERNs. At this point, it's impossible to tell. What we do know now, that we didn't know then, is that each TERN the Navy buys is likely to generate 78% more revenue for Northrop Grumman than accounted for in my initial estimate.
Whether that works out to $4.8 billion in total acquisitions ($17.8 million times 272), or $9.6 billion, or $14.4 billion -- or less, or more -- one thing seems sure: This is a program that will ultimately be measured in the billions, not millions.
The article Northrop Grumman to Expand DARPA's Hush-Hush Drone Project originally appeared on Fool.com.
Fool contributorRich Smithdoes not own shares of, nor is he short, any company named above. You can find him onMotley Fool CAPS, publicly pontificating under the handleTMFDitty, where he's currently ranked No. 288 out of more than 75,000 rated members.The Motley Fool recommends AeroVironment. Try any of our Foolish newsletter services free for 30 days. We Fools may not all hold the same opinions, but we all believe that considering a diverse range of insights makes us better investors. The Motley Fool has a disclosure policy.
Copyright 1995 - 2016 The Motley Fool, LLC. All rights reserved. The Motley Fool has a disclosure policy.