Northern Indiana tribe to break ground on tribal village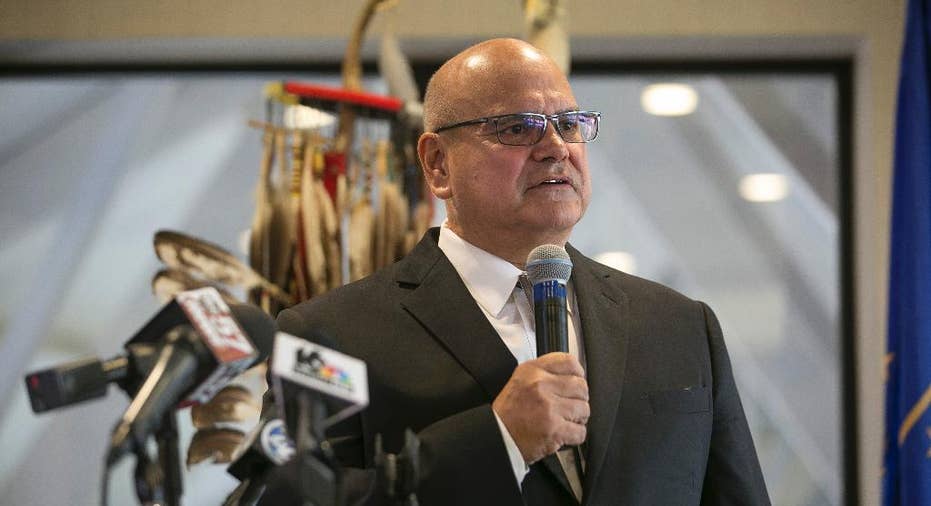 Members of the Pokagon Band of Potawatomi Indians on Tuesday celebrated becoming the first tribe in Indiana to have land returned to it from the federal government, a move expected to dramatically change the landscape of gaming in the state with what is expected to be its largest casino.
The Bureau of Indian Affairs has approved plans for a $400 million development that calls for an 18-story hotel and casino on nearly 166 acres in South Bend that officially on Monday was placed in trust, ending a four-year review process. Tribal Chairman John Warren recalled being overcome with emotion when he got a call Friday from Lawrence Roberts, principal deputy assistant secretary of Indian Affairs, telling him the tribe which already has 3,204 acres at three sites in southwestern Michigan would now also have land in Indiana.
"I was so emotional I couldn't get anything out of my mouth," Warren said, adding that Roberts hung up and called back because he thought it was a bad connection. "I said it wasn't the connection, I couldn't get the words out."
Warren wouldn't comment on casino plans, saying he wanted to focus on an Indian tribe having sovereign land in Indiana for the first time in 200 years.
"Today is a celebration of our homeland," Warren said as about 100 tribal members attending the event cheered.
Planning documents indicate the tribe is planning 216,000 square feet of gaming floor space for its casino. According to Indiana State Gaming Commission's annual report, the current largest casino by gaming floor space is the Hollywood Casino in Lawrenceburg with 175,500 square feet, followed by the Horseshoe Casino Hammond with 108,000 square feet. None of the other 11 casinos have more than 87,000 square feet.
Documents previously provided by the tribe show it plans to have up to 3,000 slot machines, parking for up to 4,000 vehicles and expect to draw up to 4.2 million visitors a year.
"This will be a game-changer, particularly for the five northern casinos along Lake Michigan," said Ed Feigenbaum, editor of the Indiana Gaming Insight newsletter.
Most casinos in Indiana are paying taxes of about 35 percent while the Pokagon must reach a compact with the state, along with the 2 percent of gambling profits it has agreed to pay South Bend, that likely will be less than 3 percent, he said. The tribe also could have other amenities that would draw patrons, such as a gas station that doesn't charge federal and state excise taxes.
"They have all kinds of advantages over state-licensed casinos," he said.
Matt Bell, president and CEO of the Casino Association of Indiana, said the tribal casino will have a significant impact on money the state receives from gambling.
"I think it's fair to say that we believe the impact to the state will be in the neighborhood of hundreds of millions of dollars over the next five years," he said.
The state received $602.09 million in fiscal 2016, down from $617.927 million in 2015 and $653.34 million in 2014. Bell said casinos are taking in less because of increased competition from surrounding states.
South Bend Mayor Pete Buttigieg said the tribe hasn't given him a timetable for building the casino.
Warren says ground will be broken Wednesday on the first phase of housing that would include eight housing units that should be completed by June. He says 100 tribal members are waiting for homes.