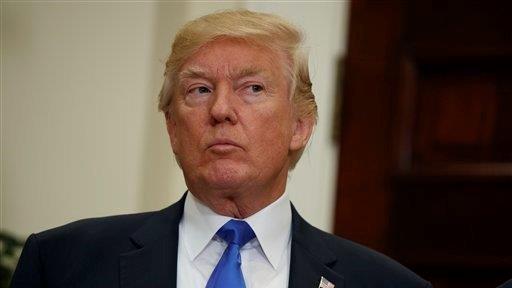 Following Pyongyang's threats and President Donald Trump's pledge to bring "fire and fury" on North Korea, aerospace and defense sector-related exchange traded funds are coming back under the spotlight as a Trump play.
Despite geopolitical risks weighing on the markets, many are putting a renewed focus on the aerospace and defense industry as a means to play Trump's more hawkish rhetoric and plans to expand U.S. military operations. For instance, the White House has proposed a nearly 10% hike in the military budget to $603 billion for the fiscal 2018 year in February.
"This budget will be a public safety and national security budget," Trump in late February, calling for a "historic increase in defense spending to rebuild the depleted military of the United States of America at a time we most need it."
More From FOXBusiness.com...
The latest round of saber rattling has fueled the outlook on defense spending after North Korea promised to "turn the U.S. mainland into the theater of a nuclear war" at the first sign of U.S. aggression and Trump's threat of "fire, fury and frankly power the likes of which this world has never seen before."
Looking ahead, the aerospace and defense sector may have more room to fly. Increasing geopolitical tensions that fuel the news cycle around the Mideast, North Korea and Russia could continue to support defense spending. The budget is expanding over the next few years after the recent contraction.
The sector also looks attractive on a technical basis.
The positive outlook could drive "total return of ~12%, consisting of ~10% annual EPS growth and ~2% dividend yields, which should sustain relative valuations," according to a recent Morgan Stanley note.
Potential investors interested in the aerospace and defense segment have a few ETF options to choose from, including the iShares U.S. Aerospace & Defense ETF (NYSEArca: ITA), PowerShares Aerospace & Defense Portfolio (NYSEArca: PPA) and the SPDR S&P Aerospace & Defense ETF (NYSEArca: XAR).
ITA is a cap-weighted ETF, meaning it has larger weights to big-name defense stocks, including Dow components Boeing (NYSE: BA) and United Technologies (NYSE: UTX). XAR is an equal-weight ETF. PPA holds 50 stocks involved in the development, manufacturing, operations and support of US defense, homeland security and aerospace operations.
Additionally, the recently launched Direxion Daily Aerospace & Defense Bull 3x Shares (NYSEArca: DFEN) has experienced some rising demand among the trading community as a way to play the heightened tensions. DFEN, which was launched in May 2017, has $13.0 million in assets under management, and the ETF was trading at 77,000 shares Thursday, compared to its average daily volume of around 19,000 shares, according to Morningstar data.
This article was provided courtesy of our partners at etftrends.com.