North Korea: Just Another Hissy Fit or Looming Geopolitical Crisis?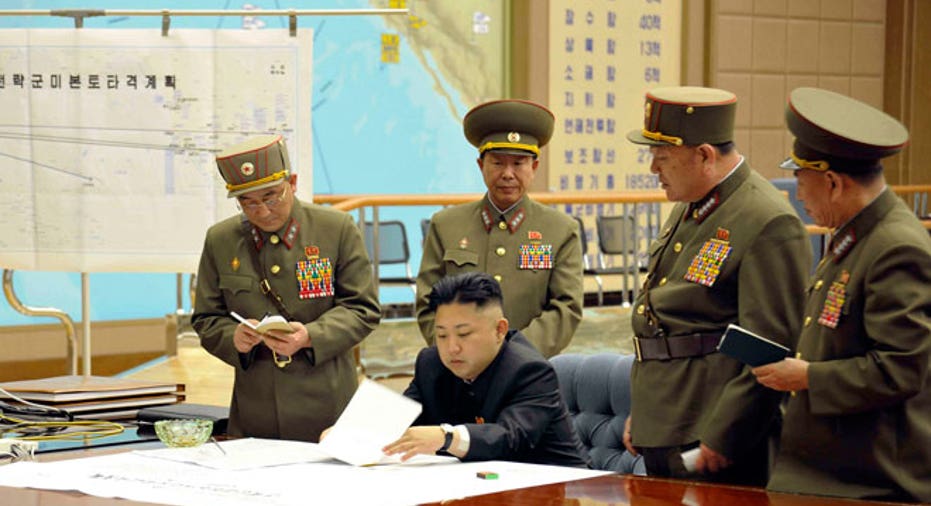 Wall Street's geopolitical concerns usually center on the Middle East, but investors are now nervously listening to the saber-rattling emerging from the Korean peninsula that seems to grow louder each day.
For now, market participants are betting the latest round of threats from North Korea represent just another springtime temper tantrum by a regime starving for attention, legitimacy and economic aid.
While an all-out war in the volatile region remains unlikely, observers warn that the existence of a new cast of characters in this annual charade raises the chances of a costly miscalculation that could quickly spiral out of control.
"This is an extremely bellicose and crazy government in Pyongyang. There is the great potential for miscalculation here," said Carla Anne Robbins, an adjunct senior fellow at the Council on Foreign Relations. "Even if neither side wants to go to war, there is the potential for something pretty nasty to happen here."
Even if the two sides avert a scary military clash, the rising tensions threaten to set off a longer-term nuclear arms race on the borders of U.S. rival China.
Beating the War Drums
The tensions between nuclear-armed North Korea and U.S.-allied South Korea are easily at their highest since 2010 when Seoul showed enormous restraint after the sinking of a warship killed 46 sailors.
In recent weeks North Korea once again promised to scrap its 1953 armistice with South Korea, threatened to launch a pre-emptive nuclear strike on the continental U.S. and pledged to restart a nuclear reactor shut by a 2007 disarmament agreement.
The U.S. has responded by flexing its military muscle, flying stealth fighters and bombers over the Korean peninsula, including the nuclear-capable B-2 and B-52 bombers. South Korea has pledged to respond emphatically to any provocation.
The North Koreans "have a long history of throwing tantrums and sometimes being rewarded for it," said Robbins. "This seems to have a new tone to it and a new dynamic."
Leadership Changes Risk Miscalculation
That new dynamic is highlighted by new faces in the leadership positions of the key players in this standoff.
Following the death of his father Kim Jong-il, North Korea is now led by Kim Jong Un, an untested young leader who is attempting to establish his credibility with the country's military leadership. Believed to be just 29 or 30 years old, little is known about the Kim's temperament or motivations.
"How would you feel about a 30-year-old with his finger on the nuclear trigger?" said Scott Snyder, a senior fellow for Korea studies at the Council on Foreign Relations.
Just over a month ago Park Geun-hye became the first female president of South Korea, a staunch U.S. ally with a $1.15 trillion economy, fourth-largest in Asia.
After seeing the political damage inflicted on former President Lee Myung-bak after he refused to retaliate against North Korea in 2010, Park has taken a decidedly more hawkish stance. On Monday she promised to quickly strike back with a "strong response in initial combat" to "any provocation against South Korea" without "any political considerations."
"There's a greater potential for miscalculation by Kim Jong Un than his father and grandfather. South Korea is also more likely to respond militarily than in the past," said Bruce Klinger, a former CIA analyst who is currently a senior research fellow for northeast Asia at the conservative Heritage Foundation.
In addition to the more aggressive South Korean government, Klinger pointed to a slew of changes made by Seoul in the wake of the 2010 clash, including loosened rules of engagement, increased forces in critical areas and new sensors aimed at detecting submarines.
Concerns of Localized Conflict
At the same time, China, which North Korea depends on for a large chunk of its food and fuel, is now led by Xi Jinping, who has embraced a more hawkish philosophy than his predecessor and envisions a stronger military. China remains concerned about any destabilization of North Korea fueling a refugee crisis along the two countries' 880-mile border.
For its part, the standoff between the U.S. and North Korea marks the first test of two of President Obama's newest Cabinet members: Secretary of Defense Chuck Hagel and Secretary of State John Kerry.
Almost every spring North Korea throws the geopolitical equivalent of a hissy fit, often as part of an attempt to gain badly-needed economic aid. More often than not, Pyongyang's threats amount to nothing, but some are concerned this year may be different.
"Maybe they think they're playing the old game, but the U.S. has indicated it doesn't want to play that game again," said Snyder.
"There is risk of a potential longer-term destabilization of the region."
The biggest fear is that this new cast of characters will misread each other, prompting a conflict that could quickly escalate.
"I think everybody should be a little bit nervous about this," said Robbins. "A huge amount of damage could be done to Seoul in a short amount of time."
Snyder said he doesn't believe the latest tensions will result in a "sustained second Korean war," though he sees a chance of a "pretty localized conflict."
Nuclear Arms Race Ahead?
For now, U.S. and Asian markets have taken headlines out of North Korea in stride -- the S&P 500 has rallied 3% over the past month, while South Korea's KOSPI is off 2% -- but investors are clearly monitoring the situation closely.
"While the latest round of saber-rattling out of North Korea is unsettling, it may reflect the growing pains of the country's relatively new and very young leader," Ed Yardeni, president of investment advisory Yardeni Research, wrote in a note to clients this week.
Yardeni, who added North Korea to his worry list, noted that "the market rarely discounts geopolitical risks" because "there are too many of them, and they tend to come and go." He said military conflicts "can send stocks reeling," but that "such plunges tend to be buying opportunities as the crisis abates."
Art Cashin, director of floor operations at UBS (NYSE:UBS), wrote a note on Tuesday saying that while "North Korea continues to raise the terms and the rhetoric of a war-like posture," the markets are noting "there have been no significant troop movements so far."
Even if the near-term worry of a military conflict eases, the experience may have spooked key U.S. allies enough that they ramp up their own weapons programs.
According to The Wall Street Journal, South Korea is now pushing the White House for permission to produce its own nuclear fuel, alarming nonproliferation experts who fear such a move could trigger a nuclear-arms race among the likes of Japan, Taiwan, Jordan, Vietnam and Saudi Arabia.
"There is risk of a potential longer-term destabilization of the region," said Robbins.
Google Trends: North Korea Searches on the Rise