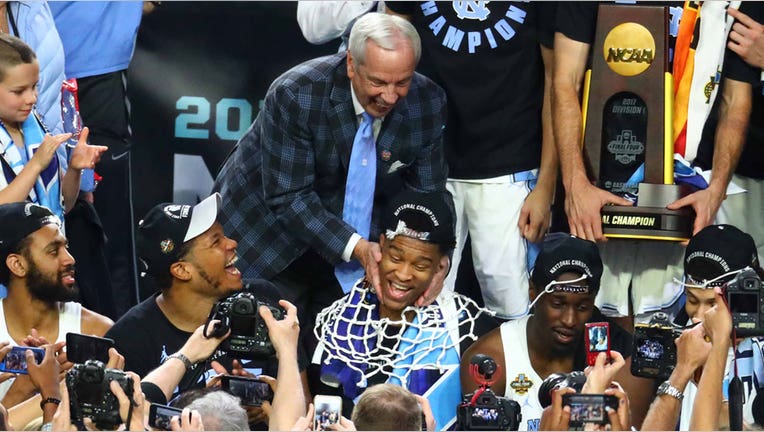 The specter of heartbreak loomed over North Carolina all season long, hovering over perhaps college basketball's most storied program like a shadow, an inescapable reminder of its disappointment from a year ago.
As much as these players tried to suppress the memory, the image of Kris Jenkins's buzzer-beater dropping through the hoop and Villanova storming the court in celebration kept replaying in their minds. One revolution of the calendar doesn't eliminate the pain caused by coming so close to experiencing the indescribable euphoria of victory, only for the feeling to vanish with the gentle swish of a net.
But in rare cases, sports provide an opportunity for second chances. And on Monday night, 364 days after seeing their moment of glory snatched away in devastating fashion, the Tar Heels took full advantage.
North Carolina won its sixth national championship, withstanding a relentless Gonzaga attack to escape with a dramatic 71-65 win here at University of Phoenix Stadium. The contest remained close into the final seconds, when a blocked Gonzaga shot turned into a runaway dunk for UNC's Justin Jackson, sealing it for the Tar Heels.
It couldn't completely erase what North Carolina endured in 2016. Nothing could. On this night, however, the Tar Heels avenged it. For sure, they knew the stakes: Since last summer, UNC's players maintained a group text message chain entitled, "Redemption."
"This is exactly what it means," senior guard Stilman White said this weekend. "We had the goals of going back to the Final Four. We knew we had the team."
White could say that with such confidence because of the familiar composition of North Carolina's roster. Virtually every key contributor on this year's squad returned from last season, making the Tar Heels' quest for redemption personal. Instead of relying on one-and-done freshmen sensations, UNC turned to experience and veteran leadership, leaning on four upperclassmen for about two-thirds of its offensive output this year.
That paid off Monday, as North Carolina held off a Gonzaga team that refused to yield. In a game filled with fouls, missed free throws and overall ugliness on both ends of the court, the Tar Heels prevailed. Joel Berry II led the way with 22 points, while Jackson added 16. Trailing by three at halftime, UNC held Gonzaga to 27.6% shooting in the second half.
The Tar Heels didn't necessarily set out to build a team loaded with juniors and seniors. They couldn't help it. North Carolina continues to deal with an academic scandal that could ultimately result in NCAA sanctions.
UNC coach Roy Williams spoke at length this week about how the ongoing investigation still hurts the Tar Heels in recruiting, with top high-schoolers afraid of the possibility of facing penalties when they arrive. It also cast a bit of a pall over the evening's festivities, with the NCAA handing a trophy to a team that it could soon punish.
But whatever the future holds for the program, none of that should diminish what this group accomplished, whose players got to UNC after the scandal came to light. Earlier this week, Williams heaped praised on Jackson, Berry and Theo Pinson for choosing to honor their commitments to North Carolina, in spite of the team's uncertain future.
"They stuck with us," Williams said "They trusted me. That was one of the most satisfying things I've ever had."
On Monday, those players rewarded Williams by delivering a national championship, the third of his Hall-of-Fame career. North Carolina earned it, knocking off a Gonzaga squad that looked like the best team in the country for effectively the entire season.
The Bulldogs entered the national championship game with a nearly flawless record of 37-1, reaching the Final Four for the first time in program history. In its 19th consecutive NCAA tournament appearance, Gonzaga finally shed its reputation as a Cinderella once and for all and established itself as a true powerhouse, steamrolling practically everyone who stood in its way.
North Carolina, however, proved a bit too much, sending Gonzaga into the summer to plan for its much-anticipated encore.
At this point, the Tar Heels know that position all too well, with the wounds from last season still fresh. On Sunday, Williams described walking into the locker room after that loss as "the most difficult time I've ever had as a coach, because I felt so inadequate."
After North Carolina cut down the nets, Williams strutted into the locker room Monday night with an entirely different purpose: to congratulate his team for climbing to the top of the college basketball universe.
Write to Jared Diamond at jared.diamond@wsj.com