Nordson Corporation Beats Expectations (Again)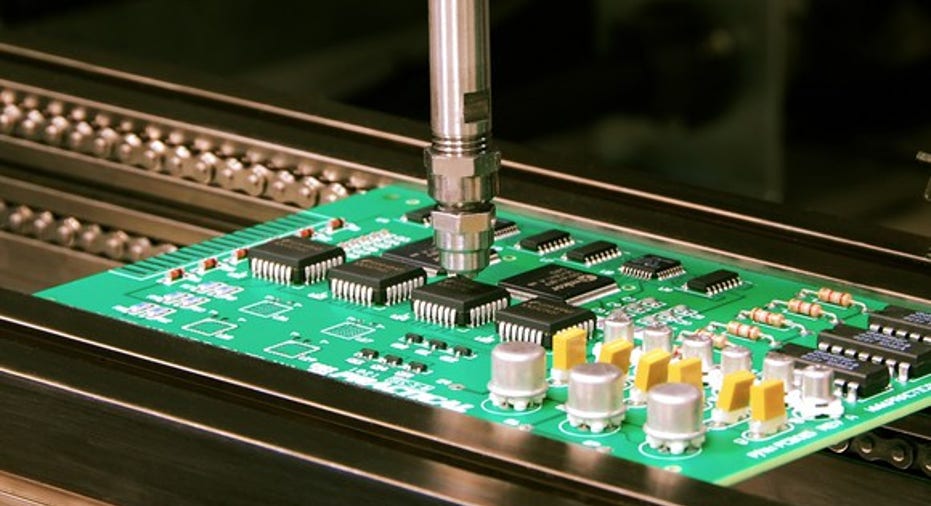 Nordson Corporation (NASDAQ: NDSN) released fiscal second-quarter 2017 results on Monday that easily exceeded expectations, highlighting broad-based organic growth and solid contributions from its recently acquired businesses.
With shares up modestly in after-hours trading as of this writing, let's have a closer look at how the adhesive dispensing equipment specialistfinished the first half of its fiscal year, as well as what investors can expect going forward.
IMAGE SOURCE: NORDSON CORPORATION.
Nordson results: The raw numbers
*FOR THE QUARTER ENDING APRIL 30, 2017. DATA SOURCE: NORDSON CORPORATION.
What happened with Nordson this quarter?
On an adjusted (non-GAAP) basis -- which adds perspective by excluding items like acquisition and restructuring costs -- earnings per diluted share increased 13.4% year over year to $1.35.
Year-over-year revenue growth was comprised of a 9% increase in organic volume, a 6% contribution from acquired businesses, and a 2% negative impact from unfavorable foreign currency translation. By comparison, Nordson's guidance provided last quarter-- which, to be fair, didn't include contributions from the April 3, 2017, closing of its acquisition of Vention Medical's Advanced Technologies business -- called for lower organic growth of 3% to 7%, and a 2% contribution from acquisitions.
Operating margin was 29%, also above guidance for 24%.
Revenue by segment included the following:
5% growth in adhesive dispensing systems sales volume, driven by general product assembly and polymer processing product lines.
34% growth in advanced technology systems sales volume, including 18% organic volume growth and 16% from acquisitions. Organic growth was broad-based across electronics, medical, and industrial end markets.
3% growth in industrial coating systems sales volume, driven by liquid painting and container coating products.
Revenue by geography included the following:
18.9% growth in the United States to $156.1 million,
8.2% growth (8.3% excluding currency) from the rest of the Americas to $36.3 million,
2% growth (6.6% excluding currency) in Europe to $128.5 million,
5.1% growth (4.9% excluding currency) in Japan to $30.9 million,
22.9% growth (24.2% excluding currency) in the Asia-Pacific region to $144.4 million.
What management had to say
Nordson CEO Michael Hilton stated:
Looking forward
For the current fiscal third quarter, Nordson expects revenue growth of 15% to 19%, as 6% to 10% organic volume growth and 10% growth from acquisitions will more than offset a 1% currency headwind. Nordson also expects operating margin of roughly 24%, and GAAP diluted earnings per share of $1.51 to $1.65.
"We are forecasting strong third-quarter organic sales volume growth in each of our segments, given the strength of our current backlog, recent order rates, and project activity," Hilton elaborated. "Our recent acquisitions add to our profitable growth opportunities, particularly Vention AT, which significantly expands our medical platform and remains on track to deliver $0.05 to $0.10 EPS accretion this fiscal year, excluding transaction costs."
In the end, it's hard for investors to ask much more of Nordson than it delivered in its latest impressive quarter. With shares touching a fresh all-time high on Monday ahead of this release, I think Nordson shareholders should be more than happy with their company right now.
10 stocks we like better than NordsonWhen investing geniuses David and Tom Gardner have a stock tip, it can pay to listen. After all, the newsletter they have run for over a decade, Motley Fool Stock Advisor, has tripled the market.*
David and Tom just revealed what they believe are the 10 best stocks for investors to buy right now... and Nordson wasn't one of them! That's right -- they think these 10 stocks are even better buys.
Click here to learn about these picks!
*Stock Advisor returns as of May 1, 2017
Steve Symington has no position in any stocks mentioned. The Motley Fool owns shares of Nordson. The Motley Fool has a disclosure policy.