Nokia, Onetime Cell-Phone Champ, Turns to Bathroom Scales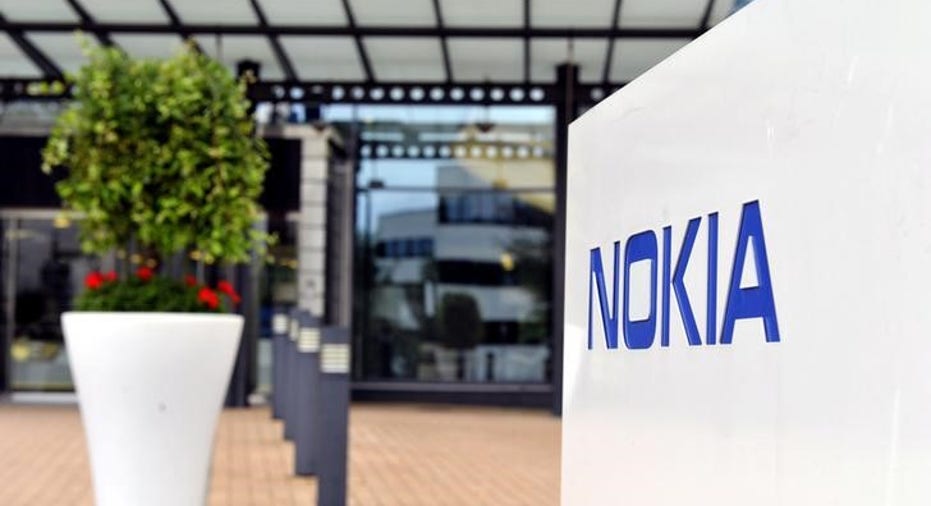 Nokia Corp. (NYSE:NOK), once the world's undisputed cellphone superpower, is attempting a consumer-electronics comeback. Its strategy: sell $100 bathroom scales.
The company stopped selling personal devices in 2014, when it sold its slumping mobile-phone division to Microsoft Corp. (NYSE:MSFT). Instead, it focused on making equipment for cellular towers and other infrastructure that enables modern communication.
Believing its consumer brand still carries cachet, however, Nokia is jumping back into the gadgets business. It makes a virtual-reality camera for professional filmmakers and has outsourced the production of Nokia-branded phones. Its biggest in-house focus, though, is internet-connected health devices, including scales, blood-pressure monitors and forehead thermometers. It bought a French startup last year that made the devices, and plans to stamp its all-caps Nokia logo on the products by this summer.
Nokia's consumer-electronics comeback, and its new bid to lead the budding market for personal digital health devices, relies on its name. It says its research shows more than 95% of consumers world-wide know its brand.
"We've got great permission to win this category," said Rob Le Bras-Brown, chief marketing officer of Nokia's division overseeing consumer products. "We think we're pushing against an open door here."
Skeptics abound. Relying on the Nokia name won't sell health devices in itself, said Annette Zimmermann, an analyst at research-firm Gartner Inc. (NYSE:IT). Nokia is still well-known throughout the developing world for its low-end phones. But it has lost its luster in the U.S. and wealthier countries.
"Nokia as a name has a meaning," Ms. Zimmermann said. "But it's not one that still stands for a great product or great innovation."
Nokia says it expects digital-health-device sales to grow in 2017, but didn't reveal specifics. The Nokia division comprising health devices, virtual-camera business and phone-licensing business brought in €1.1 billion ($1.2 billion) in 2016, or 4% of Nokia's total revenue. Telecom-equipment sales last year came in at €21.8 billion, or 91% of overall revenue.
The shift is the latest for the Finnish company. It began in 1865 as a wood-pulp business, drawing its name from the Nokianvirta River on which it operated a mill. Over the next century, Nokia expanded into industries including electronics, rubber and defense. It made computers, gas masks and rain boots.
Nokia pioneered cellular technology for both phones and equipment in the 1980s. But after Apple Inc. (NYSE:AAPL) and Samsung Electronics Co. emerged, dominating the new smartphone market, Nokia lost ground and eventually sold its mobile-phone business to Microsoft.
Chief Executive Rajeev Suri beefed up its already-large telecommunications-equipment business through the 2016 acquisition of rival Alcatel-Lucent. That business is hitting headwinds. Wireless carriers largely have the infrastructure they need, and Nokia and Nordic rival Ericsson AB face new competition from Asian competitors such as China's Huawei Technologies Co.
Its foray into gadgets is relatively limited, but executives hope it may eventually provide diversification for the firm.
Nokia's approach is three-pronged. First is the Ozo, the $40,000 virtual-reality camera it released for professional filmmakers last year. Nokia plans to eventually release a cheaper model for hobbyists.
The second push is its outsourced mobile-phone business. Last year Microsoft, which floundered with the handset business it bought from Nokia, sold it to HMD Global Oy, which is run by former Nokia executives. Under license from Nokia, the company is selling branded smartphones and basic phones, like the well-received, soon-to-be-released revamp of the classic Nokia 3310 "candy-bar" phone.
Nokia has input in designing the phones and the boxes they are sold in. "All devices need to pass a test of Nokia-ness, whether it is user interface, or software, or quality standards," Mr. Suri said in an recent interview.
Anchoring the third prong is Nokia's €170 million acquisition last year of Withings, a digital-health-device startup based in the Paris suburb of Issy-Les-Moulineaux. Withings makes about a dozen devices, including a $180 fitness-tracking watch, a $100 body-temperature thermometer, a $200 air-quality monitor and $100 bathroom scale. The scale can measure body fat by sending a small electric signal through the body.
The devices can be connected to a smartphone app, similar to ones offered by competitors such as Fitbit Inc. (NYSE:FIT). Withings also sells a premium service on the app, a $5 add-on that provides more-detailed analysis for people using the $100 blood-pressure monitor.
"My challenge is that people don't just see this as a gadget," says Mr. Le Bras-Brown, the marketing chief. "This is a health product. This is for people who have a trigger event, like a doctor's moment, people who are told to start taking their blood pressure midlife, or somebody who realizes their metabolism has changed and wants to get healthier."