Nokia Corporation Makes a $193 Million Bet On the Internet of Things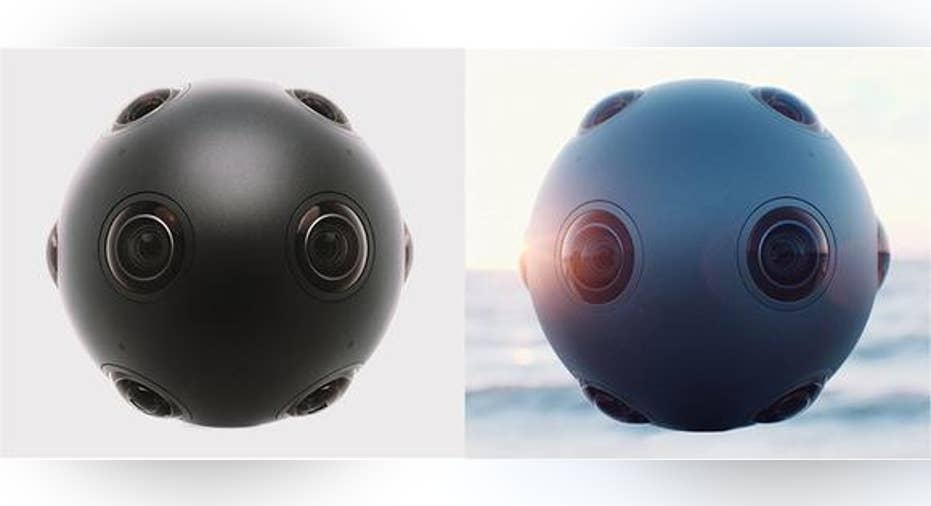 Nokia (NYSE: NOK) recently announced plans to buy French wearables maker Withings for 170 million euros ($193 million) in a surprising return to the consumer hardware market. The company -- which sells fitness trackers, scales, and smartphone-linked blood pressure monitors -- will be integrated into Nokia's new WellCare digital health platform. WellCare gathers health data from different devices and provides it to healthcare professionals across a unified platform, similar to Apple 'sHealthKit.
Withings' Activit Pop. Image source: Withings.
Nokia started developing WellCare two years ago, but the purchase of Withings will accelerate its expansion into the digital health market. The unit should also strengthen Nokia Technologies, which was created to patent and license technologies after the sale of its handset unit in 2014.
Nokia also plans to use the Withings purchase to expand its presence in smart homes and connected appliances, which would enable it to compete against Alphabet'sNest, Samsung's SmartThings, and Apple's HomeKit. Nokia Technologies President Ramzi Haidamus recently told Engadget that there was much to learn "about people's lives by monitoring their environment as well as their body, whether it be air or temperature monitoring, a sleep monitoring system or a security camera."
How will this purchase help Nokia?Nokia has been taking baby steps back into hardware over the past two years. Shortly after selling its handset unit to Microsoft, Nokia licensed its brand and design to Foxconn for its N1 Android tablet. The company also stated that it might return to the smartphone market with a similar brand and design licensing model. It also recently launched the Ozo, a $60,000 camera for capturing 360-degree videos for virtual reality headsets.
Nokia's Ozo camera. Image source: Nokia.
However, none of those initiatives are really moving the needle for Nokia Technologies, which generates most of its revenue by collecting patent royalties. On the surface, the acquisition of Withings won't make much of an impact either. Withings hasn't disclosed how much revenue it generates, but market tracking site Owler estimates thatit generates around $10 million in sales per year. If that figure is accurate, it would equal less than 1% of Nokia Technologies' revenue from 2015.
But if Nokia uses its R&D and marketing resources to expand Withings' presence and tether all its devices to the WellCare platform, its weight on Nokia's top line might increase. Moreover, the connected health market is still expected to grow considerably over the next few years. Research firm Markets and Markets believes that the entire mobile health solutions market, which includes connected devices and apps, will grow at a compound annual growthrate of 33% until 2020.
It's also about patentsNokia also acquired Withings to add its patents to Nokia Technologies' portfolio. Revenue at Nokia Technologies rose 170% annually last quarter and accounted for 11% of Nokia's total sales. However, the unit suffered a big setback in February when a long-awaited patent settlement with Samsung fell short of expectations.
Though that deal boosted Nokia Technologies' 2015 revenues 77% to 1.02 billion euros ($1.2 billion), much of that gain was attributed to "catch up" revenues from 2014. Looking ahead, the deal will only boost the unit's annual run rate to around 800 million euros ($911 million), missing analyst expectations for 900 million euros.
Withings, which was founded eight years ago, was an early mover in the wearables space, so it likely owns valuable patents, which should boost Nokia's patent licensing revenues as the wearables market grows. The company recently told The Financial Times that acquiring Withings will "ensure theongoing renewal of Nokia Technologies' world class (patent) portfolio."
A fragmented and competitive marketNokia's acquisition of Withings makes strategic sense, but the new business will face fierce competition in the wearables and smart homes market. First, Apple's HealthKit and Google Fit can use their dominant mobile operating systems to tighten control over wearable devices. Over halfof the top hospitals in the U.S. are already trying out HealthKit, so it could be a bit late for WellCare to enter the market. Second, Fitbit can use its market-leading position in wearables to expand its digital ecosystem at a faster rate than Withings and WellCare.
Since Nokia doesn't own its own mobile OS and Withings isn't a top wearables brand, it could struggle to compete in the crowded mobile health market. Therefore, investors should see if buying Withings will boost Nokia Technologies' sales over the next few years, but they shouldn't assume that the purchase will make Nokia a top player in wearables, smart homes, or the Internet of Things.
The article Nokia Corporation Makes a $193 Million Bet On the Internet of Things originally appeared on Fool.com.
Suzanne Frey, an executive at Alphabet, is a member of The Motley Fools board of directors. Leo Sun has no position in any stocks mentioned. The Motley Fool owns shares of and recommends Alphabet (A shares), Alphabet (C shares), and Apple. The Motley Fool owns shares of Microsoft. Try any of our Foolish newsletter services free for 30 days. We Fools may not all hold the same opinions, but we all believe that considering a diverse range of insights makes us better investors. The Motley Fool has a disclosure policy.
Copyright 1995 - 2016 The Motley Fool, LLC. All rights reserved. The Motley Fool has a disclosure policy.