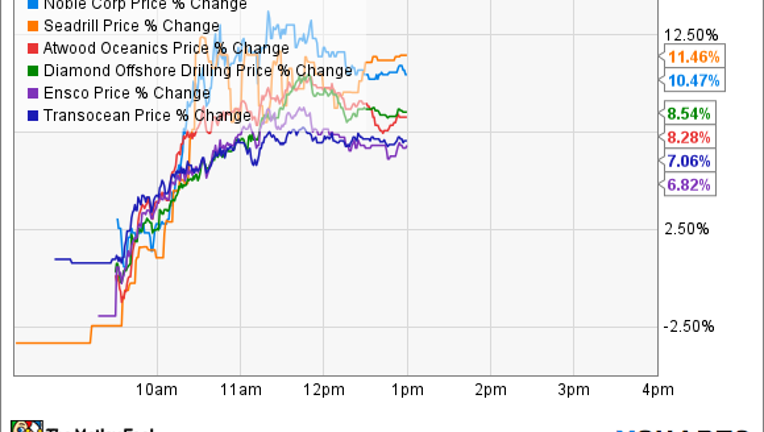 What's happening
Shares of nearly every major offshore drilling company are up big on May 5, with shares ofAtwood Oceanics, Inc.(NYSE: ATW),Noble Corporation Ordinary Shares (NYSE: NE), Diamond Offshore Drilling Inc(NYSE: DO), ENSCOPLC (NYSE: ESV),Transocean LTD(NYSE: RIG), andSeadrill Ltd(NYSE: SDRL) up between 7% and 11% at 12:20 p.m. EDT.
So what
Today's big news revolves around Noble Corporation, which released its first-quarter earnings after market close on May 4 and held its earnings call with analysts before market open on May 5.
Noble Corp reported revenue of $363 million in revenue and a loss of $1.24 per share. Revenue was down 41% from last year, but that wasn't a big surprise as the offshore sector is going through its biggest and longest downturn in decades. Its loss was heavily driven by a one-time non-cash tax item, totalling $260 million, or $1.07 per share. When adjusting for this non-recurring, non-cash item, Noble's quarterly loss would have been $0.15 per share.
Image source: Getty Images.
Noble's cash-based results were much better, with the company generating $142 million in cash from operations, and management remains confident that the company will generate positive cash flows in 2017, which will be used in part to repay debt.
Noble also announced that it had been awarded $650 million in new contracts in the quarter, further evidence that the worst of the downturn could be coming to an end. In April, Seadrill announced that it had signed $1.4 billion in new contract awards.
In general terms, managements across the segment are increasingly optimistic that the worst of the downturn is coming to an end. Contract awards are picking up, and a significant amount of vessel rationalization has happened over the past couple of years.
Now what
Investors should note that, just because there has been an uptick in contract award activity, the current state of the industry is still ugly. Many of the new contract awards have been extensions to existing work and haven't been putting idle vessels back to work, and there's still an oversupply of drilling vessels, even with significant scrapping and idling over the past 18 months.
And because of that, don't expect offshore drillers to start reporting markedly better results next quarter. 2017 is still likely to be a pretty ugly year overall since the majority of new contract awards won't begin until 2018. Frankly, offshore drillers as a group will probably generate less revenue in 2017 than last year.
Put it all together, and it's likely that we will see plenty more big-move days like today for offshore drilling stocks this year, and unfortunately, some of those days will be big moves down. Prudent investors would be served well to not "go big" on offshore just yet, but instead continue to monitor the industry, and invest in a prudent manner -- preferably based on evidence that the downturn is well and truly ending, and the industry is returning to growth after several very ugly years of contraction.
10 stocks we like better than SeadrillWhen investing geniuses David and Tom Gardner have a stock tip, it can pay to listen. After all, the newsletter they have run for over a decade, Motley Fool Stock Advisor, has tripled the market.*
David and Tom just revealed what they believe are the 10 best stocks for investors to buy right now...and Seadrill wasn't one of them! That's right -- they think these 10 stocks are even better buys.
Click here to learn about these picks!
*Stock Advisor returns as of May 1, 2017.
Jason Hall owns shares of Atwood Oceanics, Diamond Offshore Drilling, Ensco, Noble, Seadrill, and Transocean. Jason Hall has the following options: long July 2017 $3 calls on Seadrill. The Motley Fool owns shares of and recommends Atwood Oceanics. The Motley Fool has a disclosure policy.