No Wonder Marijuana Stocks Are Soaring! Support for Legalizing Weed Just Hit an All-Time High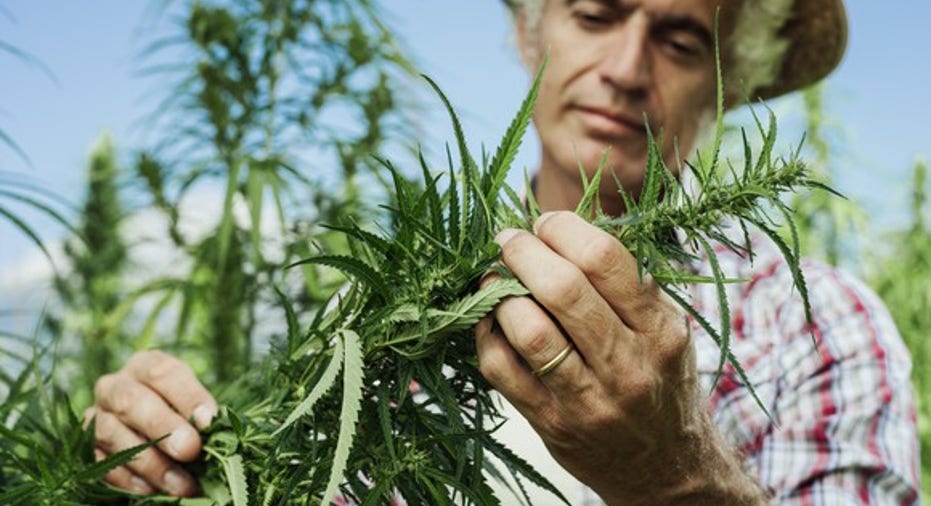 The marijuana industry is the hottest thing since sliced bread, and marijuana stocks are thriving as a result. Here's a quick rundown of how some of the industry's largest players' stock prices have performed over the trailing 12 months:
GW Pharmaceuticals: up 35%
Canopy Growth Corp.: up 248%
Aphria: up 267%
Aurora Cannabis (NASDAQOTH: ACBFF): up 267%
Cara Therapeutics: up 141%
Zynerba Pharmaceuticals: up 146%
Medical Marijuana: up 225%
And trust me, the list goes on with similar results throughout the entire industry. Also, don't feel sorry for the GW Pharmaceuticals investors who've been "left behind" with only a 35% trailing one-year gain. The stock is up more than tenfold in a span of four years!
Image source: Getty Images.
Marijuana stocks have benefited by the rapid growth of legal pot sales. According to cannabis research firm ArcView, North American legal weed sales grew 34% to $6.9 billion in 2016. What's more, investment firm Cowen & Co. believes that legal pot sales could hit $50 billion by 2026, implying a compound annual growth rate of better than 23% over the next decade. Those are mouthwatering growth rates for businesses and a major attraction for investors.
This new marijuana survey is great news for pot stocks
Today, we can add yet another reason why marijuana stocks may keep drawing in new investors: a new, and highly favorable, cannabis survey.
According to a brand-new poll from CBS News, which had more than 1,000 people surveyed by phone between April 11 and April 15, 61% of Americans now support the legalization of weed compared to 33% who believe it should be illegal. The 61% support represents an all-time high, and is up 5% from last year, 8% from 2015, 10% from 2014, and 21% from 2011. Also, 88% of respondents would like to see medical cannabis legalized nationally.
There were a number of additional intriguing findings from this study. For instance, 53% of respondents believe alcohol is more harmful than marijuana, compared to just 7% who chose marijuana as more dangerous than alcohol. For what it's worth, 28% believed they were equally harmful, and 9% chose neither as harmful.
Image source: Getty Images.
There was also a mixed reaction on whether marijuana use does or doesn't lead to violent crime. In total, 23% said it leads to an increase in violent crime, 22% responded that it leads to a decline in violent crime, and 49% suggested it had no effect.
Long story short, we're seeing an all-around softening stance toward marijuana, and that paints an increasingly encouraging picture for marijuana stocks. Since lawmakers are voted in by the public, and a majority of the public now appears to favor the legalization of cannabis, Congress may be forced to act sooner than later to reconsider rescheduling or legalizing pot.
Remember, marijuana is a schedule I drug in the U.S., meaning it's illegal and is considered to have no medical benefits. The drugs' current status makes it incredibly difficult for researchers to conduct thorough clinical studies on marijuana's benefits and risks, and it makes life difficult on weed-based businesses. U.S.-based marijuana companies have little to no access to basic banking services, meaning they're forced to deal solely with cash, which is a security concern. They also aren't able to take normal corporate tax deductions due to the fact that they're selling an illegal substance, leading them to pay tax on their gross profits rather than net profits.
A double-edged sword for marijuana stocks
On one hand, the changing tide of opinion on pot has paved the way to increased sales for a number of marijuana companies. There are now eight states in the U.S. that have legalized recreational weed, and Canada's government may wind up legalizing the sale of recreational marijuana throughout the country by as early as next year.
Image source: Getty Images.
This fairly steady rate of expansion, fueled by changing public opinion on the drug, is why companies like Aurora Cannabis in Canada are undertaking massive capacity expansion projects. Aurora Cannabis is currently constructing the Aurora Sky project which will increase its grow capacity more than eight-fold to nearly 900,000 square feet. Even though Aurora Cannabis is entirely focused on supplying product to the medical marijuana community at the moment, legalizing recreational pot in Canada could quickly change its strategy to an even higher growth revenue channel (recreational sales).
But, marijuana stocks mostly remain a double-edged sword for investors. Aside from the fact that well over 90% of pot stocks are unprofitable and may not have sustainable business models, there's a legal mountain that could halt marijuana's expansion in its tracks.
For example, in February White House press secretary Sean Spicer announced that the Trump administration would depart from the lax policies of the Obama administration when it comes to the federal regulation of recreational marijuana. No one is entirely certain what sort of added enforcement may be coming, but ardent pot opponent Jeff Sessions, who also happens to be the newest U.S. Attorney General, is certainly striking fear in the minds of cannabis businesses and pot-stock investors.
Despite CBS News' positive poll for marijuana proponents, the best bet for investors remains staying safely on the sidelines.
10 stocks we like better than AURORA CANNABIS IN COM NPVWhen investing geniuses David and Tom Gardner have a stock tip, it can pay to listen. After all, the newsletter they have run for over a decade, Motley Fool Stock Advisor, has tripled the market.*
David and Tom just revealed what they believe are the 10 best stocks for investors to buy right now... and AURORA CANNABIS IN COM NPV wasn't one of them! That's right -- they think these 10 stocks are even better buys.
Click here to learn about these picks!
*Stock Advisor returns as of April 3, 2017
Sean Williams has no position in any stocks mentioned. The Motley Fool has no position in any of the stocks mentioned. The Motley Fool has a disclosure policy.