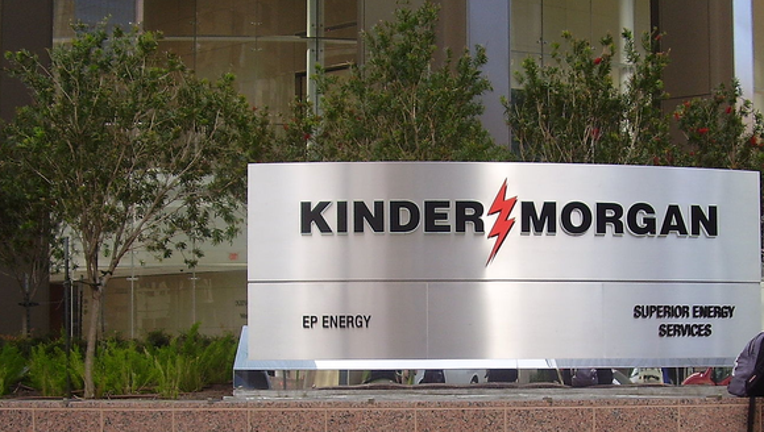 On the back of a three-day rally, U.S. stocks are slightly lower in early afternoon trading on Thursday, despite Brent crude -- the global oil benchmark -- breaking $35 per barrel. The S&P 500and theDow Jones Industrial Averageare down 0.41% and 0.26%, respectively, at 1:27 p.m. ET. For the Dow, International Business Machines' gain of 4.82% on an upgrade from Morgan Stanley is offsetting a 3.27% loss in Wal-Mart Stores.
The Kinder Morgan Building, Houston. Image source: public domain.
With a fifty-plus year of market-thumping performance, it's natural that investors and the financial media closely follow Warren Buffett's investments on behalf of Berkshire Hathaway. However, sometimes, they're unwittingly tracking someone else's investment decision. Here are a couple of the headlines that accompanied the latest release of public market holdings data:
The fact is that there is no reason to believe that Warren Buffett bought shares of Kinder Morgan (other than the fact that they appear on Berkshire's form 13F). Instead, there is every reason to believe the purchase originated with one of the two investment managers that Buffett has taken on to manage part of Berkshire's public market investments, Todd Combs and Ted Wechsler.
The size of the of the Kinder Morgan position, 26.53 million shares with a current value of roughly $456 million, is simply too small to bear Buffett's footprint.
A Buffett-sized energy betFor comparison with an investment that we know belongs to Buffett, Berkshire Hathaway disclosed in a regulatory filing last week that it had added 12.98 million shares (current value: $1.05 billion) of another energy company, Phillips 66, since the start of the year.
The purchases raise Berkshire's ownership stake to 74.47 million shares, with a value of $6 billion, its sixth-largest stock holding. Berkshire Hathaway now owns 14.2% of Phillips 66 and is by a wide margin the largest shareholder.
In this case, Ted Wechsler looks like the most likely buyer of Kinder Morgan. As Fortune pointed out in October 2014, "Weschler prefers to buy and hold a few stocks for a long time. His $7.5 billion portfolio at Berkshire is spread among just seven stocks."
As such, the size of the Kinder Morgan position looks consistent with Wechsler's portfolio size and concentration. Furthermore, Wechsler already has some experience in the energy sector. According to Fortune, the Suncor Energyposition (30 million shares worth $719 million) is his.
"They left me in the dust as well."Does the information value of the Kinder Morgan purchase decline if we attribute it to Ted Wechsler rather than Warren Buffett? On the one hand, we do not know as much about Ted Wechsler's investing track record, nor is it as long as Buffett's. On the other, because he has less money to manage, the universe of companies he can consider is much wider than his boss/mentor.
Finally as Buffett himself wrote in his 2014 letter to Berkshire Hathaway shareholders, "We hit the jackpot with [Ted and Todd]. In 2012 each outperformed the S&P 500 by double-digit margins. They left me in the dust as well." That's enough evidence to suggest that value-oriented investors may want to look at Kinder Morgan themselves.
The article No, Warren Buffett Didn't Buy Shares of Kinder Morgan for Berkshire Hathaway originally appeared on Fool.com.
Alex Dumortier, CFA has no position in any stocks mentioned. The Motley Fool owns shares of and recommends Berkshire Hathaway and Kinder Morgan. Try any of our Foolish newsletter services free for 30 days. We Fools may not all hold the same opinions, but we all believe that considering a diverse range of insights makes us better investors. The Motley Fool has a disclosure policy.
Copyright 1995 - 2016 The Motley Fool, LLC. All rights reserved. The Motley Fool has a disclosure policy.