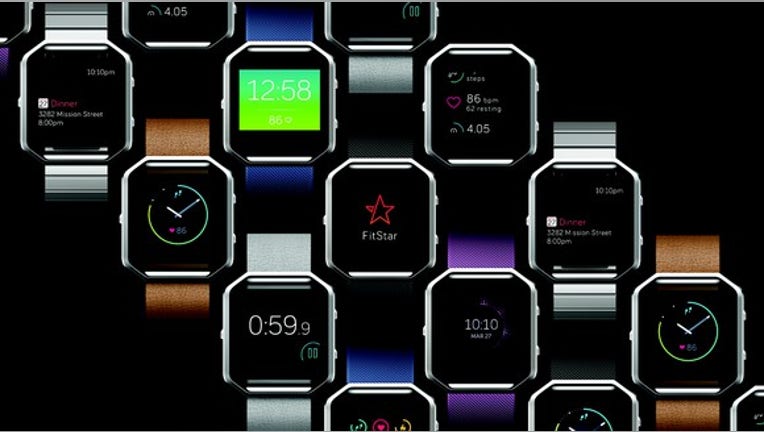 Fitbit (NYSE: FIT) reported fourth-quarter earnings last night, and the results were mostly in line with the preliminary numbers that the company had disclosed a few weeks back.
Revenue came in at $574 million, which was near the low end of the reduced guidance range. Fitbit had previously expected fourth-quarter revenue in the range of $725 million to $750 million, and had dropped that range to $572 million to $580 million at the end of January. The net loss turned out to be $0.65 per share on a GAAP basis, and a loss of $0.56 per share on a non-GAAP basis. That bottom line was also at the low end of the revised guidance (which called for an adjusted net loss of $0.51 to $0.56 per share). The preliminary announcement allowed investors to pre-emptively brace themselves, and lacking any other major surprises, shares have only moved by a couple percent today.
Revenue and margins
Fitbit sold 6.5 million devices, and new products (Charge 2, Alta, Blaze, and Flex 2) comprised 96% of revenue during the quarter. That figure underscores how important it is for Fitbit to continue introducing new products and how sensitive its business will be to product cycles, which is par for the course for consumer hardware businesses.
Image source: Fitbit.
Gross margin took a massive hit though, falling from 49% a year ago to 22% last quarter. This was due to a $78 million writedown of tooling equipment and component inventory, $42 million in increased rebates and channel promotions, a $41 million increase in return reserves related to excess channel inventory, and $17 million in increased warranty reserves for older products. These items were also disclosed previously when Fitbit warned it had a rough quarter, although two items ended up higher than previously expected (the tooling equipment writedown was $10 million higher and the channel promotions were $5 million higher).
Home court disadvantage
Perhaps most troubling was that sales in the U.S., Fitbit's largest geographical segment by far, plunged a painful 28%. U.S. revenue fell from $532 million a year ago to just $381 million. The 58% jump in Europe, Middle East, and Africa (EMEA) helped partly offset that decline, but not enough considering the much smaller revenue base that Fitbit has in EMEA; total EMEA revenue last quarter was $134 million. Asia-Pacific (APAC) sales got cut by more than half, down to $25 million, but this was already a fairly small geographical segment to begin with.
Overall, Fitbit is still very much reliant on the U.S. market, and its stumbles at home reveal where it needs to improve execution. It's worth noting that U.S. revenue did grow for the full year, however.
| Geographical Region | Revenue (2016) | % of Total |
| --- | --- | --- |
| U.S. | $1.5 billion | 71% |
| Americas excluding U.S. | $110 million | 5% |
| EMEA | $389.2 million | 18% |
| APAC | $130.6 million | 6% |
| Total | $2.2 billion | 100% |
Data source: Fitbit. Figures may not sum due to rounding.
Time to cut costs
In its January announcement of preliminary results, Fitbit also said it would be laying off 6% of its staff in an effort to cut costs in order to "address this reduction in growth and what we believe is a temporary slowdown and transition period." The company said it has now reduced its operating expense run rate by $200 million and the reorganization resulted in laying off 107 employees. For reference, total operating expenses for 2016 were $958 million, which had ballooned by over 70% from $552 in 2015.
It's fair to say that Fitbit got a little ahead of itself, and now it needs to pull back its growth expectations and spending as a result.
What's next
Guidance for the first quarter calls for revenue in the range of $270 million to $290 million, which is shy of the $307 million in sales that analysts are modeling for. That should translate into an adjusted net loss of $0.18 to $0.20 per share, also worse than the consensus estimate of a $0.15-per-share loss.
The pressure is on for Fitbit to successfully move upmarket into the full-blown smartwatch market.
10 stocks we like better than FitbitWhen investing geniuses David and Tom Gardner have a stock tip, it can pay to listen. After all, the newsletter they have run for over a decade, Motley Fool Stock Advisor, has tripled the market.*
David and Tom just revealed what they believe are the 10 best stocks for investors to buy right now... and Fitbit wasn't one of them! That's right -- they think these 10 stocks are even better buys.
Click here to learn about these picks!
*Stock Advisor returns as of February 6, 2017
Evan Niu, CFA has no position in any stocks mentioned. The Motley Fool owns shares of and recommends Fitbit. The Motley Fool has a disclosure policy.