No Joke: Johnson & Johnson Could Grow Sales by 5% (or More) Annually Over the Next Decade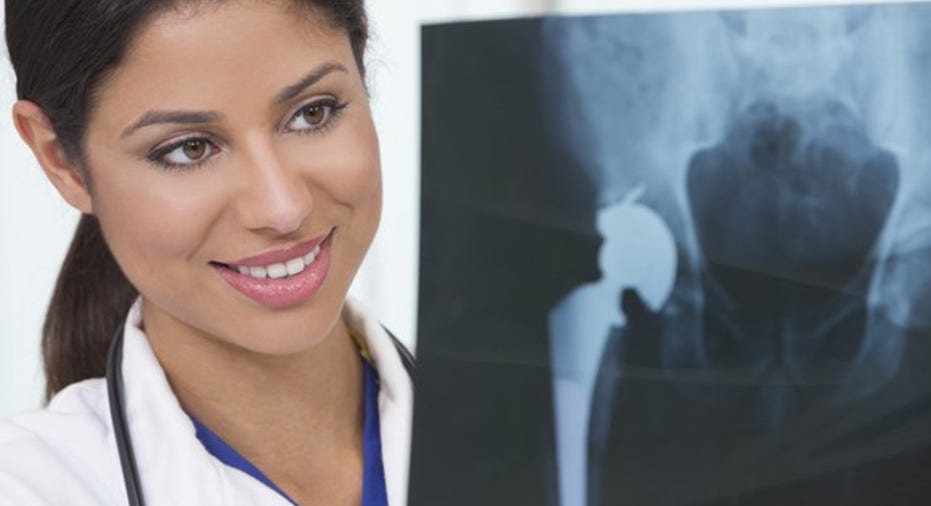 For many investors, Johnson & Johnson (NYSE: JNJ) is the quintessential set-it-and-forget-it investment in the healthcare arena. It's the largest publicly traded healthcare company by a mile, and its business structure -- J&J is comprised of more than 250 different subsidiaries -- allows the company to divest slower-growing assets and acquire new companies that complement higher-growth businesses with ease. It's no wonder that J&J has generated between $11.4 billion and $15.8 billion in free cash flow in each year over the past decade.
Additionally, Johnson & Johnson is riding a streak that thousands of other companies could only dream of. Assuming it announces another increase to its dividend in April, it'll mark the 55th consecutive year it's increased its payout, placing it among a truly elite class of Dividend Aristocrats (companies that have raised their dividend for at least 25 straight years). J&J is also one of two publicly traded companies to still possess Standard & Poor's highest credit rating, AAA. Mind you, this "AAA" rating is higher than the U.S. government, implying implicit confidence from Standard & Poor's that J&J can repay its debts.
Image source: Johnson & Johnson.
The rule of large numbers tempers J&J's growth outlook
As a larger company, however, J&J is faced with the dreaded rule of large numbers. In other words, it's becoming tougher to grow its top line and impress investors when it's bringing in nearly $72 billion in sales each year. Many on Wall Street would expect J&J's sales growth to slow in the coming years -- and for good reason.
Image source: Johnson & Johnson.
Beyond just dealing with the rule of large numbers, J&J is also faced with the launch of Inflectra, a biosimilar version of its top-selling anti-inflammatory drug, Remicade. Inflectra, which was developed by Celltrion, is being marketed by Pfizerat a 15% discount to Remicade's list price in an effort to lure consumers and physicians away from Remicade. Sales of Remicade, which hit nearly $7 billion in 2016, fell by 3.2% in the fourth quarter worldwide. Sales of the drug could be further chipped away with Inflectra only launching in November and expected to gain momentum.
However, Johnson & Johnson's business has been gradually transforming its underlying business model, and this transformation could be the key to unlock considerably higher sales growth, even for a company of J&J's size.
Johnson & Johnson could deliver 5% sales growth for years to come
In 2016, Johnson & Johnson wound up generating $71.9 billion in sales, $33.5 billion of which came from its pharmaceutical segment. This represents 46.6% of its total sales. Comparatively, in 2011, J&J reported $24.4 billion in worldwide pharmaceutical sales on $65 billion in total sales, representing just 37.5% of sales. In five years, J&J's reliance on pharma has grown by more than 9 percentage points -- and it's only set to increase.
Johnson & Johnson has three ways it plans to deliver substantial growth in the years ahead, which I believe could lead to average annual sales growth of 5% over the next decade, and 5% annual sales growth with the company already generating $71.9 billion in sales is nothing to sneeze at.
Image source: Getty Images.
1. Organic pharma growth
J&J will be relying on its organic pharma pipeline. In May 2015, J&J announced that it had plans to file new drug applications with the Food and Drug Administration for 10 drugs that it believed had more than $1 billion in sales potential by 2019. Mind you, between 2009 and mid-2014, J&J brought 14 novel medicines to market, and half of them wound up becoming blockbusters (those with $1 billion or more in annual sales).
The first of those 10 to gain approval was multiple myeloma drug Darzalex, which tallied $200 million in sales during the fourth quarter. That puts the drug on track for $800 million on an extrapolated basis, and perhaps on target for $1 billion in sales as early as this year.
Next in line could be guselkumab, a moderate-to-severe plaque psoriasis drug that mopped the floor with both the placebo and even AbbVie's (NYSE: ABBV) Humira in phase 3 studies. As a reminder, Humira is the best-selling drug in the world. At the 16- and 48-week mark, guselkumab led to 73% and 81% near-complete skin clearance, respectively, compared to almost 50% and 55% skin clearance for Humira, respectively. Guselkumab would appear to have a good shot at gaining FDA approval.
With a host of blockbusters and label expansion opportunities lined up, J&J would appear to have a pathway to significant growth, even if Remicade struggles.
Image source: Getty Images.
2. M&A activity (primarily in pharma) and collaborations
Expect Johnson & Johnson to continue to lean on merger and acquisition (M&A) activity to fuel pipeline and product portfolio expansion, especially within its faster-growing pharma segment.
Late last month, J&J announced that it was acquiring Swiss-based specialty drugmaker Actelion (NASDAQOTH: ALIOF) for $30 billion in order to get hold of its two key pulmonary arterial hypertension drugs, Opsumit and Uptravi, each of which are capable of an estimated $2 billion in peak annual sales. J&J has stated that the deal is expected to increase its long-term growth rate by between 1.5% and 2%. Additionally, J&J will get an initial 16% stake in Actelion's pipeline, which will be spun off into a separate entity before the deal closes.
Traditionally, J&J isn't known for making such large purchases. It's best known for acquiring early- and mid-stage assets and developing them.
J&J is also active on the collaboration front. Its partnership with Geron (NASDAQ: GERN) for imetelstat as a treatment for myelofibrosis and myelodysplastic syndromes is part of its aforementioned 10 blockbusters that it hopes to bring to market before the end of the decade. In early-stage studies, before J&J ponied up $35 million up front and $900 million in possible milestone payments, Geron announced that imetelstat had generated partial and complete responses in myelofibrosis patients, becoming the first drug to ever do so in clinical trials.
In other words, J&J has avenues where it can use its cash flow to increase its growth rate.
Image source: Getty Images.
3. Medical devices respond to an aging America
Beginning in the latter half of the decade to come, I would anticipate that growth in medical devices will begin to pick up.
Medical device growth has been somewhat stagnant in recent years, a function of increased competition, and consumers and hospitals cutting back on their spending due to the numerous uncertainties associated with the Affordable Care Act.
Image source: Getty Images.
However, as time presses on and America ages, the need for J&J's bread-and-butter devices (i.e., hip and knee replacements) should grow dramatically. According to the U.S. Census Bureau, the U.S. elderly population is expected to grow by more than 40 million between 2012 and 2050, which is a result of improved access to medical care increasing life expectancies. But, as life expectancies rise, the need for maintenance therapies, such as hip and knee replacements, would be expected to rise, too.
As one of the largest device makers in the world, J&J should be able to retain significant pricing power as demand begins to increase.
This isn't to say J&J is risk-free. Leaning so heavily on pharma means shareholders need to be willing to accept the sales hiccups that come with patent expirations. What's more, President Trump has pledged to cut drug prices during his presidency, which is a bit concerning for J&J now that it relies on its pharma segment for most of its growth. Nonetheless, I'd suggest that the building blocks are in place for J&J deliver a surprisingly healthy growth rate for at least the next decade.
10 stocks we like better than Johnson and JohnsonWhen investing geniuses David and Tom Gardner have a stock tip, it can pay to listen. After all, the newsletter they have run for over a decade, Motley Fool Stock Advisor, has tripled the market.*
David and Tom just revealed what they believe are the 10 best stocks for investors to buy right now... and Johnson and Johnson wasn't one of them! That's right -- they think these 10 stocks are even better buys.
Click here to learn about these picks!
*Stock Advisor returns as of February 6, 2017
Sean Williams has no position in any stocks mentioned. The Motley Fool recommends Johnson and Johnson. The Motley Fool has a disclosure policy.