No, Intel Corp. Didn't Kill Mobile Chips Because of Apple Inc.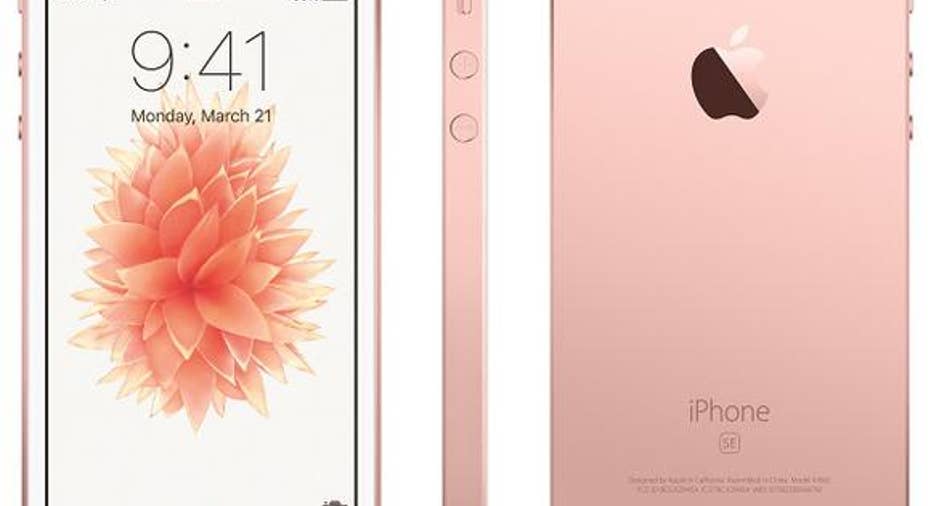 Apple's iPhone is one of the few high-volume smartphones that uses a discrete baseband. Image source: Apple.
An author who goes by the handle "Motek Moyen" on Seeking Alpha recently published an article in which he offers a take on why Intel cancelled its SoFIA family and Broxton mobile applications processors.
"Instead of wasting eight-figures on contra revenue for SoFIA/Broxton [system-on-chip designs], Intel could use the money to improve its stand-alone modem products," Motek Moyen writes. He also goes on to argue that "keeping Apple happy will let Intel earn $600-$900 million annual sales supply modems for the iPhone."
Here's why this line of reasoning doesn't pass muster.
Some backgroundThe majority of smartphones today use a single-chip applications processor and cellular baseband solution. The integration of these two key components allows for smartphone vendors to save on costs and board space and generally enables improved power efficiency as well.
The only major smartphone vendor that doesn't use such an integrated solution is Apple, since it doesn't (yet?) have its own in-house cellular modem that it can integrate into its applications processors. This is why it currently uses stand-alone modems from Qualcomm and is rumored to source stand-alone modems from both Qualcomm and Intel for the upcoming iPhone 7 series.
It's important to point out that the work that goes into developing a stand-alone modem can, and should, be quite "reusable" in a combined modem/applications processor chip. In fact, a company like Intel should be able to take the core modem technology that it develops, integrate it with a competent applications processor, and dramatically expand its total addressable market.
Expanding the total addressable market and increasing revenue dramatically should lead to something of a virtuous cycle; successful products drive revenue, which in turn increase a company's ability to invest more while keeping a particular business unit profitable.
Unfortunately, Intel was unable to execute to actually producing such products in a timely fashion, which is why I believe the product pipeline was flushed -- nothing to do with "refocusing" on Apple.
The contra-revenue argument doesn't make senseWhen Intel introduced the idea of "contra-revenue" (i.e., payments to system vendors for each Intel mobile processor shipped), it was not intended to be a long-term play. It was supposed to be a short-term tactic to allow Intel to quickly gain a presence in the tablet market using suboptimal products.
Then, when Intel rolled out newer products with appropriate cost structures, it would be able to maintain/grow its shipment volumes without the need for contra-revenue. This should have allowed Intel to go from shipping products that were gross margin negative to gross margin positive.
In fact, the Broxton stand-alone applications processor and the SoFIA line of integrated applications processor and modem chips were intended to have such good cost structures (both chip level and platform bill-of-materials level) that contra-revenue would be entirely unnecessary.
So, Motek Moyen's implication that Intel would have needed to "waste eight figures" on contra-revenue payments for Broxton/SoFIA products (had they actually been viable in the marketplace) is not correct.
Apple is Intel's last chance in cellularAt the end of the day, I view any potential deal with Apple as essentially Intel's only large potential revenue source for cellular modem technology at this point. With the rest of the smartphone market demanding integrated applications processor and modem chips, and with the non-smartphone/tablet cellular opportunities fairly limited, Apple is basically it.
If Intel isn't able to retain the Apple contract that it has reportedly won for the iPhone 7 going forward, then it will be very difficult for Intel to justify continued investments in the cellular chip market.
The article No, Intel Corp. Didn't Kill Mobile Chips Because of Apple Inc. originally appeared on Fool.com.
Ashraf Eassa owns shares of Intel and Qualcomm. The Motley Fool owns shares of and recommends Apple and Qualcomm. The Motley Fool recommends Intel. Try any of our Foolish newsletter services free for 30 days. We Fools may not all hold the same opinions, but we all believe that considering a diverse range of insights makes us better investors. The Motley Fool has a disclosure policy.
Copyright 1995 - 2016 The Motley Fool, LLC. All rights reserved. The Motley Fool has a disclosure policy.