Nintendo's Characters, Games Finally Get a Theme Park Home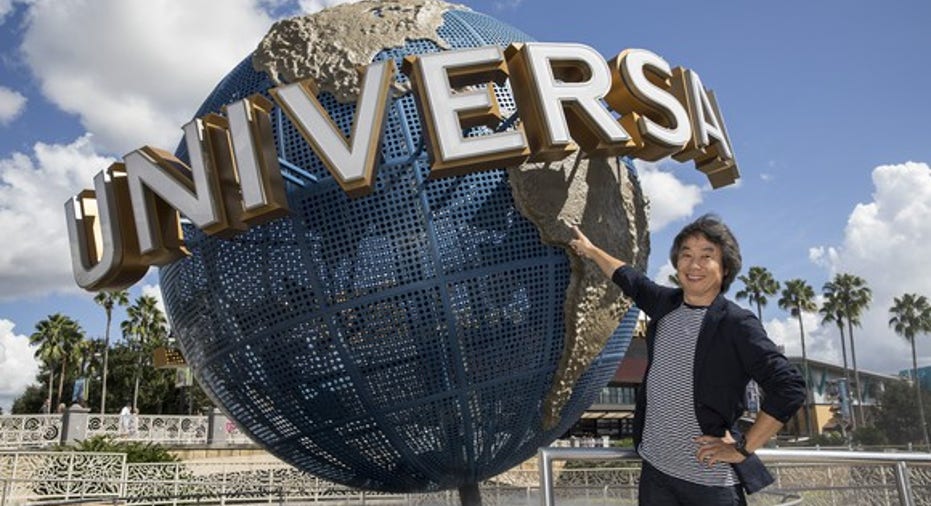 Just like visitors to Comcast's (NASDAQ: CMCSA) Universal Studios theme parks in California can immerse themselves in "The Wizarding World of Harry Potter," they will soon be able to enter the world of Nintendo(NASDAQOTH: NTDOY).
The gaming company and the theme park announced their intention to work together last year, without offering any details. Now, the companies have shared a little bit about how their relationship will work.
"Nintendo-themed areas are coming to Universal Studios Japan, Universal Orlando Resort and Universal Studios Hollywood," according to a press release. "These will be expansive, immersive and interactive. They will be highly themed and authentic environments filled with multiple attractions, shops and restaurants. Guests will feel as if they are playing inside their favorite games."The companies did not say what characters would be involved, though avideoattached to the press release featured Mario of Super Mario Bros.fame.
Nintendo video game designer Shigeru Miyamoto helped announce the new deal. Image source: Universal Studios.
What does this mean?
While details remain scarce, as neither company has shared specifics of what the Nintendo-themed areas might contain or when they will open, this is Universal taking another big shot at toppling Walt Disney (NYSE: DIS) for theme park dominance. It follows the company winning rights to the Harry Potter franchise that has resulted in major additions to its U.S. parks that gave it a huge attendance bump.
In 2015, for example, Disney's global properties saw a 2.7% rise in attendance for its various theme parks, according to the Themed Entertainment Association's annual report. In the same year, Universal saw its worldwide attendance rise by 11.8%. The Disney properties still have more than triple their rival's total visitors, but Universal Studios has been gaining and major new attractions are key.
What might the Nintendo areas be like?
The companies did say that each of the three parks will have unique aspects. In addition, their joint statement included the following goals:
The joint statement said the attractions would be for all ages with no gaming experience required. It said the first announcement about a park's specific plan would come "soon."
How big a deal is this?
Before Harry Potter, there really was no battle between Disney and Universal. Disney World and Disneyland were multiday destinations while Universal was a park to spend a day at if you had time at the end of a vacation.
That began to change when Universal opened Islands of Adventure, its second theme park in Florida, which gave people a reason to visit for multiple days. Harry Potter drove that point home and made both its U.S. parks viable alternatives to Disney.
Continually driving attendance, however, requires constantly adding new attractions. Disney has majorStar Wars-themed expansions planned in California and Florida. Those are essentially the company's answer to Harry Potter. The Nintendo partnership gives Universal the next chance to one-up its rival. It should be an attendance driver that could continue its streak of beating Disney when it comes to growth.
10 stocks we like better than Nintendo When investing geniuses David and Tom Gardner have a stock tip, it can pay to listen. After all, the newsletter they have run for over a decade, Motley Fool Stock Advisor, has tripled the market.*
David and Tom just revealed what they believe are the 10 best stocks for investors to buy right now... and Nintendo wasn't one of them! That's right -- they think these 10 stocks are even better buys.
Click here to learn about these picks!
*Stock Advisor returns as of November 7, 2016
Daniel Kline has no position in any stocks mentioned. He is a Universal Studios season pass holder. The Motley Fool owns shares of and recommends Walt Disney. Try any of our Foolish newsletter services free for 30 days. We Fools may not all hold the same opinions, but we all believe that considering a diverse range of insights makes us better investors. The Motley Fool has a disclosure policy.