Nikkei rises on weak yen but other Asian indexes mixed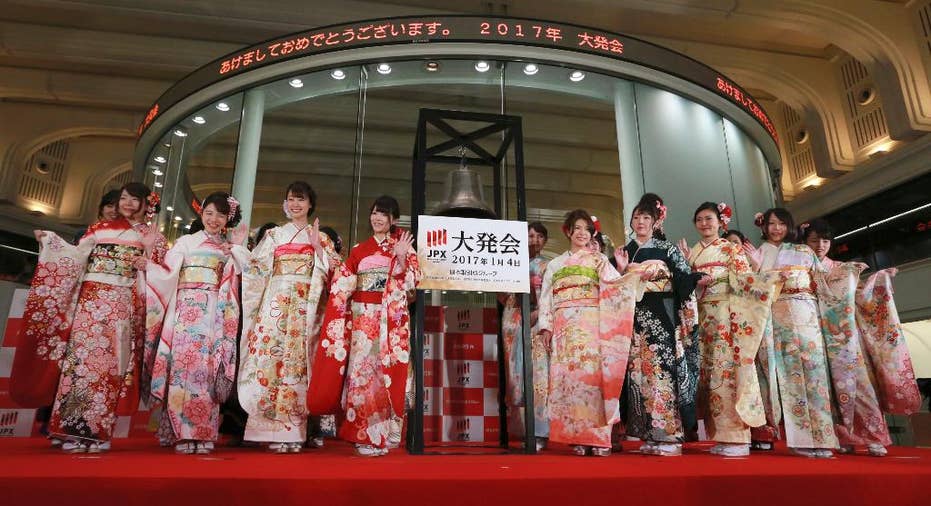 Asian shares were mixed Wednesday, as the Tokyo benchmark jumped in the first trading of 2017, helped by a weak yen. Other indexes lost some gains from earlier this week.
KEEPING SCORE: Japan's benchmark Nikkei 225 added 2.4 percent to 19,580.21, while Australia's S&P/ASX 200 rose 0.1 percent to 5,736.40. South Korea's Kospi was also little changed at 2,044.45. Hong Kong's Hang Seng dipped nearly 0.1 percent to 22,130.30, while the Shanghai Composite index gained 0.4 percent to 3,148.29.
KIMONOS AND CLAPPING: The Tokyo Stock Exchange welcomed the new year in customary style as women in kimono clapped while Finance Minister Taro Aso rang a bell to celebrate this year's first session. The Nikkei surged as much as 400 yen at one point, as the weak yen, a boon for exporters, pushed auto shares including Honda Motor Co. higher.
JAPAN MANUFACTURING: Investors were encouraged by Wednesday's release of the Nikkei Japan Manufacturing PMI, a survey of purchasing managers. The reading of 52.4 for December was its highest in a year. The figure is based on a scale of 0 to 100, where 50 marks the cutoff between contraction and expansion. Manufacturers cited rising orders from the U.S., China and Europe as one factor behind the improvement.
WALL STREET: U.S. stocks broke a three-day losing streak, ushering in the new year with broad gains. The Dow Jones industrial average added 119.16 points, or 0.6 percent, to 19,881.76. The Standard & Poor's 500 index rose 19 points, or 0.8 percent, to 2,257.83. The Nasdaq composite gained 45.97 points, or 0.9 percent, to 5,429.08.
THE QUOTE: "Strong sentiment at the start of the year coupled with volatility could be what 2017 has in store for the markets," said Jingyi Pan, a market strategist at IG in Singapore.
ENERGY: Benchmark U.S. crude added 39 cents to $52.72 a barrel in New York. It lost $1.39 to $52.33 a barrel on Tuesday. Brent crude, used to price international oils, rose 40 cents to $55.87 a barrel in London.
CURRENCIES: The dollar remained strong, rising to 118.00 yen from 117.39 yen. The euro slumped to $1.0407 from $1.0481.
___
Follow Yuri Kageyama on Twitter at https://twitter.com/yurikageyama
Her work can be found at http://bigstory.ap.org/content/yuri-kageyama