Nikkei rises on Japanese ruling party win, most of Asia up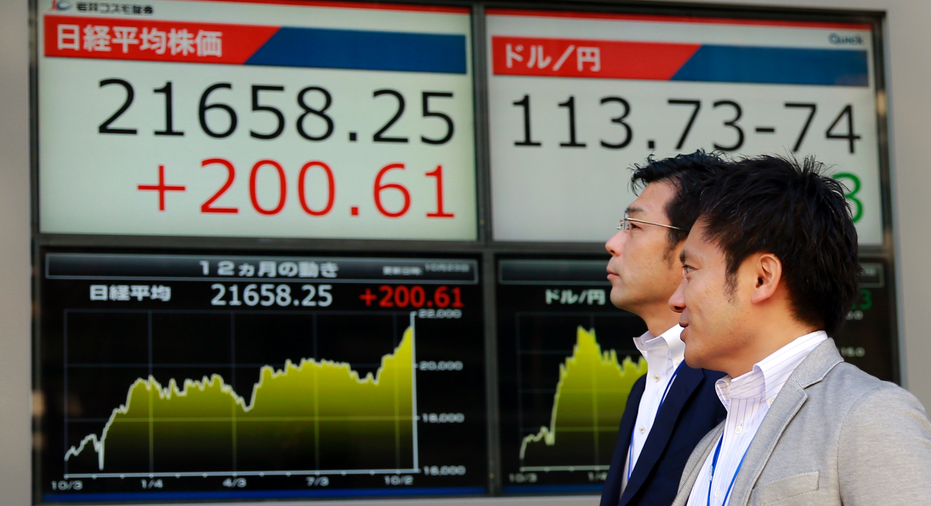 Asian stocks were mostly higher Monday, with Japan's benchmark rising on the back of an election victory by the prime minister's ruling party, which had promised stability and growth.
KEEPING SCORE: Japan's benchmark Nikkei 225 gained 1 percent in morning trading to 21,674.41. Australia's S&P/ASX 200 inched up 0.1 percent to 5,913.30. South Korea's Kospi added nearly 0.1 percent to 2,490.99. Hong Kong's Hang Seng fell 0.6 percent to 28,316.78, while the Shanghai Composite was little changed but up slightly at 3,380.48.
WALL STREET: Wall Street ended the week with the Standard & Poor's 500 and Dow Jones indexes reaching their fifth record close in a row. The S&P 500 index rose 13.11 points, or 0.5 percent, to 2,575.21. The Dow gained 165.59 points, or 0.7 percent, to 23,328.63. The Nasdaq composite added 23.99 points, or 0.4 percent, to 6,629.05. The Russell 2000 index of smaller-company stocks picked up 7.20 points, or 0.5 percent, to 1,509.25. The S&P 500 and the Dow are now on a six-week winning streak.
TRUMP TAXES: Helping lift optimism on global markets is President Donald Trump's plan to slash corporate taxes and make other business-friendly changes to U.S. tax laws. Under the administration's plan, the first major overhaul of the tax code in three decades, corporations would see their top tax rate cut from 35 percent to 20 percent. Should the reforms pass, interest rates are also likely to move higher, which will benefit banks and other financial companies.
JAPAN ELECTION: Prime Minister Shinzo Abe's ruling Liberal Democratic Party scored a win in the nationwide parliamentary election Sunday, partly because of a splintered opposition. But a new pacifist opposition party made dramatic gains, underlining doubts among voters of Abe's hawkish policies.
ENERGY: Benchmark U.S. crude added 22 cents to $52.06 a barrel on the New York Mercantile Exchange. Brent crude, used to price international oils, gained 16 cents to $57.91 a barrel in London.
CURRENCIES: The dollar strengthened to 113.85 yen from 113.34 yen late Friday in Asia. The euro fell to $ 1.1767 from $1.1802.
___
AP Business Writer Yuri Kageyama can be reached at https://twitter.com/yurikageyama
Her work can be found at https://www.apnews.com/search/yuri%20kageyama