Nike Inc Will Be Just Fine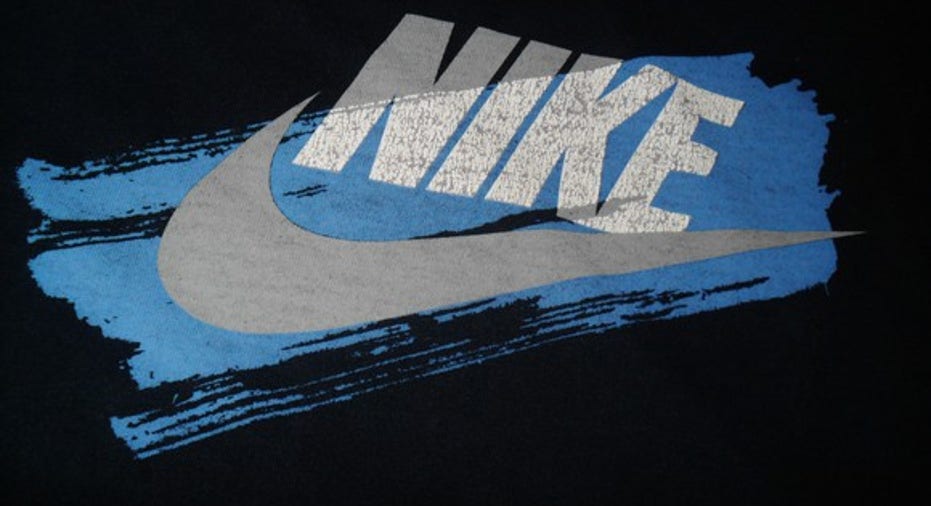 Nike Inc.(NYSE: NKE) shares tumbled following the company's earnings report last week. The 7% drop was the worst day for the sneaker king in nearly five years. Though it beat earnings estimates, investors were disappointed in weak sales growth and a decline in futures orders.
There were, in fact, a number of weak signals in the report. Revenue increased just 5%, or 7% in constant currency, and gross margin fell 140 basis points, which the company blamed on higher product costs, foreign currency exchange, and increased off-price sales.
Image source: The Motley Fool.
More concerning perhaps was that futures orders, or confirmed orders through July 2017, were down 4% from a year ago and down 9% in North America. Nike has downplayed futures orders in recent quarters as it's said its relevance to overall sales has waned as the company has come to rely more on direct-to-consumer sales. For the most recent quarter, futures orders had been flat though revenue increased 5%.
Nike's troubles are nothing new. The stock was the worst performer on the Dow last year, falling 19%, though shares have recovered modestly this year, up 10% so far. Let's take a look at some of the general challenges Nike is facing.
Retail in transition
The rapid growth of e-commerce has brought upheaval among brick-and-mortar retailers, especially in the apparel sector. Several mall-based apparel retailers like The Limited, Bebe, Aeropostale, and American Apparel have either filed for bankruptcy or announced massive store closings. A number of sporting goods retailers have also declared bankruptcy, and department store chains likeJ.C. PenneyandMacy'shave said they would close dozens of stores as the decline in retail traffic has been so significant that even restaurants are complaining of losing customers.
Nike, which operates as a wholesaler, through its own stores, and as an online retailer, isn't immune from the retail flux, but it is better positioned than its competitors to deal with the transition.
In its recent earnings call, CEO Mark Parker said, "The consumer has decided digital isn't just part of the shopping experience, digital is the foundation of it. This and other factors have shifted consumer patterns, especially in North America, impacting traffic, the economics of brick-and-mortar retail and is driving a more promotional environment in the near term."
The company has seen success in its own direct-to-consumer channel as online sales grew 18% last quarter and comparable sales were up 6% in its own stores, indicating it is managing the retail transformation successfully. The popularity of its brand also makes it attractive to retailers as it recently signed a deal to sell in 600 J.C. Penney stores.
Competitive landscape
Nike isn't the only sports apparel company that's been struggling.Under Armour(NYSE: UA) (NYSE: UAA) stock has plummeted as it had to step back recently from revenue and profit targets for 2018 due to the closures of retail partners, long-term marketing investments, and general headwinds in the industry. After 26 straight quarters of revenue growth above 20% at Under Armour, revenue suddenly slowed to 11.5% last quarter and is expected to remain around that clip during the current year. That's good news for Nike.
While Under Armour and Nike have struggled,Adidas(NASDAQOTH: ADDYY) has been ascendant. The German sports brand, whose currency-neutral sales grew 18% in 2016,sees that pace slowing to 11%-13% this year. With an operating margin of 7.7%, Adidas still lags behind Nike at 13.6%.
Adidas's revenue growth has bounced back, especially in North America, thanks to a focus on classic shoes it calls "Originals," running, and basketball. Its partnership with Kanye West has also helped keep the brand on trend.Still, Nike's sales are nearly five times as large as Adidas in its home market.
Nike's sustainable advantage
Fashion is fickle, and Nike's revenue growth has always been volatile. It dropped to below 4% a few years ago and has even been briefly negative at times in the last 20 years.
At a market cap of nearly $100 billion, Nike is large enough to survive the current retail malaise in its home market, and its diversification around the globe and in different retail channels should help it continue to grow despite those headwinds. The company's size also gives it economies of scale that its rivals can't match, and it continues to lead in key marketing areas like sponsorships, claiming 20 of 25 players in the NBA All-Star Game and 12 of 16 teams in the NCAA tournament's Sweet 16.
Nike isn't standing still, either. It plans to speed up its product turnaround and innovation and boost its direct-to-consumer channel. The company's marketing savvy will enable it to drive sales growth even amid the current retail woes, and with Adidas' growth already moderating, worries about its biggest rival should temper as well.
Nike has stood atop the sports world for a generation. That isn't about to change, despite the recent weakness.
10 stocks we like better than NikeWhen investing geniuses David and Tom Gardner have a stock tip, it can pay to listen. After all, the newsletter they have run for over a decade, Motley Fool Stock Advisor, has tripled the market.*
David and Tom just revealed what they believe are the 10 best stocks for investors to buy right now... and Nike wasn't one of them! That's right -- they think these 10 stocks are even better buys.
Click here to learn about these picks!
*Stock Advisor returns as of February 6, 2017
Jeremy Bowman owns shares of J.C. Penney, Nike, and Under Armour (C Shares). The Motley Fool owns shares of and recommends Nike, Under Armour (A Shares), and Under Armour (C Shares). The Motley Fool has a disclosure policy.