Nike Inc.: "In the Future, Product Will Come Alive."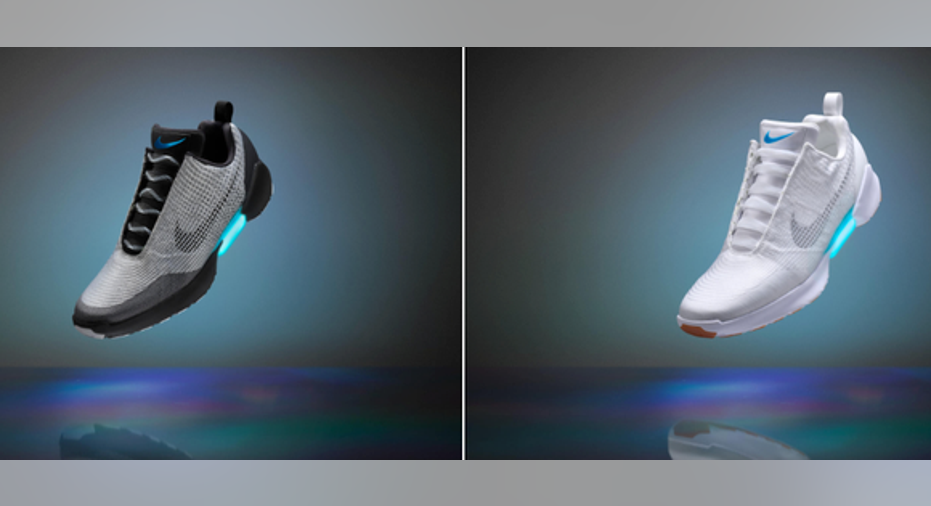 Nike's new self-lacing shoe innovation, which it calls adaptive lacing, is more than a gimmick. It has potential to represent a major new platform in athletic footwear. Even more, it highlights the company's culture of relentlessly innovating and leading. Here's what investors need to know about the new innovation -- and why it matters.
Nike HyperAdapt 1.0. Image source: Nike.
Introducing HyperAdapt 1.0"Innovation at Nike is not about dreaming of tomorrow. It's about accelerating toward it," said Nike shoe designer Tinker Hatfield in a post about the new innovation on the company's website. "We're able to anticipate the needs of athletes because we know them better than anybody. Sometimes, we deliver a reality before others have even begun to imagine it."
Nike's new HyperAdapt 1.0 platform for adaptive lacing certainly fits into the definition of an innovation ahead of its time.
The technology works simply. When a foot is placed in the shoe, the heel will hit a sensor, triggering laces to automatically tighten. Buttons on each side enable athletes to loosen or tighten the automatic fit.
"You can adjust it until it's perfect," explained Nike Senior Innovator Tiffany Beers, who is the project's technical lead.
The micro adjustments enabled by the shoe will make possible a precise fit that couldn't be achieved by lacing them the traditional way.
Nike detailed the importance of these "micro-adjustments":
Further into the future, the company envisions this automatic lacing platform evolving into one providing "tailored-to-the-moment custom fit," in which the shoe "senses what the body needs" and makes adjustments in real-time.
A culture of innovation Nike's move to launch HyperAdapt is worth investor attention. Not only could innovations like these serve to drive sales and help the company maintain its pricing power, but -- perhaps more importantly -- it highlights Nike's view of further runway in footwear overall. With automatic lacing, the company is completely breaking the rules of one of history's most important elements of footwear, and its making shoes more important in achieving an athletic edge.
Image source: Nike.
To drive home just how important this innovation is, and how representative it is of the way the company thinks about footwear, Beers emphasized that it's not just a product -- "It's a platform." Further defining what Beers meant by "platform," she said it is "something that helps envision a world in which product changes as the athlete changes."
Or, as Hatfield said in the company's post about the new platform: "In the future, product will come alive."
HyperAdapt is likely just a baby step in what will become a long and important evolution of the continual marriage of footwear and technology.
Any key innovation for the company in footwear is important news for Nike investors. Footwear is the company's largest segment, accounting for about 60% of revenue.
It's the company's drive to set standards in footwear that has got the company to where it is today, and it's this edge that will keep it leading the industry for years to come.
The article Nike Inc.: "In the Future, Product Will Come Alive." originally appeared on Fool.com.
Daniel Sparks has no position in any stocks mentioned. The Motley Fool owns shares of and recommends Nike. Try any of our Foolish newsletter services free for 30 days. We Fools may not all hold the same opinions, but we all believe that considering a diverse range of insights makes us better investors. The Motley Fool has a disclosure policy.
Copyright 1995 - 2016 The Motley Fool, LLC. All rights reserved. The Motley Fool has a disclosure policy.