New Jetta, SUVs and peek at future cars at Detroit auto show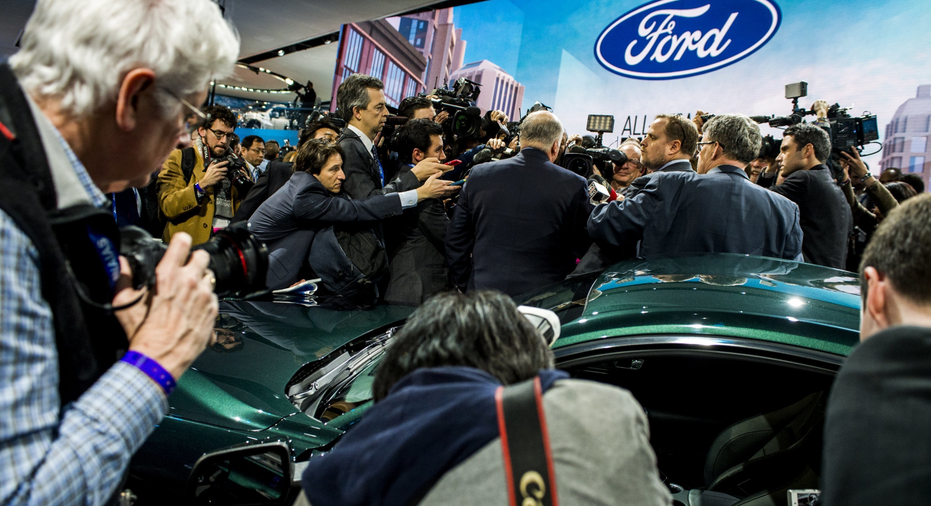 It's the year of the pickup truck at the 2018 North American International Auto Show in Detroit as General Motors, Fiat Chrysler and Ford unveil new trucks in a fast-growing and highly competitive U.S. auto market.
But there are plenty of other vehicles at the show, which is one of the industry's largest. Mercedes and BMW have new SUVs, while several Japanese automakers are showing off prototypes of future vehicles.
It's all happening in a U.S. auto market that's shrinking but still expected to remain at healthy levels. Last year sales fell 2 percent to 17.2 million, still near record highs. Analysts expect sales to be just under 17 million in 2018.
Here are some of the vehicles being unveiled at the show, which opens to the general public on Saturday:
ACURA RDX PROTOTYPE
Honda Motor Co.'s struggling Acura luxury brand hopes to revive sales with a new version of its best-selling RDX. Acura showed a prototype of the midsize SUV at the show, but it's close to the version that will go on sale in mid-2018. The 2019 RDX, which is the first to be designed in the U.S., is longer, lower and wider than the current model, with sharper lines outlined in chrome. A wide, panoramic glass roof will come standard. Under the hood is a new 2.0-liter turbocharged engine and a 10-speed automatic transmission. Acura says the RDX will have the most legroom and cargo space in its class. There's also a touchpad to control infotainment functions on the 10.2-inch dashboard screen. Acura didn't reveal pricing, fuel economy or other details.
VOLKSWAGEN JETTA
Volkswagen's redesigned Jetta offers more room — and a shot at redemption as the automaker recovers from a 2015 emissions-cheating scandal. The German automaker says the 2019 Jetta is longer, wider and taller than previous models. VW also aims for a sportier look, with a large front grille, higher chrome quotient and LED lighting. The car has a new standard six-speed manual transmission. An eight-speed automatic transmission is optional on the base model. The Jetta's revamped interior includes a new storage console large enough to fit a standard iPad.
The car is among the first of two new models planned this year and will come with a six-year, 72,000-mile warranty — double what it has been. It goes on sale in the second quarter at a starting price of $18,545 — less than its predecessor.
FORD EDGE
Ford Motor Co. is introducing a high-performance version of its midsize Edge SUV this summer: the Edge ST. It has a 2.7-liter, twin-turbocharged V6 engine that puts out 335 horsepower and 380 pound-feet of torque. That's paired to an eight-speed automatic transmission. All-wheel-drive comes standard, and there's a specially tuned sport suspension.
The Edge ST also has special design cues, including a wide mesh grille, 21-inch wheels and "performance blue" paint. The regular Edge also gets an update, with a more efficient 2.0-liter four-cylinder that puts out 250 horsepower. New safety features include "evasive steering assist," which uses cameras and radar to detect slower-moving vehicles. Pricing on the Edge and Edge ST hasn't yet been released.
TOYOTA AVALON
Toyota has taken the wraps off its revamped Avalon, which features a longer, lower and wider exterior and a rear cabin that extends another 7 inches (17.8 centimeters).
The automaker boasts of a "neater" steering wheel, with a smaller switch cluster, enlarged hand grips and cruise control now accessible on the right spoke.
The touch screen can be "pinched" or "flicked" like a smartphone. The new Avalon also can connect with a smart watch or Amazon Alexa-enabled device. The car has two new powertrains: a 3.5-liter V6 and 2.5-liter four-cylinder hybrid system.
The Michigan-designed Avalon will arrive in showrooms in late spring.
FORD MUSTANG BULLITT
Ford Motor Co. is making a special edition Mustang to commemorate the 50th anniversary of "Bullitt," whose unforgettable car chase scene helped turn the sports car into an icon.
The 2019 Mustang Bullitt — due out this summer — will have an upgraded 5.0-liter V8 engine that puts out 475 horsepower. It has a top speed of 163 miles per hour (262 kilometers per hour) and a manual transmission with a white cue-ball shift knob. It's available in dark highland green, the color "Bullitt" made famous, as well as black.
Molly McQueen — granddaughter of "Bullitt" star Steve McQueen — introduced the 2019 Mustang Bullitt on Sunday at the Detroit auto show. It's the first Ford has produced since 2008. Ford didn't reveal the cost.
MERCEDES G-CLASS
Mercedes' boxy-looking G-Class SUV gets a face-lift that the company says will boost performance both on and off the road.
The company readily acknowledges that its appearance hasn't changed much in almost four decades. But the 2019 version gets numerous changes including 2 additional inches (5 additional centimeters) of length and 4.8 inches (12 centimeters) of width.
The G-Class gets a new independent front suspension as well as a nine-speed automatic transmission. It's still powered by a 4-liter V8 with 416 horsepower. It also gets new LED headlamps.
The G-Class will go on sale in the U.S. by late 2018, but no specific date was announced, nor pricing or fuel mileage.
BMW X2
BMW's sporty X2 small SUV will sit between the compact X1 and the bigger X3 in the automaker's lineup. It sits low and has a more muscular body than its siblings. The X2 also has a widened version of BMW's signature double kidney grille.
The 228-horsepower xDrive28i, which goes on sale in the U.S. in March, is powered by a 2.0-liter turbocharged four-cylinder engine. It's mated to an eight-speed transmission. The 192-horsepower sDrive28i goes on sale later this spring. Drivers can flip a switch and choose a driving mode, from comfort, eco-friendly or sport. The suspension can also be lowered for more dynamic driving.
On the optional M Sport X Package, drivers get gearshift paddles on the steering wheel for quicker shifting. Pricing wasn't announced.