New Details Emerge in Johnson & Johnson's Pursuit of Actelion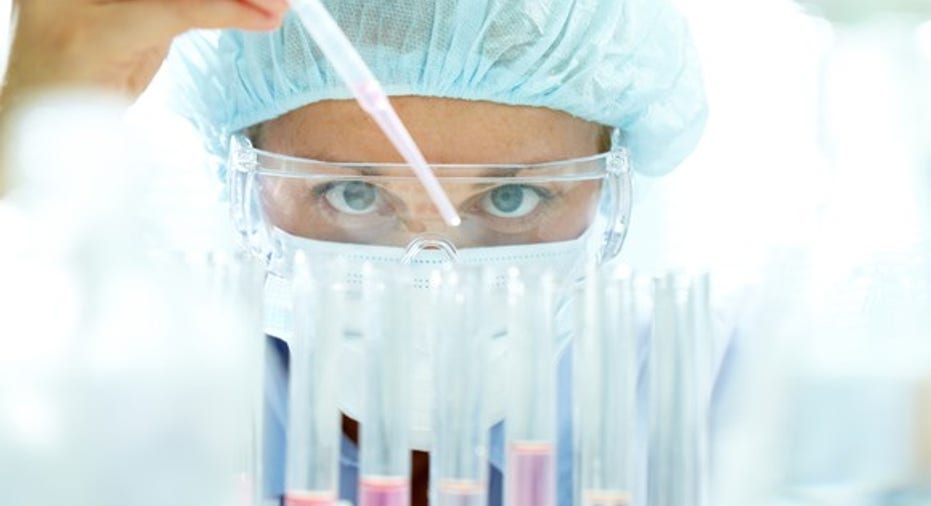 Image source: Getty Images.
Just when you thought the rumored deal between Johnson & Johnson(NYSE: JNJ) and Swiss-based drugmaker Actelion (NASDAQOTH: ALIOF) couldn't get any worse, it did.
Remicade losses spur J&J to act
Back in November, it was confirmed that healthcare conglomerate Johnson & Johnson and Actelion were in discussions, with J&J on the hunt for a new acquisition. Johnson & Johnson reportedly offered Actelion, which has long strived to remain independent, $26 billion in order to gain hold of its leading portfolio of pulmonary arterial hypertension (PAH) drugs. PAH is a disease characterized by high blood pressure in the arteries between the heart and lungs. The prize of Actelion's portfolio are Opsumit and Uptravi, which are both capable of more than $2 billion in peak annual sales.
Johnson & Johnson has a treasure trove of extra capital (more than $40 billion in cash, cash equivalents, and short-term investments as of the latest quarter), which could make it easier for the healthcare giant to facilitate a deal. But, more importantly, its leading drug, the anti-inflammatory medicine Remicade, is facing biosimilar competition from Inflectra, which was developed by Celltrion and licensed to Pfizer. Inflectra is selling at a 15% discount to Remicade, and it's expected to begin eating into J&J's revenue stream in 2017. Adding Actelion's PAH portfolio would immediately help stem sales weakness in J&J's drug, which generates $6 billion-plus per year.
Following a bid rejection, J&J reportedly upped its offer to about $27 billion before backing away from negotiations and allowing rival Sanofia crack. Discussions between Sanofi and Actelion were also unsuccessful. This once again opened the door for Johnson & Johnson.
Image source: Getty Images.
New details emerge
In mid-December, Wells Fargo Securities noted that a deal for Actelion could wind up fetching as much as $32 billion, which was around the figure that Actelion was rumored to be looking for when negotiations began. On Friday, Dec. 29, new details emerged about a possible tie-up.
According to Reuters, J&J's latest offer isn't much higher than its last offer before it walked away (roughly $260 a share, or $27.2 billion), but it would include some sizable concessions to Actelion's shareholders and a leery Actelion CEO, Jean-Paul Clozel, who's a bit gun-shy about selling his company to a larger competitor.
The reported deal structure would allow J&J to break Actelion up into two separate companies. One company would bear Actelion's commercial PAH portfolio, while the other publicly traded entity would hold all of its pipeline products. This second company would allow shareholders in Actelion to benefit from the company's pipeline. Additionally, the deal appears to be an entirely cash offer and could be announced by the end of this month, according to sources familiar with the matter. There's also the usual mention that talks could still break down, as they have in the past, resulting in no deal.
Image source: Getty Images.
This proposed deal actually got worse
It's no secret that this Fool isn't a fan of this proposed deal at any of the prices J&J has offered. My two biggest issues with paying a large premium for Actelion revolve around the company's current lead drug, Tracleer, and its pipeline.
Tracleer, despite generating more than $1 billion annually, is facing the entrance of generic competition in 2017, and as such could wind up quickly losing about half of its annual revenue, if not more. This means the drug that's responsible for nearly half of Actelion's current sales is about to lose its relevance right as J&J aims to pay a hefty premium for the company.
The other issue is that many of Actelion's pipeline products are years away from hitting pharmacy shelves and being relevant, if they even succeed in phase 3 trials. For example, it's probably going to take more than just meeting its primary endpoint for relapsing multiple sclerosis (MS) drug ponesimod to be relevant. Gilenya, the leading drug in the relapsing MS space, likely isn't going to relinquish market share to another therapy that may work just as well. I believe J&J is taking on a huge risk by paying such a hefty premium for an unproven pipeline.
But, as noted earlier, things got even worse for Johnson & Johnson. By suggesting that Actelion be broken up into two separate companies, Reuters is implying that beyond the $27.2 billion cash offer, Actelion shareholders would retain a percentage of ownership in the secondary company. In other words, $27.2 billion wouldn't even buy all of Actelion, since J&J would only have a yet-undetermined stake in the secondary company filled with Actelion's pipeline products. This proposed deal just keeps getting more and more expensive for J&J and its shareholders, and the chance of a return on this major investment continues to dwindle in my eyes.
Image source: Getty Images.
Here's the good news
Now for a ray of sunshine: Regardless of whether J&J acquires Actelion or not, the company should still be one of the safest bets for conservative long-term investors.
Johnson & Johnson has a vast drug portfolio that extends beyond Remicade. For instance, its partial ownership in blood cancer drug Imbruvica should help investors cope with lost revenue from Remicade. It's also a leader in medical devices, which should come in handy as the U.S. population continues to age and a growing number of seniors require maintenance procedures on their hips, knees, and spines to keep active. Last, J&J has a leading portfolio of brand-name consumer health products that are primarily inelastic.
You also can't overlook the unique way Johnson & Johnson is set up. Instead of being one massive company, J&J is actually composed of more than 250 subsidiaries, so it's veritably impossible for one malfunctioning cog to bring down the entire ship.
Personally, I believe J&J's management is foolish, with a small "'f," if they pony up $27.2 billion for a majority stake in Actelion with Tracleer coming off patent and the company's pipeline mostly unproven outside of PAH. If J&J were to wait a year, it could probably nab Actelion for a lower price -- but that's just one Fool's opinion.
10 stocks we like better than Johnson and Johnson When investing geniuses David and Tom Gardner have a stock tip, it can pay to listen. After all, the newsletter they have run for over a decade, Motley Fool Stock Advisor, has tripled the market.*
David and Tom just revealed what they believe are the 10 best stocks for investors to buy right now... and Johnson and Johnson wasn't one of them! That's right -- they think these 10 stocks are even better buys.
Click here to learn about these picks!
*Stock Advisor returns as of Nov. 7, 2016
Sean Williamshas no material interest in any companies mentioned in this article. You can follow him on CAPS under the screen nameTMFUltraLong, and check him out on Twitter, where he goes by the handle@TMFUltraLong.The Motley Fool recommends Johnson and Johnson. The Motley Fool has a disclosure policy.