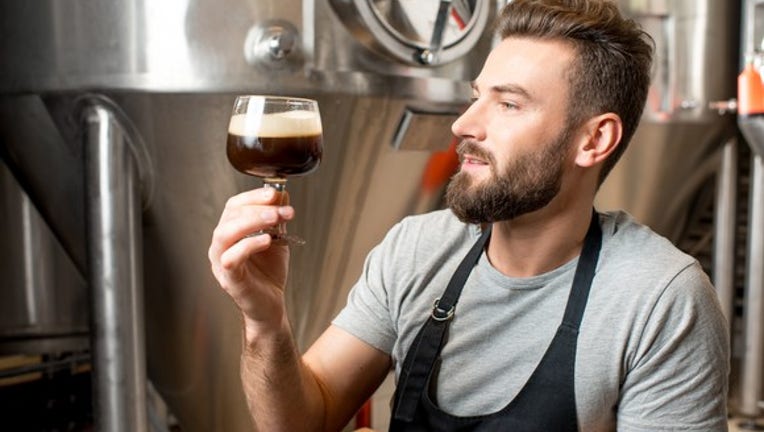 The craft beer industry is still growing, but it's definitely beginning to show its age. After years of enjoying double-digit growth rates, the craft beer segment only saw single-digit growth last year, and the concern is that the industry's best years may be behind it.
While there are a number of factors contributing to the slowdown, is it possible we have reached a point where growth is about to go flat, or worse, reverse entirely?
Image source: Getty Images.
Still aging well?
The industry trade group Brewers Association said craft beer volume growth slowed to just 6% in 2016, compared to 13% the year beforeand an 18% increase in 2014. Of course, a business or industry can't grow at such a torrid pace forever, and craft beer probably did so far longer than most people expected. But now that it has likely fully matured, it's important to consider what the future holds for craft beer producers.
Data source: Brewers Association. Chart by author.
As can be seen from the chart above, it appears the heady days of growth are behind the industry. Craft beer has ultimately been a victim of its own success.
While certainly not the first craft beer on the market, Boston Beer (NYSE: SAM) quickly became the face of the industry, and its success helped spur many more home brewers to make the leap into the pro leagues. Its Samuel Adams brand also helped ferment a cultural change in attitude toward what a beer should taste like, going from the relatively weak, amber-colored mass-produced beers that regularly poured out of the breweries of Anheuser-Busch InBev (NYSE: BUD), Miller, and Molson Coors (NYSE: TAP) to a richer, darker, more full-bodied brew.
Bigger than ever
Today, there are more than 5,300 breweries in operation, more than at any time in the country's history, and 99% of them are craft breweries. In 2011, there were fewer than 2,000 breweries, which means breweries have been growing at over 21% annually. So has the industry reached a saturation point?
Boston Beer has pointed to the explosion of competition for shelf space as one of the reasons its depletions fell last year (depletions are sales to wholesalers and retailers -- they are often considered a proxy for consumer demand).
Yet the growth has also attracted the attention of the mega-brewers, which saw their own sales flatline, then decline, as a result. Molson launched Blue Moon as a mass-craft alternative, and Anheuser-Busch soon followed with Shock Top. But as domestic beer sales continued to weaken, they began buying up smaller competitors, with Anheuser-Busch in particular making a dozen acquisitions in the space. Molson, Heineken, and Constellation Brands (NYSE: STZ) have all made big bets in the craft beer space, too.
Data source: Brewers Association. Chart by author.
And therein lies part of the reason for the decline in the headline numbers in the craft beer industry. The acquisitions have taken out some 1.2 million barrels, and as the Brewers Association notes, because most of the breweries "that exited the data set were from regionals, and the vast majority of the growth came from micros and brewpubs, the craft set got 'smaller' this year."
Continuing to take market share
The trade group defines a craft brewery as one that produces six million barrels or less per year, is less than 25% owned or controlled by a mass brewer, and produces most of its beer by using traditional or innovative brewing ingredients and their fermentation. So while Ballast Point Brewing, for example, was once considered a craft brewer, its purchase by Constellation Brands takes it out of the group. Similarly, Anheuser-Busch's dozen craft beer buys over thelast few years also eliminates them from the count.
Still, the breweries that remained in 2016 added 1.4 million barrels during the year, outpacing the volume taken out and indicating that the overall health of the industry remains sound. But even then, there may simply be too many craft brewers competing for limited shelf space.
A shakeout in the works?
Craft beer may have to endure a wave of consolidation and contraction in the next few years. It's likely a sign of things to come that 97 breweries closed last year, up from 68 in 2015, and just 46 the year before that. While there are still plenty appearing in the market to replace them, the increasing competition will only make it more difficult to operate profitably.
Ultimately, a craft beer shakeout would be good for the industry, as it ensures the healthiest breweries remain in operation, even if a few local favorites fall by the wayside.
10 stocks we like better thanWal-MartWhen investing geniuses David and TomGardner have a stock tip, it can pay to listen. After all, the newsletter theyhave run for over a decade, the Motley Fool Stock Advisor, has tripled the market.*
David and Tomjust revealed what they believe are theten best stocksfor investors to buy right now and Wal-Mart wasn't one of them! That's right -- theythink these 10 stocks are even better buys.
Click hereto learn about these picks!
*StockAdvisor returns as of April 3, 2017The author(s) may have a position in any stocks mentioned.
Rich Duprey has no position in any stocks mentioned. The Motley Fool owns shares of and recommends Anheuser-Busch InBev NV and Boston Beer. The Motley Fool has a disclosure policy.