New CNG System Announced by Clean Energy Fuels Corp: Here's What Investors Should Know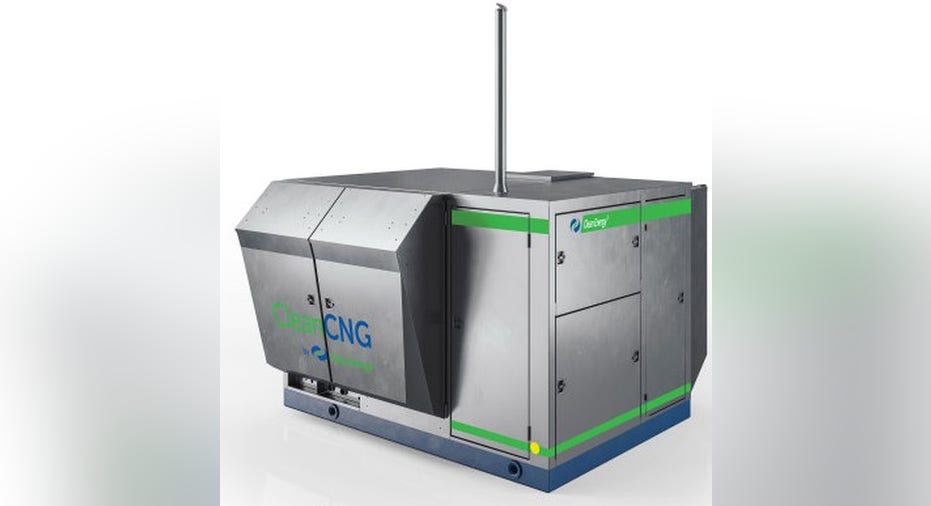 Clean Energy sells more CNG than any other natural gas fuel provider. Image source: Clean Energy Fuels Corp.
The global economic downturn and the collapse in oil prices have weighed heavily on the results atClean Energy Fuels Corp. subsidiary Clean Energy Compression. A combination of weakening demand for natural gas refueling stations in Asia, currency exchange headwinds, and inefficiencies in the unit's operations have all been issues for the subsidiary.
At the same time, Clean Energy CEO Andrew Littlefair has said that they are making changes in the compression equipment manufacturer, driving down costs, and taking steps to improve manufacturing efficiencies. Gross margins have improved. On the recent earnings call, Littlefair said that the compression business contributed more gross margin dollars last quarter than the year-ago period, even though the company sold fewer dollars worth of compression equipment.
The just-announced "CleanCNG" series of compressors, by all accounts, looks set to continue the improvements at Clean Energy Compression. Here's a closer lookat what that means (and doesn't mean) for Clean Energy Fuels.
What just happened
On June 14, Clean Energy Fuels Corp announced the availability of its "CleanCNG" non-lubricated, heavy-duty CNG compressors.
Clean Energy's new "CleanCNG" compressor series. Image source: Clean Energy Fuels Corp.
This series of compressors is available in ratings from 150 horsepower to 300 horsepower, and is scalable in design, allowing for expansion. It also operates at very low vibration and noise levels, making it suitable for a variety of locations. This is particularly relevant for companies with operations near or in residential areas, where compressor noise can be an issue for those considering shifting to natural gas.
Additionally, the non-lubricated nature of these compressors is important, since it means significantly less lubrication oil carrying over from the compressors to the fuel tanks of vehicles, which can impact vehicle performance and reliability.
What it means for the industry and for Clean Energy Fuels
The scalability of this compression system is particularly important. Most vehicle fleet operators that are adopting natural gas vehicles will start with a portion of their fleet, and slowly add more NGVs to replace gasoline and diesel-fueled ones over time. Because of this, the ability to have a uniform and scalable refueling system that can be built up over time, is advantageous. By introducing this new series of compressors, Clean Energy Compression will be more competitive in the marketplace, both in North America and around the world.
Clean Energy's manufacturing business will benefit as well. One of the issues that management has been working on at the compression business is the lack of standardization across products. One of the key goals in the development of this system was parts commonality across different configurations. By standardizing on as many of the components as possible, the company will be able to simplify its inventory process, potentially gain lower costs with increased volume of specific components, and also reduce complexity in its manufacturing process. Combined, these should mean lower manufacturing costs and better operating efficiencies, which will improve operating margins.
Looking at the bigger picture
Clean Energy Compression isn't the company's core business, but it's important to driving sales across the spectrum.Here's a breakdown of Clean Energy's revenues by source last quarter:
| Revenue | Q1 2015 | Q1 2016 |
| --- | --- | --- |
| Fuel Volume-Related | $64.9 | $67.8 |
| Compressor Sales | $14.4 | $ 8.3 |
| Station Construction Project Sales | $ 6.5 | $13.3 |
| VETC | | $ 6.4 |
| Total | $85.8 | $95.8 |
In millions. Data source: Clean Energy Fuels 10-Q.
The compressor business only generated $8.3 million in revenue last quarter, but it also supports Clean Energy's station construction business. Furthermore, the station construction business is a key driver of growth in fuel volume sales. In other words, don't just look at these individual segments in isolation.
The new "CleanCNG" series of compressors won't necessarily drive demand for more stations, but it should mean better profitability and position the company well for the future. Eventually demand for natural gas refueling equipment will rebound around the world. Like most manufacturing, this is a cyclical business and it will bounce back -- the strong station construction sales revenue Clean Energy reported last quarter offers some indication that there is strong demand in North America.
Bottom line: Neither the compression business nor this new product line are game-changers for Clean Energy Fuels. But they do represent incremental improvements in its manufacturing business that should drive better margins and potentially increased station upgrade revenues down the road. That's the kind of steady progress investors should take note of.
The article New CNG System Announced by Clean Energy Fuels Corp: Here's What Investors Should Know originally appeared on Fool.com.
Jason Hall owns shares of Clean Energy Fuels. Jason Hall has the following options: long January 2017 $5 calls on Clean Energy Fuels, short January 2017 $5 puts on Clean Energy Fuels, and long January 2017 $3 calls on Clean Energy Fuels. The Motley Fool owns shares of and recommends Clean Energy Fuels. Try any of our Foolish newsletter services free for 30 days. We Fools may not all hold the same opinions, but we all believe that considering a diverse range of insights makes us better investors. The Motley Fool has a disclosure policy.
Copyright 1995 - 2016 The Motley Fool, LLC. All rights reserved. The Motley Fool has a disclosure policy.