Netgear Rides Retail Strength to a Record Holiday Quarter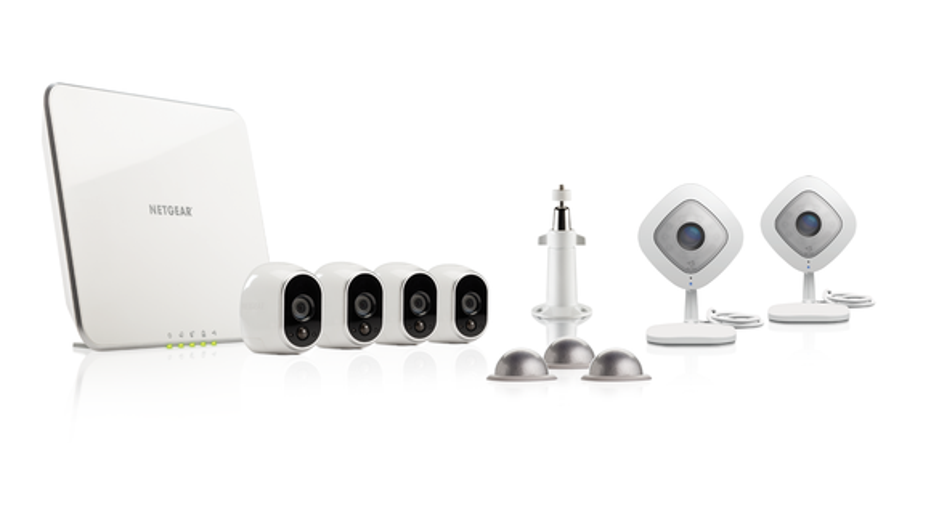 Shares ofNetgear(NASDAQ: NTGR)declined nearly 7% Wednesday after the companyreleased strong fourth-quarter 2016 results, but it followed with underwhelming guidance to start 2017. However, if management's comments on guidance are any indication, patient investors shouldn't be worried right now.
Let's have a closer look at how Netgear capped 2016 and what investors can expect going forward.
Netgear's Arlo wireless camera security line helped drive strong retail segment sales in Q4. IMAGE SOURCE: NETGEAR.
Netgear results: The raw numbers
| Metric | Q4 2016 | Q4 2015 | Growth (YOY) |
| --- | --- | --- | --- |
| Revenue | $367.9 million | $360.9 million | 1.9% |
| GAAP net income | $22.1 million | $21.8 million | 1.4% |
| GAAP earnings per share | $0.65 | $0.66 | (1.5%) |
DATA SOURCE: NETGEAR. YOY = year over year.
What happened this quarter?
On a non-GAAP (adjusted) basis -- which excludes items like stock-based compensation and restructuring expenses -- net income grew 8.6% year over year, to $29.9 million, and adjusted net income per share grew 6% to $0.88.
Adjusted operating margin improved 60 basis points year over year, to 11.4%.
By comparison,Netgear'smost recent guidancecalled for fourth-quarter revenue in the range of $340 million to $355 million and adjusted operating margin in the range of 10.5% to 11.5%.
By geography:
Americas revenue grew 9.4% year over year to $253.7 million.
EMEA revenue fell 20.3%, to $69.2 million.
Asia-Pacific revenue grew 6.8%, to $45.1 million.
Revenue by segment included:
22.1% growth in retail business unit (RBU) revenue, to $241.2 million, driven by continued strength in the Nighthawk, Arlo, and Orbi product lines.
17.9% growth in commercial business unit (CBU) revenue, to $75.3 million, driven by strength in Netgear's switching product portfolio.
a 48.3% decline in service provider segment (SPBU) revenue, to $51.4 million, slightly below the $55 million run rate management suggested for the SPBU last quarter, but well within expectations given lumpiness in the business.
Generated $19.8 million in free cash flow.
Repurchased roughly 299,000 shares during the quarter for $15 million, or an average price of $50.17 per share.
Ended the year with cash, cash equivalents, and short-term investments of $366 million.
What management had to say
CEO Patrick Lo stated:
Looking forward
For the first quarter of 2017, Netgear expects revenue of $300 million to $315 million, compared to $310.3 million in the same year-ago period. First-quarter adjusted operating margin is expected to be in the range of 9.5% to 10.5%. By comparison -- and though we don't usually pay close attention to Wall Street's demands -- analysts' consensus estimates called for higher first-quarter revenue of $318.8 million. This appears to be the reason for Netgear's decline today.
During the subsequent conference call, though, Netgear CFO Christine Gorjanc noted that the outsized growth of the retail business unit means Netgear's seasonality will be "more pronounced than before, when CBU and SPBU combined represented a larger portion of our revenue."
Gorjanc also pointed out that the seasonality for Arlo IP cameras in particular "is more pronounced than it is for our home networking products, [resulting] in a sizable sequential decline in retail revenue from Q4 to Q1."
As such, it's important to know that this larger seasonal decline isnotindicative of the retail business unit's strength for the full year. In fact, Netgear also reiterated its full-year guidance for combined revenue from the retail and commercial business units to grow 10% in 2017, all while maintaining the rough $55 million-per-quarter run rate of the service provider business. Moreover, Gorjanc insisted Netgear will not slow its R&D spending in the first half of the year despite its lower revenue, elaborating: "We believe that differentiated new products continue to be the foundation for our financial success."
Nonetheless, with shares of Netgear falling as much as 12% earlier today before closing down around 6.7%, the market obviously isn't pleased with its perceived slow start to 2017. But from a patient, long-term investor's point of view, Netgear is exactly where it wants to be.
10 stocks we like better than NetgearWhen investing geniuses David and Tom Gardner have a stock tip, it can pay to listen. After all, the newsletter they have run for over a decade, Motley Fool Stock Advisor, has tripled the market.*
David and Tom just revealed what they believe are the 10 best stocks for investors to buy right now...and Netgear wasn't one of them! That's right -- they think these 10 stocks are even better buys.
Click here to learn about these picks!
*Stock Advisor returns as of February 6, 2017.
Steve Symington has no position in any stocks mentioned. The Motley Fool recommends Netgear. The Motley Fool has a disclosure policy.