Netflix Won't Have to Crash Cannes This Year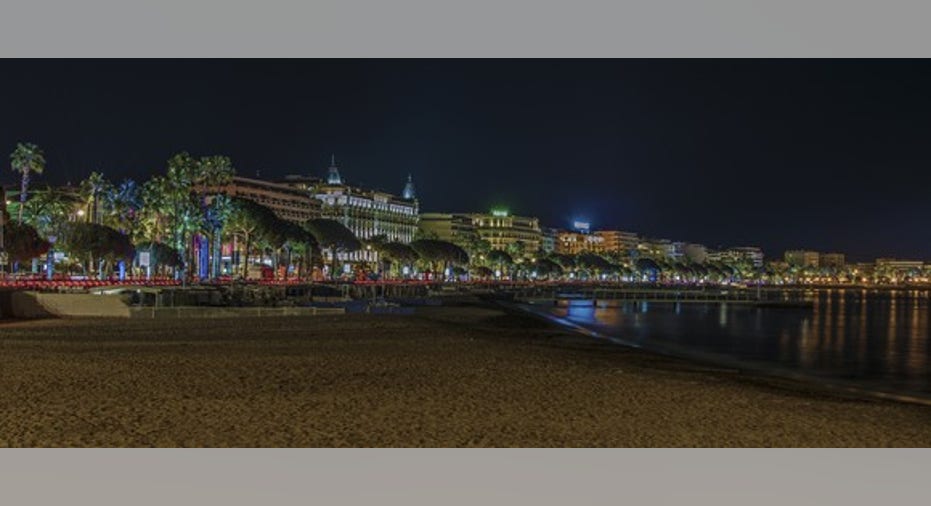 Cinephiles and A-list actors and actresses the world over will descend on Cannes, France, beginning this week for its 12-day celebration of movies. The Cannes Festival (better known as the Cannes Film Festival) is a prestigious event among auteur filmmakers, and having a picture chosen to be screened can have a significant impact on a film's success. It's also an indication of acceptance by the film industry elite.
The festival's grand prize, the Palme D'Or, is bestowed every year on the director of the best feature film. It was first awarded in 1955 and has become a mark of excellence among movie lovers. Previous winners of the coveted prize include fan favorites such asThe Pianist, Pulp Fiction, Apocalypse Now, and Taxi Driver.
Cannes, home of the prestigious film festival, is in battle with Netflix. Image source: Getty Images.
French theater owner's revolt
A high-profile scuffle ensued when the list was released last month of films that would be screened for the festival's 70th anniversary. Video-streaming pioneerNetflix, Inc.(NASDAQ: NFLX)which expanded to more than 200 countries last year, had two films among the selections for Cannes:The Meyerowitz Stories, by noted indie director Noah Baumbach andOkja, the second English-language film from the director ofSnowpiercerBong Joon-Ho.
Almost immediately, the French exhibitors cried foul, saying that Netflix's streaming model violated the spirit of the festival that celebrates theatrical film. The National Federation of French Cinemas demanded that Netflix commit to releasing the films in French theaters. The sticking point, it seems, was France's Media Chronology Law, which bans movies from streaming services for three years after a theatrical run, which would have hamstrung the project's streaming release in France. Netflix issued a statement saying, in part: "We are certain that French film lovers do not want to see these films three years after the rest of the world. With that said, we are exploring theatrical distribution of these two films in France, for a limited theatrical run, day and date with the films' release on Netflix."
Ongoing anxiety
This isn't the first such clash between Netflix and the French movie industry. The company has been criticized because its streaming model bypasses the French system that earmarks a portion of box-office revenue to fund future-film productions.
Netflix's Stranger Things, available in France. Image source: Netflix.
As a result of the controversy, Cannes will be implementing a new rule beginning in 2018 that requires any film considered for the festival have a theatrical release in France:
Many in the French film establishment would like to see the three-year rule amended, which some see as inexplicably long. French President-elect Emmanuel Macron has promised an overhaul of the country's antiquated regulations and initiated a review of the 36-month ban on theatrical releases from streaming services.
The times, they are a-changin'
Netflix couldn't have possibly envisioned the types of challenges it would face and the changes that would result from its introduction of streaming in January 2007.
For its final 2006 financial release, the company sported 6.3 million subscribers to its DVD-by-mail service in the U.S., with revenue of $996.7 million and net income of $49 million for the year. Now, just 10 years later, Netflix streaming service is available in 200 countries worldwide, with 93.8 million subscribers, and produced revenue of $8.8 billion and net income of $187 million for 2016.
Shareholders have gone along for the ride, with the stock rising a mind-numbing 5,700% over the past 10 years. Recent events in France may be getting headlines, but they are merely a speed bump on the road to streaming everywhere.
10 stocks we like better than NetflixWhen investing geniuses David and Tom Gardner have a stock tip, it can pay to listen. After all, the newsletter they have run for over a decade, Motley Fool Stock Advisor, has tripled the market.*
David and Tom just revealed what they believe are the 10 best stocks for investors to buy right now... and Netflix wasn't one of them! That's right -- they think these 10 stocks are even better buys.
Click here to learn about these picks!
*Stock Advisor returns as of May 1, 2017
Danny Vena owns shares of Netflix. The Motley Fool owns shares of and recommends Netflix. The Motley Fool has a disclosure policy.