Netflix Stock-Split History: How Early Investors Have Gotten Rich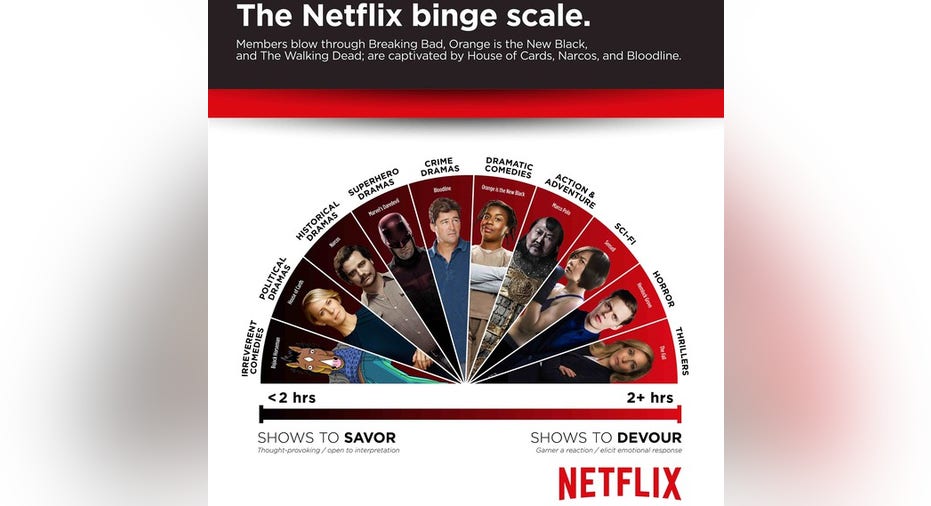 Image source: Netflix.
Stock splits don't have any economic impact on a company, but they often reflect the success that a company has had in boosting its stock price. Netflix has soared over the years as its DVD service evolved into the premier video-streaming provider, and subscription growth in the U.S. and around the world has helped make early investors in Netflix rich. Not only has the share price climbed dramatically in the 14 years that Netflix has traded publicly, but the company has also done a couple of stock splits to keep its share price at reasonable levels.
Netflix's history of stock splits
Below, you'll see the history of Netflix's stock splits since its IPO in 2002:
| Date of Split | Split Ratio |
| --- | --- |
| Feb. 12, 2004 | 2 for 1 |
| July 15, 2015 | 7 for 1 |
Data source: Netflix investor relations.
Both of Netflix's stock splits have come following periods of extremely strong stock performance. Between October 2002 and January 2004, the company saw its shares climb by more than 1,500%, and when the stock approached $80 per share, Netflix made the decision to do a traditional 2-for-1 split.
Netflix stock remained stagnant for several years following the 2004 split, but in the rebound from the recession of 2008, the stock climbed from $18 per share to upward of $700 per share by 2015. Netflix wasn't as quick to split its shares again, but eventually, the company decided that it made sense to bring its share price back down toward the $100 range. Once more, in the time since the 7-for-1 2015 split was completed, Netflix stock hasn't made any major moves, falling slightly over the past year.
Why Netflix split its shares
Back in 2004 when Netflix first split its stock, the business looked a lot different than it does now. The company was in hyper-growth mode, bringing in 444,000 new trial subscribers in the fourth quarter of 2003, to bring its total subscriber count to just shy of 1.49 million. Churn had fallen below the 5% mark to reach record lows, and the company had just reported net income of $2.3 million. As CEO Reed Hastings noted at the time, the split "reflects the strong organic and sustained growth of the Netflix model," and he predicted further growth and sustained momentum in subsequent years.
Fast-forward to 2015, and Netflix looked a lot different. Having added the streaming video service, Netflix boasted 65 million members worldwide in the second quarter of the year, with 42 million domestic subscribers, and 23 million international customers. The company added 3.28 million subscribers in the second quarter alone -- more than double its total subscriber count from 2004.
Although net income for the quarter was fairly low, at $26 million, previous quarters had seen bottom-line figures of as much as $83 million. Hastings was reported as saying that the reduction in Netflix's share price would increase access to shareholders, making it easier for investors to buy shares of the company.
What's ahead for Netflix?
Part of the reason why Netflix stock hasn't performed well after its 2015 split is that it hasn't been able to live up to investor expectations. For instance, the stock fell 12% in April, following a quarterly report that included sluggish guidance for the second quarter, and relatively small numbers of new subscribers. In particular, the slowing growth in the key international segment could challenge Netflix's relatively high valuation, especially since the stock sports a triple-digit price-to-earnings ratio because of investor perceptions of strong growth prospects.
One big question about Netflix's growth is whether its decision to increase prices on U.S. subscribers will result in defections from its user base. Rising costs of content require greater revenue, but the competitive nature of the business makes it dangerous for Netflix to be too aggressive in trying to boost its top line.
Nevertheless, long-term investors in Netflix have turned modest initial investments into riches, and the company's stock-split history is a big part of the reason why. Further stock splits aren't likely in the near future, but if Netflix can keep growing at the pace investors expect, then the stock's returns could remain attractive well into the future.
The article Netflix Stock-Split History: How Early Investors Have Gotten Rich originally appeared on Fool.com.
Dan Caplinger has no position in any stocks mentioned. The Motley Fool owns shares of and recommends Netflix. Try any of our Foolish newsletter services free for 30 days. We Fools may not all hold the same opinions, but we all believe that considering a diverse range of insights makes us better investors. The Motley Fool has a disclosure policy.
Copyright 1995 - 2016 The Motley Fool, LLC. All rights reserved. The Motley Fool has a disclosure policy.