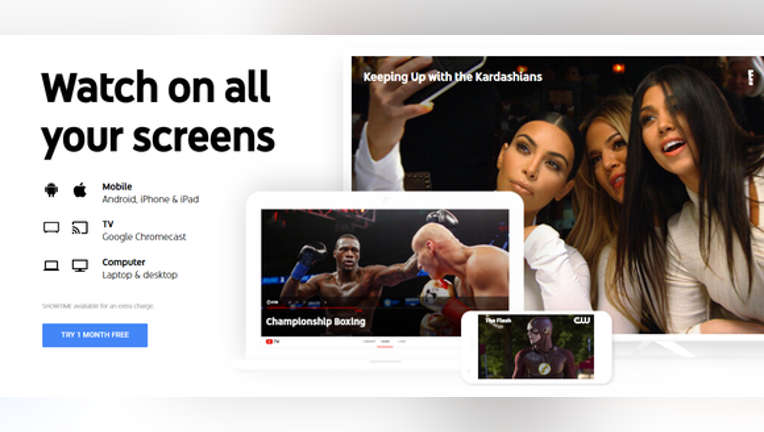 December data for over-the-top (OTT) streaming services was released by comScore in early April. The results show that approximately 49 million Wi-Fi connected homes in the United States are now watching at least one OTT provider's content.
Netflix, Inc.(NASDAQ: NFLX)is the dominant player in the space according to comScore, with Alphabet's (NASDAQ: GOOG)(NASDAQ: GOOGL) YouTube and Amazon's (NASDAQ: AMZN) video service not too far behind.
The table below highlights the various OTT services and where they stack up according to comScore's December data for U.S. Wi-Fi connected homes streaming from at least one OTT provider.
Data source; comScore. Chart by author.
Although Netflix is the largest OTT provider on a number of homes basis, the data indicates that DISH Network Corp.'s (NASDAQ: DISH)Sling TV has surpassed Netflix by average hours of monthly use. Households watched Netflix an average of 28 hours per month and Sling TV was watched 47 hours per month. This is not a surprise as Sling TV is a bundle of up to 50 different cable channels including the Walt Disney Company's popular sports channel ESPN.
YouTube TV ad. Image source: YouTube.
Netflix subscriber information
Netflix subscriber numbers have swelled over the years to the point where some are concerned about the growth remaining in the United States. As of the end of 2016, the same time comScore collected its data, Netflix reported having just over 49 million U.S. subscribers. At the end of Q1, Netflix's most recently completed quarter, total U.S. subscribers were nearing 51 million.The comScore number, which are for households that are Wi-Fi enabled and streaming from at least one OTT service, indicate that Netflix has almost 37 million Wi-Fi enabled households in its subscriber base.
The comScore data also shows that 47% of the Wi-Fi connected households do not utilize any OTT service. That would mean there are at least 43 million potential customers for services like Netflix who have not discovered the attraction of OTT streaming of video content.
Reed Hasting's prediction of U.S. subscriber growth
Netflix's CEO Reed Hastings has stated that he believes that Netflix's U.S. growth will top out at between 60 million and 90 million subscribers. The data from comScore would indicate that this is still a reasonable prediction. If the company were to add 75% of the Wi-Fi enabled households that currently do not use any OTT service that would equate to an additional 32 million subscribers. Add that to the 49 million subscribers Netflix reported at the end of December for a total of 81 million U.S. subscribers, well within Hasting's forecast.
All signs point to OTT as the future?
The trend moving away from linear television to OTT services is undeniable with new signs appearing almost daily. Here are just a few of the latest examples.
YouTube announced a new $35 per month OTT service initially available in five different U.S. cities on April 5th.
The FCC has just completed the auctioning of traditional television spectrum to be used for telecom transmission on April 13th. The low band frequencies were no longer required for traditional linear television transmission and will be put to good use by the likes of T-Mobile US Inc,Dish Network, and Comcast Corporation to serve their customers.
On April 13th NBC announced an agreement allowing its local affiliates to opt into a deal allowing their content to be streamed as part of OTT bundles that NBC Universal would participate in. The idea is to allow OTT subscribers of various bundles to receive local NBC programming.
Companies including Viacom, Inc.,Discovery Communications Inc.,and AMC Entertainment Holdings Inc. are reported to be in talks to create an OTT bundle that does not include sports.
How does this benefit Netflix?
As more and more OTT services become available society will naturally gravitate to a lower cost more highly personalized means of subscribing to content than traditional linear television. More choices at lower cost will attract new subscribers. Here is how Netflix CEO Reed Hastings described the growing demand for OTT services during the Q4 earning's Q&A session.
Foolish conclusions
It is mistake to think that there is no more domestic growth available for Netflix. Traditional television providers are preparing for change by selling off excess spectrum and agreeing to make local content part of the OTT landscape. Consumers are learning more about the new OTT bundles of content that are being made available to them and subscribing to one or more services.
As a long-term Netflix shareholder, it appears to me that the rest of the world is coming around to the vision of streaming that Netflix had almost a decade ago. All signs point to great things ahead for the OTT industry and the leader of the industry is Netflix.
10 stocks we like better than NetflixWhen investing geniuses David and Tom Gardner have a stock tip, it can pay to listen. After all, the newsletter they have run for over a decade, Motley Fool Stock Advisor, has tripled the market.*
David and Tom just revealed what they believe are the 10 best stocks for investors to buy right now... and Netflix wasn't one of them! That's right -- they think these 10 stocks are even better buys.
Click here to learn about these picks!
*Stock Advisor returns as of April 3, 2017
Suzanne Frey, an executive at Alphabet, is a member of The Motley Fool's board of directors. Frank DiPietro owns shares of Amazon, Netflix, and Walt Disney. The Motley Fool owns shares of and recommends Alphabet (A shares), Alphabet (C shares), Amazon, Netflix, and Walt Disney. The Motley Fool recommends T-Mobile US. The Motley Fool has a disclosure policy.