Netflix: Smells Like Holiday Spirit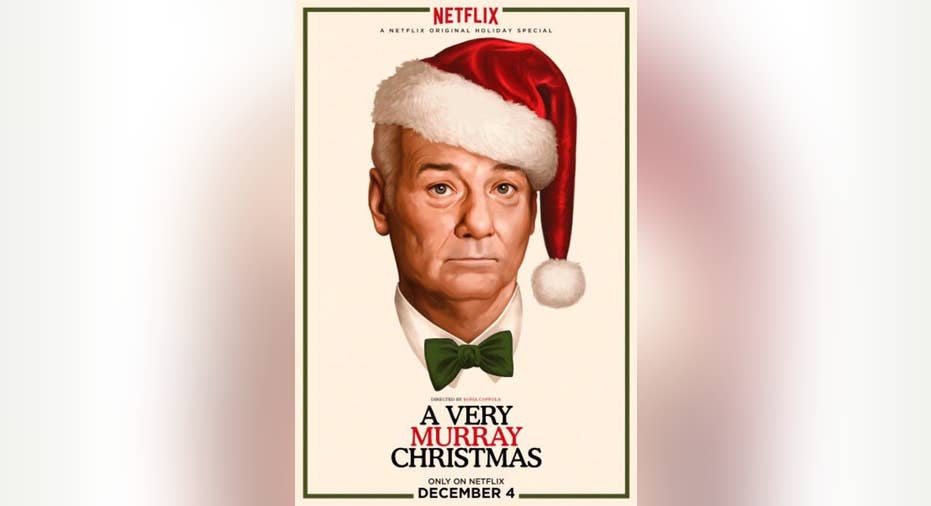 Source: Netflix.
EvenNetflixis getting into the holiday spirit, and not just because its red and white logo is already in spirited Christmas colors. A Very Murray Christmas began streaming on Netflix today, giving the leading premium video service a holiday special to call its own.
The movie stars comedy legend Bill Murray -- that's where the Murray in Very Murray comes from -- in a star-studded nod to the musical holiday variety shows of yesteryear. Sofia Coppola is directing and a murderer's row of celebrities including George Clooney, Chris Rock, and Miley Cyrus all play small roles.
Initial reviews from Netflix members are mixed, but it's clearly too early to have a reliable sample size. Half of the first eight written member reviews love it. The other half loathes it.
Polarizing holiday flicks are the norm, and even in a worst case scenario this could be the birth of a cult fave with a dedicated core of fans that will make it a point to stream it every holiday season. Isn't that the point? Netflix has focused most of its efforts as it pertains to original programming on TV shows because that's where it can get the most bang for its buck. It's not a "one and done" movie-viewing experience. Netflix finally jumped on the exclusive movie gig with October's critically acclaimed Beasts of No Nation, but the emphasis remains on serialized dramas, eclectic sit-coms, and kid shows with more compelling production costs per hour of content. A Very Murray Christmas is different because it's the kind of movie that could get a lot of replay value whenever the holiday season rolls around.
It's amazing how quickly Netflix has ramped up its content catalog when it comes to original programming. When it first threw its hat into the ring a couple of years ago there would be a new series every couple of months. Now there seems to be a flurry of new Netflix-exclusive content being made available every couple of days.
If A Very Murray Christmas isn't your cup of eggnog, maybe next weekend's debut of Adam Sandler's The Ridiculous 6 will fill your mug. There's also probably a pretty good chance that you haven't gone through the entire seasons of last month's Jessica Jones, Master of None, or W/ Bob & David.
Step by step, Netflix is building a pretty strong moat for its 69.2 million -- and counting -- subscribers. It's gotten there by carving a new path, but now it has a holiday special like so many of the conventional media networks. What's old is new, and that's not necessarily a bad thing this time of year.
The article Netflix: Smells Like Holiday Spirit originally appeared on Fool.com.
Rick Munarriz owns shares of Netflix. The Motley Fool owns shares of and recommends Netflix. Try any of our Foolish newsletter services free for 30 days. We Fools may not all hold the same opinions, but we all believe that considering a diverse range of insights makes us better investors. The Motley Fool has a disclosure policy.
Copyright 1995 - 2015 The Motley Fool, LLC. All rights reserved. The Motley Fool has a disclosure policy.