Netflix Plans on Spending Another $6 Billion on Content Next Year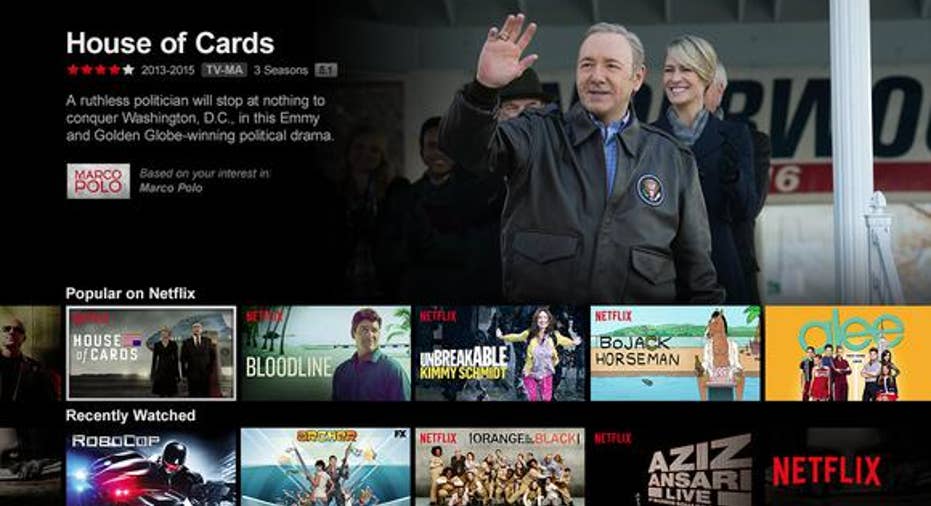 Image source: Netflix.
If you were hoping Netflix would take the additional revenue it's gathering from its forthcoming price hike and let it fall to the bottom line, think again. Management said it plans to invest $6 billion in content (on a profit and loss basis) in 2017, up from $5 billion this year, in its first-quarter letter to shareholders.
Long-time subscribers will see their price increase at some point over the next few months starting in May. Netflix plans to "un-grandfather" pricing from $7.99 per month to the new $9.99 per month price gradually, so that it can monitor the impact on churn. Management expects only a modest increase in churn due to the price hike, and it said it plans to use the increase in revenue to invest directly back into content.
How much revenue will the price increase generate?With an estimated 17 million subscribers about to be hit with a $2 per month price bump, Netflix is looking at $408 million in additional revenue, assuming it doesn't experience any extra churn due to the price increase. UBS estimates that between 3% and 4% of subscribers will drop the service, though, reducing the impact to $392 million to $396 million.
Netflix will also see a small bump from subscribers currently grandfathered in at $8.99 per month when they get hit with a price hike in the fourth quarter, which could generate another $50 million or so.
All told, Netflix could generate an extra $450 million per year without adding any new subscribers. Of course, it's planning to add several million more subscribers by the end of the year. Next quarter, it's forecasting 2.5 million net additions, and it could see another 9 million to 11 million net additions in the second half of the year -- more if it launches in China. Those additions would fuel content spend, but they also come with additional infrastructure and delivery costs.
How will Netflix pay for content next year?The price increase alone isn't enough to pay for Netflix's planned content spending increase, especially when you consider it's adding more than $1 billion to the budget on a cash basis. Free cash flow is still negative as the company aggressively expands to new territories and invests in original content. Netflix does have $2.1 billion on its balance sheet in cash and equivalents, but that only covers one-third of its planned 2017 budget, and some of that is already earmarked for 2016.
So, Netflix plans on issuing more debt to pay for its growing original content budget. "With our low debt-to-enterprise-value of 5%, our plan is to raise additional capital through the high-yield market later in 2016 or in early 2017," management wrote in its first-quarter letter to shareholders.
Moody's rates its debt at B1 and Standard & Poor's rates it B-plus, both highly speculative ratings. But Netflix believes it can get a better rating based on how the market responded to its first debt issue. Netflix's current debt issue holds a 5.875% coupon that matures in 2025, but it trades at a premium of $1.08 per $1 of par value. That results in a yield of 4.78%. If Netflix can issue debt at that rate, it would save equity investors millions of dollars.
With its international expansion all but complete (China is about the only missing piece), Netflix is focused on acquiring and developing content it can show to viewers all over the world. That means more content in native languages, and more originals for which it can easily acquire global streaming rights. The price hike alone won't cover the increased content costs. Netflix's ability to grow its subscriber base -- as evidenced by its highest quarter of net adds ever last quarter -- should prove for a strong return on capital as Netflix taps the debt market again in the near future.
The article Netflix Plans on Spending Another $6 Billion on Content Next Year originally appeared on Fool.com.
Adam Levy has no position in any stocks mentioned. The Motley Fool owns shares of and recommends Netflix. Try any of our Foolish newsletter services free for 30 days. We Fools may not all hold the same opinions, but we all believe that considering a diverse range of insights makes us better investors. The Motley Fool has a disclosure policy.
Copyright 1995 - 2016 The Motley Fool, LLC. All rights reserved. The Motley Fool has a disclosure policy.