Netflix, Inc. Subscriber Growth Explained in 4 Charts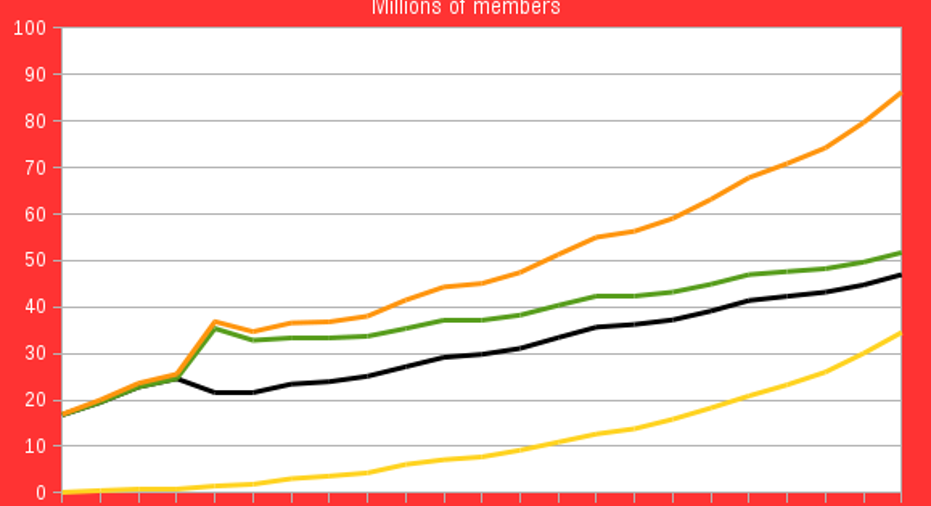 Image source: Netflix.
Netflix is an international growth story nowadays. Don't believe me? OK, I've got some charts here to prove it.
Let's start with the simplest view of Netflix's overseas expansion muscle:
Data from Netflix SEC filings.
Here, you can see the domestic subscriber count doubling in four years, showing steady growth with seasonal lumps along the way.
Meanwhile, international operations expanded 11-fold. In the first quarter of 2012, Netflix was only covering the Americas, the United Kingdom, and Ireland. Today, nearly every nation on Earth has access to Netflix's services. China is the elephant missing from this crowded room.
Overseas subscribers form an exponential growth curve, probably destined to eclipse domestic subscribers at some point in 2017.
The U.S. market is still enormously important to Netflix, of course. It's the most mature service in the company's portfolio, sporting the largest content catalog. Subscribers here pay an average of $8.47 per month for access to Netflix services. That's about 25% more than the average overseas subscriber, which makes the domestic market a premium product.
But in the long run, Netflix expects international profit margins to roughly match the domestic situation. That would require similar revenues per customer, too. It's just a matter of finishing the expensive expansion into new markets, and then achieving serious economies of scale in most of these 190-plus nations.
Piece of cake? Of course not, but I'd say it's an achievable goal. In other words, Netflix's overseas services will not only have more subscribers than the U.S., they will also generate more revenues and larger profits. This won't happen in 2017, but the margin-match goal is set for 2020. Stay tuned.
Data from Netflix SEC filings.
The once-formidable DVD mailer service is a shadow of its former self. Here, subscriber counts peaked at 13.9 million in 2011, just before the Qwikster-branded split between DVD and streaming products. The ranks of DVD subscribers dwindled by 15% over the last year, standing at 2.7 million today.
That's a counterbalance to the success of streaming services, but also a perfectly normal response to evolving media technologies. The plastic media disc had its day but is looking more obsolete with every passing day. Broadband speeds are on the rise, which lets Netflix and its many rivals offer Blu-ray video quality without bulky and breakable discs. Cord-cutting has never been easier, and it comes with a generous side of DVD-shedding.
Data from Netflix SEC filings.
Putting it all together, this is what Netflix's overall growth trends look like today. The orange line for total subscriber numbers is racing higher, even as the domestic market flattens out -- with or without the DVD component included.
In the light of recent headlines, you might think none of this matters. Management's guidance for second-quarter additions left investors thirsting for more. Netflix shares closed 14% lower the day after that announcement, in spite of strong first-quarter results. Let me drop one last chart on you, here, just to explain why soft second-quarter additions shouldn't scare Netflix investors:
Netflix quarterly subscriber additionsCreate your own infographics
The article Netflix, Inc. Subscriber Growth Explained in 4 Charts originally appeared on Fool.com.
Anders Bylund owns shares of Netflix. The Motley Fool owns shares of and recommends Netflix. Try any of our Foolish newsletter services free for 30 days. We Fools may not all hold the same opinions, but we all believe that considering a diverse range of insights makes us better investors. The Motley Fool has a disclosure policy.
Copyright 1995 - 2016 The Motley Fool, LLC. All rights reserved. The Motley Fool has a disclosure policy.