Netflix Enters China...Sort Of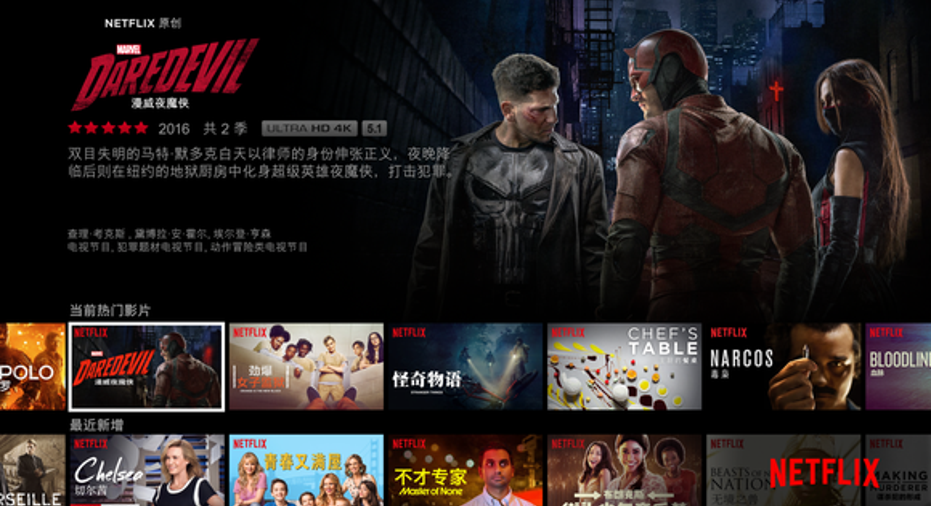 When Netflix (NASDAQ: NFLX) announced its global expansion at the beginning of last year, there's was one glaring omission: China. The regulatory environment in China proved too difficult for Netflix to navigate. As recently as October, Netflix CEO Reed Hastings said the likelihood of it entering China "doesn't look good."
Netflix has found another way of entering the market, though. It recently agreed to a licensing deal with iQiyi, Baidu's (NASDAQ: BIDU) video streaming service. The terms of the agreement -- including which titles Netflix is licensing and how much iQiyi is paying -- are undisclosed.
iQiyi sports 500 million monthly viewers for its free service, and it has 20 million paid subscribers for its VIP service. That makes it the most popular video streaming platform in China. Netflix stands to capitalize off iQiyi's growing viewer base, and iQiyi stands to benefit from Netflix's premium content.
Image source: Netflix.
Getting a foot in the door
Investors expecting the largest consumer market in the world to contribute a ton of revenue to Netflix right off the bat need to think again. Management even made it clear that licensing was part of its plan for 2017, but it didn't expect much in the way of revenue.
"We now plan to license content to existing online service providers in China rather than operate our own service in China in the near term," management wrote in Netflix's third-quarter letter to shareholders last year. "We expect revenue from this licensing will be modest. We still have a long-term desire to serve the Chinese people directly, and hope to launch our service in China eventually."
In the meantime, licensing original series in China gives Netflix a way to amortize the expense of its original content spending over more viewers. It could also lead to other licensing opportunities in the country for toys or apparel, since Netflix started bringing more productions in house and exercising more control over the intellectual property.
Netflix is smart to pursue licensing agreements in China since it has no other way of generating revenue from the country. The marginal cost to license its shows is practically nothing, so it's basically found money even if it is relatively little.
Thinking long term
Netflix plans to enter China eventually. By licensing content to the largest video streaming service in the country (and possibly others if the deal is non-exclusive), Netflix gets its brand out in front of millions of viewers. There's a "Netflix Original" credit before the opening of every original episode and film. What's more, it allows Chinese consumers to become more acquainted with Netflix's shows.
If and when Netflix is able to launch in China, it can hit the ground running. iQiyi is already convincing them that streaming content is worth paying a monthly subscription for, and it's familiarizing them with the original shows the company produces.
That makes the licensing deal a bit of a double-edged sword for iQiyi. While the company benefits from adding premium content to its catalog to attract more viewers in the near term, it's paving the way for a large international competitor to steal away the market in the long run.
iQiyi is working to prevent such a threat by substantially increasing its content catalog. Last year, Baidu's content spending doubled as a percentage of revenue to RMB 7.9 billion ($276 million). Management expects content costs to increase a similar percentage again this year. Still, that's relatively small compared to Netflix's $6 billion content budget.
To be sure, Netflix originals will add excellent value to iQiyi's service, and Baidu is likely getting a pretty good deal considering Netflix's current weak position in the Chinese market. It's a great move for Netflix as it produces at least some revenue for the company in the short term and sets Netflix up for success in China in the long run.
10 stocks we like better than NetflixWhen investing geniuses David and Tom Gardner have a stock tip, it can pay to listen. After all, the newsletter they have run for over a decade, Motley Fool Stock Advisor, has tripled the market.*
David and Tom just revealed what they believe are the 10 best stocks for investors to buy right now...and Netflix wasn't one of them! That's right -- they think these 10 stocks are even better buys.
Click here to learn about these picks!
*Stock Advisor returns as of April 3, 2017.
Adam Levy has no position in any stocks mentioned. The Motley Fool owns shares of and recommends Baidu and Netflix. The Motley Fool has a disclosure policy.