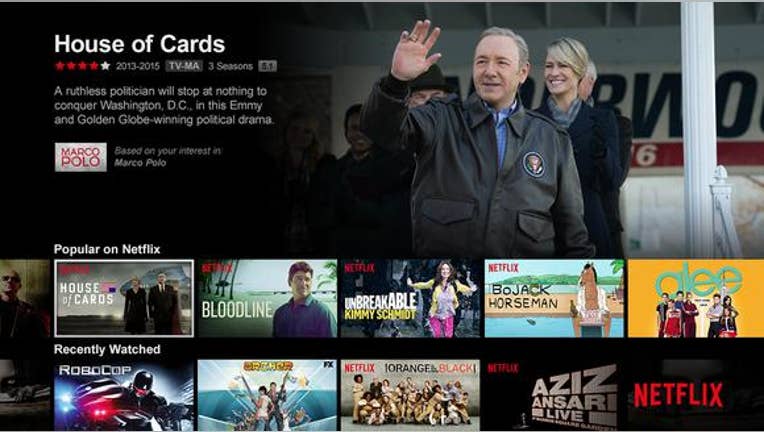 Image source: Netflix.
Speaking at UBS's Global Media and Communications Conference earlier this month, Netflix content czar Ted Sarandos told analysts, "Instead of spending another $1 billion on a movie output, we should spend -- invest the $1 billion in original movie production, movies that you would see in the theater."
Indeed, Netflix has made it clear that it would rather create original series and movies instead of licensing them from the likes of Time Warner , Walt Disney , and other Hollywood studios.
Likewise, Time Warner CEO Jeff Bewkes has said that the company will reconsider the timing when it comes to licensing content to streaming video on demand (SVOD) services such as Netflix. This is a direct response to the impact Netflix and other streaming services have had on cable ratings and subscriptions.
Even though neither Netflix nor the media companies want to work with one another, they're locked in a symbiotic relationship that will be hard to break away from.
Netflix is a big spenderFor content owners such as Time Warner and Disney, Netflix and other SVOD services represent a way to boost profits on their shows and movies. The fact that cable ratings are declining only exacerbates the need to make the most money possible from syndication and home video distribution. Ironically, one cause of the decline in cable ratings is that all of their best shows are available to stream on Netflix.
Netflix will spend $5 billion on content next year between licenses with media companies and its own productions. For media companies licensing content to Netflix, that represents very-high margin revenue. For a company like Time Warner, which generated net income of $3.7 billion over the past 12 months, that pile of cash is awfully appealing.
Sarandos summed up the problem for media companies concisely: "The viewer has moved here. So if you want to make money, you'd better sell it here."
Netflix can't afford to only make original contentNetflix has built its giant customer base on the back of a vast library of licensed content. By licensing content, Netflix is able to fit the needs of a variety of customers across all sorts of different demographics. It has mass appeal. Not even Time Warner's HBO -- perhaps the most successful cable network ever -- has the mass appeal of Netflix.
While Netflix points to its originals as its most cost-efficient programming, expanding its number of original series, specials, and movies is still a costly endeavor. Netflix decided to triple its output of original productions in 2015 and its net income has been cut in half. And while that's largely due to its international expansion, Netflix original content is part of its international expansion plans. Netflix is more easily able to license originals on a global basis compared with licensing content from other companies.
Meanwhile, Netflix would surely lose a significant number of subscribers if it stopped licensing content from other media companies. Most subscribers aren't persuaded to subscribe by Netflix's originals, but rather its vast library of licensed content. If it stopped licensing content, Netflix would suddenly find itself with much less cash to finance its international expansion.
To be sure, Sarandos understands that licensing some content is necessary, but he wants to focus on the most differentiated content. He says this is where Disney comes through. He says Disney brands such as Star Wars, Avengers, and other Marvel titles, along with Pixar, resonate with viewers much more than any other brand in films. Netflix will start licensing Disney films next year.
Breaking the addiction cycleBoth Netflix and the media companies are eager to break their addiction to one another, but Netflix currently can't afford to stop licensing content, and media companies can't afford to stop, either.
Media companies would have to forgo short-term profits to sustain the long-term health of their companies by holding their content back from Netflix. That could mean bad things for their stock prices as Wall Street focuses on short-term results.
Netflix's reliance on studios for the majority of its content library and audience is still too high for it to leave that content in the hands of other competitors at this point. So, for now, Netflix and Hollywood are hooked on one another.
The article Netflix and Hollywood Are Addicted to Each Other originally appeared on Fool.com.
Adam Levy has no position in any stocks mentioned. The Motley Fool owns shares of and recommends Netflix and Walt Disney. The Motley Fool recommends Time Warner. Try any of our Foolish newsletter services free for 30 days. We Fools may not all hold the same opinions, but we all believe that considering a diverse range of insights makes us better investors. The Motley Fool has a disclosure policy.
Copyright 1995 - 2015 The Motley Fool, LLC. All rights reserved. The Motley Fool has a disclosure policy.