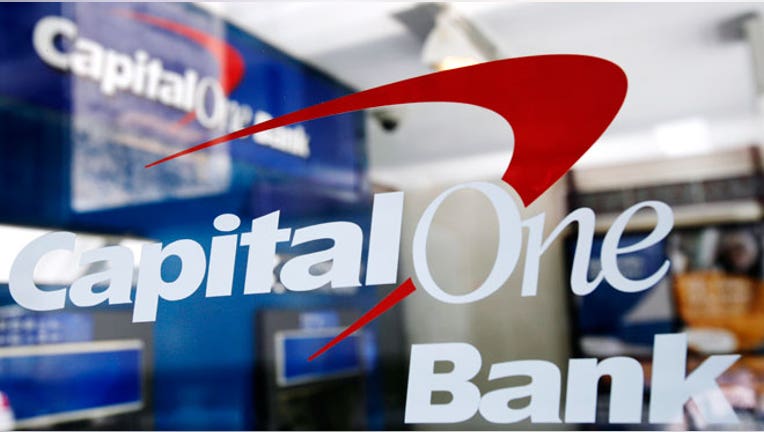 Shares of Capital One (NYSE:COF) fell 7% Friday morning amid a slew of unfavorable analyst reactions to its disappointing fourth-quarter earnings.
The Mclean, Va.-based bank and credit-card operator reported late Thursday quarterly earnings of $843 million, or $1.41 a share, missing average analyst estimates of $1.58 a share in a Thomson Reuters poll.
The company put aside $1.15 billion to cover bad loans in the fourth quarter, an increase of 13.5% from the same period in 2011.
Capital One was hit with a slew of cut price targets and a downgrade on Friday as analysts digested the report.
Janney Capital Markets slapped the bank with a "neutral" rating from "buy" and reduced its 2013 and 2014 EPS estimates to $6.30 and $6.53 from an earlier $6.85 and $7.31, respectively.
Analysts on average are calling for much higher full-year EPS of $6.98 for the current fiscal year and $7.35 for fiscal 2014, according to a Thomson Reuters poll.
Shares of Capital One fell 7% to $57.29 in Friday morning trade. They are up nearly 16.5% from 12 months ago.
Meanwhile, Jefferies (NYSE:JEF) cut its price target on Capital One to $67 from $70 but maintained its "buy" rating, while KBW lowered its outlook on the bank's share price to $65 from $70 on an "outperform" rating.
Credit Suisse (NYSE:CS) lowered Capital One's price target to $62 from $67 and kept its "neutral" rating, while FBR narrowed the price target to $68 from $72 on an "outperform" rating.
Other brokerages to lower their price target estimates on Capital One included Bernstein, Guggenheim, Nomura and Susquehanna.
Janney, which blamed its narrowed outlook on Capital One's lower-than-expected net interest income, reduced its price target on the financial-services company to $63 from $67.
Capital One's net interest income was $4.5 billion last quarter, lower than Janney's estimate of $4.7 billion, driven by a weaker-than-anticipated net interest margin of 6.5%.