Near a 37-Year Low, Is J.C. Penney Stock a Buy?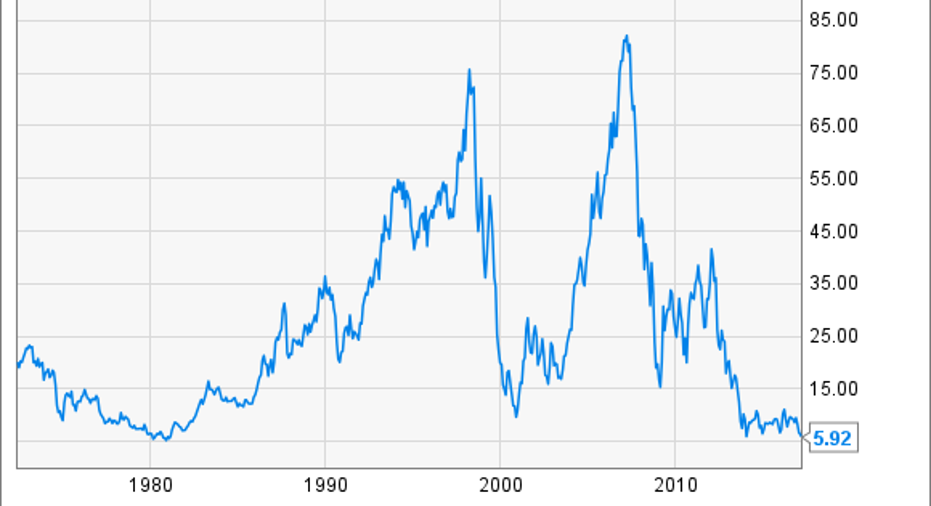 Department store chain J.C. Penney (NYSE: JCP) has successfully pulled itself back from the brink over the past few years. Sales are still seriously depressed, but the company expects to produce a meaningful adjusted profit this year, ending a long streak of losses. Gross margin has largely recovered, and operating costs have been slashed.
Despite this progress, J.C. Penney hit a wall during the fourth quarter of 2016. Comparable sales slumped 0.7%, a disaster for a company that needs to grow sales at a brisk pace in order to have any chance at making a full recovery. This marked the second consecutive quarter of declining revenue, prompting investors to sell off the stock.
With shares of J.C. Penney now trading for around $6, close to a 37-year low, investors looking for bargains are no doubt eyeing the beleaguered department store. J.C. Penney is now worth just $1.85 billion despite annual revenue of about $12.5 billion. But the risks outweigh the potential rewards, making the stock one to avoid.
The fundamental problem with J.C. Penney
Department stores are not faring well, and that's not just a recent development. 2016 marked the 11th consecutive year of sales declines, a streak that doesn't look like it will let up anytime soon. Pressure from discounters like Wal-Mart and Target, specialty apparel chains, and online retailers like Amazon is taking a toll.
This pressure is only going to intensify as more retail sales shift online. Brick-and-mortar retailers are going to need to become more aggressive to get customers into their stores. That means lower prices and lower margins. Announcements of store closings are becoming commonplace as weaker retailers attempt to downsize in order to survive. J.C. Penney announced plans to close as many as 140 stores after its weak holiday quarter.
A sales decline wasn't the only problem with J.C. Penney's fourth-quarter report. Gross margin tumbled 100 basis points to 33.1%, with the decline driven by increased promotional activity. This need to spend heavily on markdowns and marketing in order to drive sales isn't going to go away. Cost-cutting and gains from real estate sales helped J.C. Penney break even during the fourth quarter on a GAAP basis, but the two most important numbers, comparable sales and gross margin, are moving in the wrong direction.
Total U.S. retail sales in November and December of last year increased by 4%. Department stores, meanwhile, suffered a 7% sales decline. If J.C. Penney is having this much trouble despite generally strong retail sales, I don't see much hope for the company.
J.C. Penney has a plan, but it's a long shot
Marvin Ellison, who became CEO of J.C. Penney in August 2015 after being an executive at Home Depot for many years, has a plan to return the company to growth. The company is betting on its customers spending more on their homes and less on apparel. Major appliances made a return to J.C. Penney last year after decades of absence, and the company began testing initiatives to sell carpet and flooring.
Image source: J.C. Penney.
Earlier this month, J.C. Penney announced that it would begin offering turn-key services for heating and cooling systems, bathroom remodeling, installed blinds, and whole-home water solutions in some stores via partnerships with service providers and manufacturers. The company is betting that its customer base, 70% of which are female homeowners, will turn to J.C. Penney for these types of services.
This isn't an unreasonable plan given the state of the department store industry, but the kind of transformation that J.C. Penney is attempting is a long shot. It seems like J.C. Penney is trying to become more like Sears, which is perhaps not the best path to take. J.C. Penney will have the opportunity to pick up market share as Sears continues to decline, but I'm not convinced a mall-based department store is a good platform for appliance and home services sales.
J.C. Penney is worth less today than during the darkest depths of the financial crisis. The stock has dipped below the current level briefly over the past few years, but it's trading at about the same price as it was in 1980. The turnaround, which showed some progress over the past few years, has faltered. The plan is now to expand into new areas where J.C. Penney has no experience or competitive advantage. Investors would be wise to look elsewhere.
10 stocks we like better than J.C. PenneyWhen investing geniuses David and Tom Gardner have a stock tip, it can pay to listen. After all, the newsletter they have run for over a decade, Motley Fool Stock Advisor, has tripled the market.*
David and Tom just revealed what they believe are the 10 best stocks for investors to buy right now... and J.C. Penney wasn't one of them! That's right -- they think these 10 stocks are even better buys.
Click here to learn about these picks!
*Stock Advisor returns as of February 6, 2017
Timothy Green has no position in any stocks mentioned. The Motley Fool owns shares of and recommends AMZN. The Motley Fool recommends Home Depot. The Motley Fool has a disclosure policy.