NBC source: No payout for Lauer on rest of his contract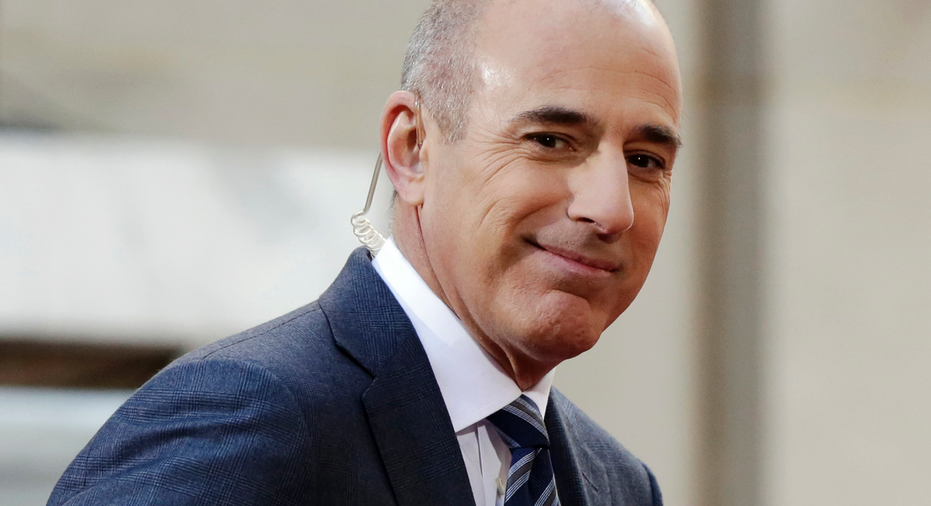 NBC is standing firm against giving fired "Today" host Matt Lauer a payout on the multimillion-dollar salary he's leaving behind, according to a person at the network.
Lauer, said to have earned around $25 million a year, reportedly is negotiating to receive the remainder of his salary for the current contract that runs through 2018 and made him one of TV's highest-paid journalists.
But NBC won't agree, said the person, who spoke Friday on condition of anonymity because a personnel matter was involved.
Some NBC News employees who raised the question of Lauer's compensation at a staff meeting were told that he was fired "for cause" and wouldn't be paid beyond his last day worked, according to a Variety report Friday.
A representative for Lauer didn't immediately respond to a request for comment.
Also Friday, NBC News Chairman Andrew Lack said an internal review into Lauer's alleged sexual misconduct is underway, including how it happened and why it wasn't stopped earlier.
In a company-wide memo released publicly, Lack said those are among the questions NBC employees are asking in the wake of the "Today" host's firing for what Lack labeled "appalling behavior."
A team of NBCUniversal legal and human resources leaders have started a "thorough and timely review" of what occurred and how the company can foster greater transparency and mutual respect, Lack said in the memo.
"At the conclusion of the review we will share what we've learned, no matter how painful, and act on it," he said.
His memo didn't address if the report will be made public. NBC News publicists didn't immediately respond to a request for comment.
Reiterating comments from a memo he sent Wednesday, Lack said the top priority is to create a safe workplace environment and that unacceptable actions are "met with consequences, no matter who the offender."
NBC's announcement Tuesday that Lauer was being fired for "inappropriate sexual behavior" meant that the network was cutting loose the popular, long-established star of its highly lucrative morning show.
How much Lauer's status may have protected him from allegations is among the questions raised by observers. NBC has said current executives didn't receive any complaints before the one Monday that triggered Lauer's immediate dismissal the next day.
Two other women came forward with accusations, with one telling The New York Times that Lauer had sexually assaulted her in his office in 2001. A Variety magazine investigation outlined a pattern of alleged salacious behavior, including three women who said Lauer harassed them.
In his first public response, Lauer said in a statement Thursday that some of the allegations were untrue but others had enough truth that he felt "embarrassed and ashamed."
Repairing the damage caused is his "full-time job," Lauer said.
He joined a lengthening list of prominent men toppled by misconduct claims, starting with movie mogul Harvey Weinstein and expanding out to others in Hollywood, media and politics.
In his memo, Lack said the company's mandatory online training on sexual harassment and other workplace issues will be augmented in the news division by in-person training
"This week we saw that when an employee comes forward to report misconduct, the system works. The complaint is quickly assessed and meaningful action is taken," he said. But workers must be empowered to "take the crucial first step of reporting bad behavior."
NBC has been caught up in other misconduct-related matters.
Last fall, the network was accused of sitting on an "Access Hollywood" audio tape in which then-candidate Donald Trump was heard telling Billy Bush that prominence came with a license to grope women. The exchange was first reported by the Washington Post.
In the Weinstein scandal, the first report was by The New York Times while a story by Ronan Farrow did for NBC News went unaired. Reporting by Farrow on Weinstein was subsequently published in New Yorker stories.
Earlier this month, NBC News fired the man who headed its talent booking department after multiple women accused him of inappropriate conduct.
___
Lynn Elber can be reached at lelber@ap.org and on Twitter at http://twitter.com/lynnelber.