Navy's New Mach 6 EM Railgun Almost Ready for Prime Time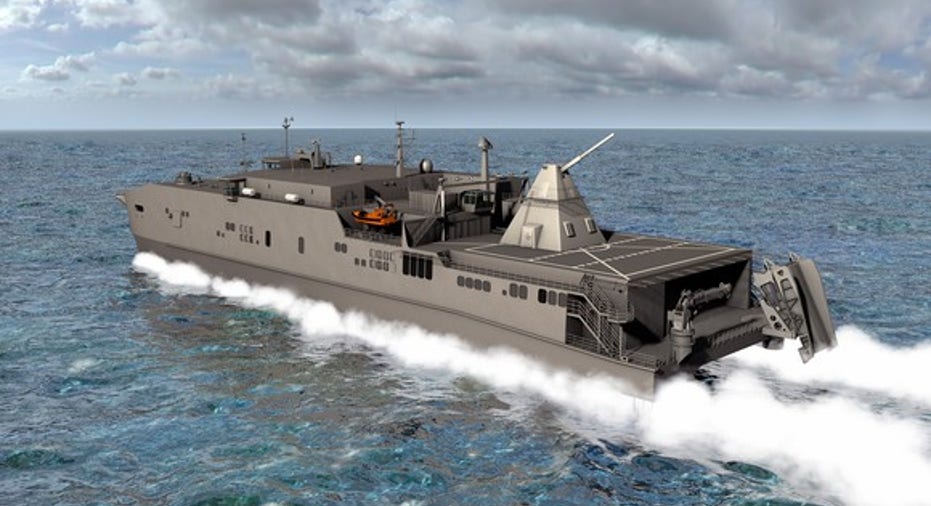 For more than three years now, I've been tracking the U.S. Navy's progress toward building a working electromagnetic railgun prototype -- a Mach 6 cannon reputedly capable of striking targets 110 miles away with pinpoint accuracy.
Each railgun projectile would cost about $25,000 to produce -- and if you're keeping track, then yes, success on the railgun project would yield a weapon boasting nearly twice the 67-mile range of Boeing's (NYSE: BA) Harpoon II missilebut costing just 1/48th the Boeing missile's $1.2 million cost.
That right there tells you why the Navy is so very interested in this weapon. But on top of the ammunition savings, a switch from missiles (Boeing's Harpoon measures 12-and-a-half feet in length and more than a foot in diameter) to railguns (a projectile is only 18 inches long and a few inches round) would permit a warship to carry a lot more rounds in its munitions locker than it currently can, yielding immeasurable savings in the logistics supply chain.
As I say, I've been following this story for three years--- but now, we may finally be getting to the good part.
Artist's rendering of a railgun mounted on USNS Millinocket. Image source: U.S. Navy.
Ready, aim, test!
Last we heard, the Navy was planning to conduct its first at-sea live-fire exercise of the railgun aboard the expeditionary fast transportUSNSMillinocket(T-EPF-3) sometime this year. A successful test could permit installation of a working railgun aboard the new Zumwalt-class destroyerLyndon B. Johnson(DDG-1002) by the time she is commissioned in 2018 -- or not.
Turns out there has been some talkabout potentially delaying the at-sea demonstration, or even skipping it altogether, and going straight to installation of an operational railgun aboard Lyndon B. Johnson -- but no official change in the testing schedule has been yet announced. Meanwhile, the Navy is pushing ahead with testing of the weapon on land.
Last month, the U.S. Navy posted a video online reviewing a Nov. 17, 2016, land-fire exercise testing the railgun's capabilities.
Video source: YouTube.
As this video shows, testing was conducted at the Naval Surface Warfare Center, Dahlgren, in Virginia,where the Navy has built a new "Terminal Range" to test its new railgun. There, the Navy successfully test-fired BAE Systems' (NASDAQOTH: BAESY) prototype railgun. This was the same prototype previously reported as being tested by the Navy in 2014. Meanwhile, General Atomics' version of the railgun has also been tested -- in 2013 and 2016 that we know about -- and even tested for potential use as an Army weapon.
What it all means for investors
So what does all this mean for investors, and where does the railgun program stand today? Here are a few key facts to keep in mind:
First, the Navy may or may not conduct its at-sea demo this year, as previously planned. Naval director of surface warfare Rear Adm. Peter Fanta says he would not be opposed to skipping the at-sea demonstration and going straight to installation of a weapon aboard a warship. That the Navy has not yet conducted an at-sea test but has expanded testing on land tends to support the view that the Navy has decided to skip the at-sea demonstration and might go straight to deployment after testing on land. This bodes well for the Navy's longer-range plans to deploy railguns throughout the fleet as early as 2025.
Second, 2025 is still a long time away, and it will probably be some time before we know which companies will ultimately win contracts for this new weapons system. Maybe it will be General Atomics, which builds one railgun prototype, or maybe it will be BAE Systems -- or maybe it will be both. At this point, though, I'm inclined to believe BAE has the edge, for the simple fact that whenever the Navy posts a weapons test video, it's the BAE prototype that gets featured.
As for where we stand today, the Navy recently requested $23 million in funding from Congress for railguns research and testing in fiscal 2017. The "small ball" value of the request further reinforces my impression that we're still in the early innings of the railgun's development. On the other hand, the revelation that the Army,too, is getting involved in railguns testing suggests that once the technology is perfected, the market opportunity could be far larger than if this were to be a Navy program only.
How much larger remains to be seen.
10 stocks we like better than BAE SystemsWhen investing geniuses David and Tom Gardner have a stock tip, it can pay to listen. After all, the newsletter they have run for over a decade, Motley Fool Stock Advisor, has tripled the market.*
David and Tom just revealed what they believe are the 10 best stocks for investors to buy right now... and BAE Systems wasn't one of them! That's right -- they think these 10 stocks are even better buys.
Click here to learn about these picks!
*Stock Advisor returns as of April 3, 2017
Rich Smith has no position in any stocks mentioned. The Motley Fool has no position in any of the stocks mentioned. The Motley Fool has a disclosure policy.