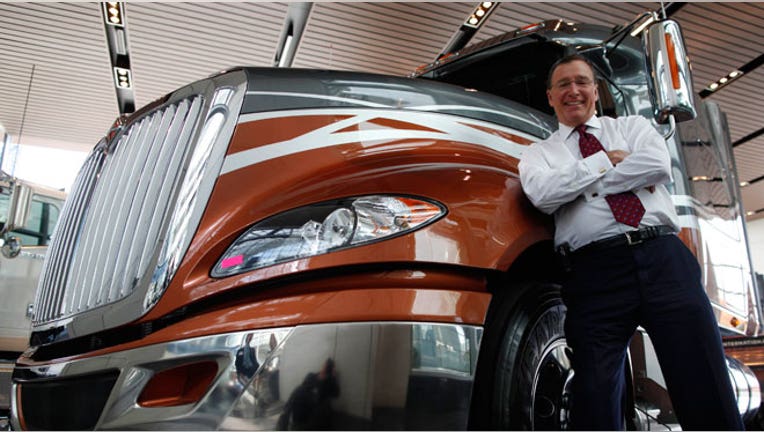 Navistar International (NYSE:NAV) reported a wider-than-anticipated loss in the fourth quarter, as the truck maker's revenue dipped on weakness across all business segments.
The company said Friday its loss narrowed to $154 million versus a year-ago loss of $2.77 billion, which included a $2 billion charge related to deferred tax valuation allowance.
Navistar's per-share loss for the latest period was $1.91, down from $40.13. Analysts projected a smaller loss of $1.63 a share.
Revenue declined 13% to $2.75 billion, missing estimates for $2.9 billion. Navistar cited weaker industry conditions during the quarter and a lower market share during its transition to a different treatment system for diesel engine exhaust.
Shares tumbled 5.2% to $37.42 shortly after Friday's opening bell. As of Thursday, Navistar was up 81% so far this year.
The Lisle, Ill.-based company has been stuck in the red as a result of its engine troubles. Navistar has incurred significant costs for warranty claims on a new 13-liter engine, in addition to the expense of adopting a new emissions treatment system.
Last year, Navistar implemented the same treatment system used by the rest of the industry after failing to meet tougher U.S. emissions standards for about three years.
The Environmental Protection Agency certified Navistar's 13-liter engine in the spring. The company also agreed to have Cummins (NYSE:CMI) supply exhaust-treatment components and heavy-duty truck engines.
"Clearly, we are disappointed that our previous engine strategy continues to negatively impact us in the form of additional warranty expense, but we will continue to stand behind our products and manage this issue as these engines work their way through the standard and extended warranty cycles," CEO Troy A. Clarke said in a statement.
In the latest quarter, the North America truck segment saw a loss of $355 million versus $396 million a year earlier. North America parts remained a bright spot, logging 43% profit growth to $147 million. Global operations narrowed its loss to $6 million from $73 million.
Navistar changed its reporting segments to reflect a "renewed focus on its primary markets," the company explained.
Structural costs were cut by $94 million year-over-year, and Navistar finished the year with $330 million in savings compared to 2012. Navistar said it plans to slash another $175 million in fiscal 2014.
The company announced in September that it would cut costs by $50 million to $60 million annually starting next year. The cost-cutting program was expected to impact about 500 salaried employees and long-term contractor positions worldwide.