Natural Gas Exports Could Shift Power in U.S. Energy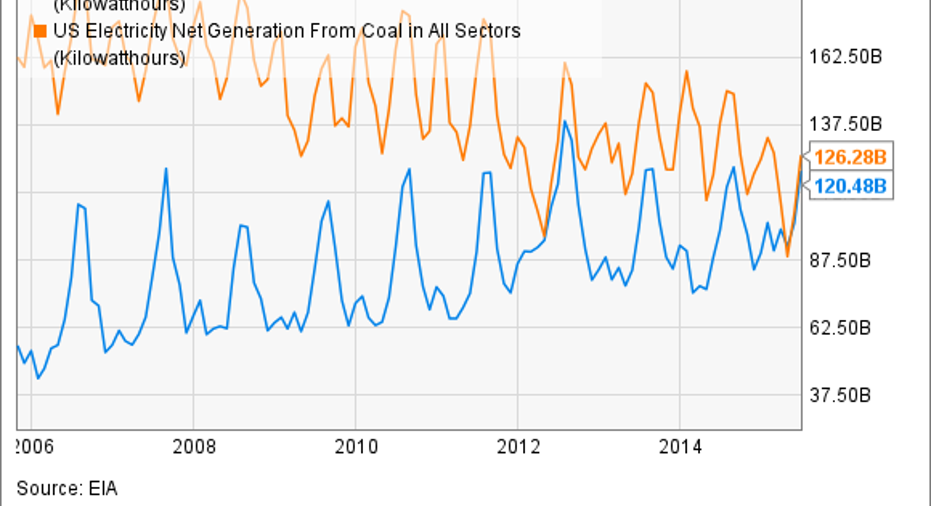 The U.S. has a glut of natural gas, and according to free market theory, it should be more effective to start selling more of it overseas than to simply store greater and greater quantities of it domestically. To that end, the U.S. government has approved the export of over 10 billion cubic feet of natural gas, which will start hitting global markets later this year.
For natural gas producers and shippers, those additional customers could mean booming revenues. But for energy markets as a whole, those exports could cause some strange side effects.
Heating prices could spike Over half of U.S. households use natural gas to heat their homes in the winter, and the boom in production has resulted in huge savings for them. In 2015, the U.S. Energy Information Administration expects lower natural gas prices to result in 10% energy savings for consumers. But those lower prices may not last.
Early exporter Cheniere Energy (NYSEMKT: LNG), which will start shipping liquid natural gas later this year, is selling millions of BTUs worth of energy per year to countries like France, Portugal, and Japan, where natural gas prices are triple or quadruple what we pay in the U.S. Even at relatively low prices around the world the low cost structure of U.S. natural gas can generate a significant margin for Cheniere.
Image: Cheniere Energy.
With natural gas prices high enough overseas to justify shipping billions of Btus per year there will be a big new demand source for U.S. natural gas. That could spark an increase in U.S. natural gas prices, especially if international LNG prices return to where they were in 2014. It may not seem like a big deal if natural gas prices went from near $2 per MMBtu to $3 per MMBtu, but that's a 50% increase in energy cost that could hit most Americans' checkbook.
Henry Hub Natural Gas Spot Price data by YCharts
Cheniere Energy is one of the most debated stocks in energy today, with some observers thinking it'll make billions on the arbitrage between domestic and international natural gas prices. But others think prices will balance quickly, and potential profit will be small. No matter what, the signs point to higher energy prices for consumers.
Electricity prices could rise One of the things cheap natural gas has done is take market share from coal in the electricity generation industry. That's where most of the increasing domestic supply has gone. You can see that the amount of electricity from natural gas has more than doubled over the past decade, while electricity from coal has declined more than 20%.
US Electricity Net Generation From Natural Gas in All Sectors data by YCharts
I don't see anything indicating that these trends will slow down, but rising demand from power plants combined with rising international demand points to higher natural gas prices domestically.
Drilling could pick up again If natural gas prices do indeed jump, the obvious beneficiaries will be natural gas drillers, which have been pummeled over the last few years. Quicksilver Resources was a high-profile natural gas producer that went bankrupt earlier this year, which indicates how bad things have gotten.
Investors looking for theupside potential should consider Ultra Petroleum (NYSE: UPL) and Southwestern Energy (NYSE: SWN), two energy companies highly leveraged to natural gas. Both have at least been hovering around breakeven (minus Southwestern Energy's $2.8 billion writedown in the third quarter) despite low natural gas prices. And both have reasonably strong balance sheets.
UPL Revenue (TTM) data by YCharts
For Ultra Petroleum and Southwestern Energy to have a major turnaround in operations they'll need higher natural gas prices -- which, as I've laid out above, could be coming. If you want to place to bet on rising natural gas, these stocks may be the best way to do it, even if prices take the next two to five years to move higher.
A potentially rapid transition Even the EIA predicts that the shift from domestic oversupply to heavy natural gas exports could be fast and furious. The chart below shows the agency's projected range of net U.S. exports.
Image: U.S. Energy Information Administration.
It's possible that by 2020, the country could be exporting 4 trillion cubic feet of natural gas annually -- about the same amount we imported less than a decade ago. That could shift the cost structure of energy in the U.S.
Higher natural gas prices would upset the balance in energy Low-cost natural gas has caused a huge shift in the U.S. energy profile over the past decade; we're using much more of it to heat our homes and to generate electricity. So if exporting U.S.-produced natural gas globally leads to higher prices at home, it would hit consumers hard, which could, in turn, make competing resources like renewable energy or even coal more competitive.
It's worth watching what happens to natural gas prices over the next few years. Exports may have a bigger impact than you'd expect on your bottom line.
The article Natural Gas Exports Could Shift Power in U.S. Energy originally appeared on Fool.com.
Travis Hoium has no position in any stocks mentioned. The Motley Fool has no position in any of the stocks mentioned. Try any of our Foolish newsletter services free for 30 days. We Fools may not all hold the same opinions, but we all believe that considering a diverse range of insights makes us better investors. The Motley Fool has a disclosure policy.
Copyright 1995 - 2015 The Motley Fool, LLC. All rights reserved. The Motley Fool has a disclosure policy.