National-Oilwell Varco, Inc.: The Lessons From Graying Hair and the Promise of Better Days Ahead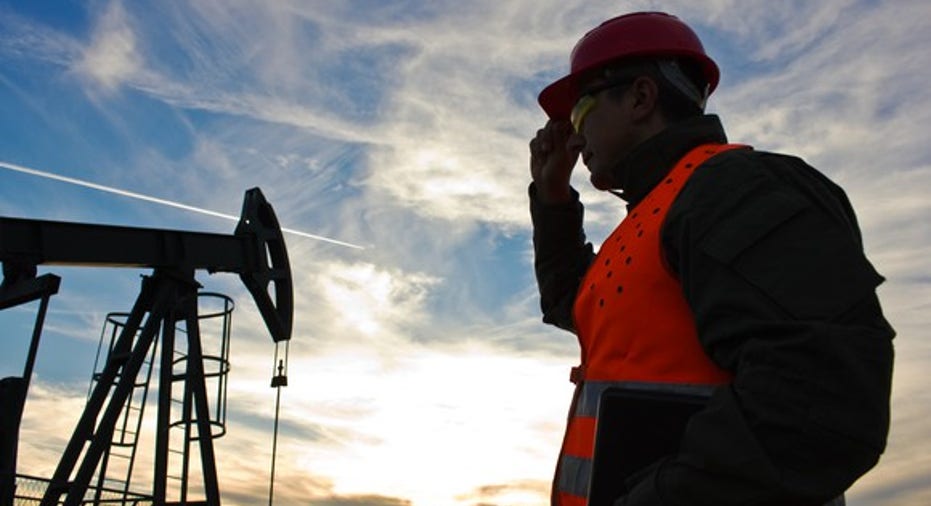 The oil industry has battled through a couple of brutal years. Those excruciatingly severe market conditions caused National Oilwell Varco's (NYSE: NOV) financial results to tumble downward every quarter for nearly two straight years. However, its results finally hit bottom and started bouncing back last quarter thanks to a noticeable improvement in market conditions. That uptick caused the company's CEO Clay Williams to reflect on what has happened during the downturn and why that has him so optimistic about the future.
When the going gets tough
After running through the company's financial and operational results on its fourth-quarter conference call, Williams switched gears to reflect on the impact the recent oil market downturn had on the oilfield equipment maker. He said that,
Image source: Getty Images.
As Williams notes, last year was one of the worst in the oil industry's history. Companies cut spending so deeply that discoveries dried up to the lowest level in nearly 70 years. Meanwhile, producers in the U.S. operated the fewest rigs since tracking began after companies like Devon Energy (NYSE: DVN) dropped their rig count from 40 at the start of 2015 to less than five by the middle of last year. That meant fewer drill pipe and equipment orders heading National Oilwell Varco's way, forcing it to cut costs.
However, the industry's ability to reduce costs has led to a remarkable achievement. Most shale plays are now profitable to drill at sub-$50 oil, which is down sharply from the nearly triple digit price needed to launch the shale revolution just a few years ago. Because of the improvement in costs, drillers started putting rigs back to work late last year once crude settled comfortably above $50. Pioneer Natural Resources (NYSE: PXD), for example, increased its rig count in the Permian Basin from 12 to 17 during the fourth quarter while Devon Energy doubled its U.S. rig count from five to 10 over the past few months. Meanwhile, both companies expect to add even more rigs this year, with Pioneer planning to run 18 rigs in the Permian and restart its Eagle Ford shale drilling program while Devon Energy could ramp its rig count up to 20 by year end.
The tough got going
One of the reasons drilling costs have come down so much, according to Williams, is that "necessity is the mother of invention. In a low oil price world, accomplishing lower cost per barrel becomes a necessity for our customers. At great companies like NOV, invention follows." He would go on to list some of National Oilwell Varco's recent innovations. For example, he noted that the company's Seabox injection water system improves offshore recovery factors. Meanwhile, its initiatives in floating production systems can "reduce the cost, risk, and time of offshore facility construction by 20% or more and accelerate first oil."
Williams also said that last year the company started installing RFID chips in drill pipes to enable the tracking of each joint. That allows drillers to count themautomatically, which eliminated time-consuming and error-prone manual counts. As a result of these and other innovations, drill pipes have gone from just a "dumb iron" commodity to a highly engineered drilling instrument that saves producers time and money.
The industry's combined focus on innovation to drive out costs is what has led to the remarkable improvement in drilling economics. As a result, many drillers can start getting back to work at $50 oil, which would have been unheard of just a few years ago.This reality that drilling activity is on the rebound leads Williams to believe that the company is beginning a year with "greater promise" than last year. That said, his companyisn't letting up and plans to keep pushing and continue innovating so that even better times lie ahead.
Find out why National Oilwell Varco is one of the 10 best stocks to buy now
Motley Fool co-founders Tom and David Gardner have spent more than a decade beating the market. (In fact, the newsletter they run, Motley Fool Stock Advisor, has tripled the market!*)
Tom and David just revealed their ten top stock picks for investors to buy right now. National Oilwell Varco is on the list -- but there are nine others you may be overlooking.
Click here to get access to the full list!
*Stock Advisor returns as of February 6, 2017
Matt DiLallo owns shares of National Oilwell Varco. The Motley Fool owns shares of and recommends National Oilwell Varco. The Motley Fool owns shares of Devon Energy. The Motley Fool has a disclosure policy.