National Oilwell Varco, Inc.'s Results Continue Their Slow Grind Higher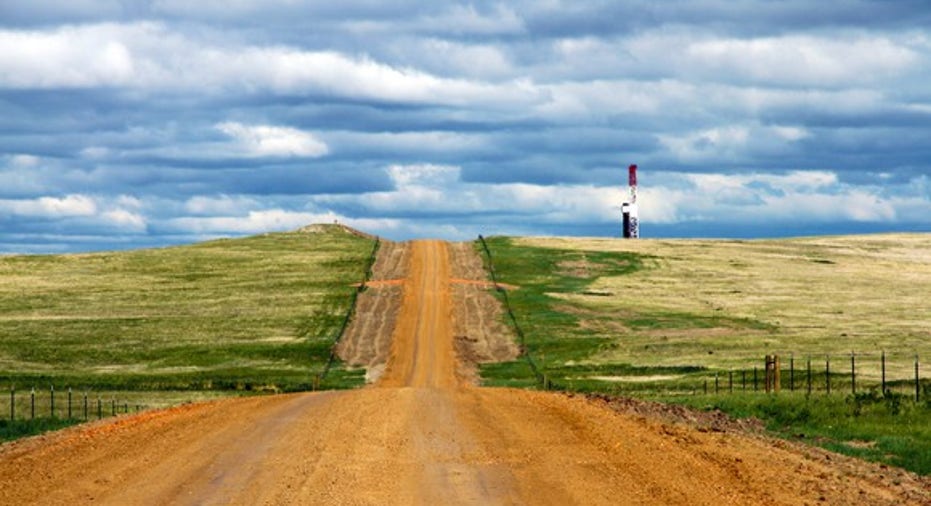 The oil industry is slowly but surely starting to pull out of its nosedive. With those improving conditions, companies are starting to spend more money on equipment, which in turn is driving a recovery in National Oilwell Varco's (NYSE: NOV) financial results. While it has been a slow process since the industry's recovery has primarily been onshore, the company expects that as the upturn continues to take hold, it will "benefit disproportionately" due to its low costs and product portfolio.
Drilling down into the numbers
National Oilwell Varco reported $1.74 billion in revenue for the quarter, which while down 20% versus the prior year is up 3% versus last quarter, marking the second consecutive quarterly increase. That said, the company did report another quarterly loss. Even after adjusting for one-time items, it had an operating loss of $63 million, or $0.17 per share, which was slightly worse than last quarter's loss of $57 million, or $0.15 per share. However, its underlying earnings as measured by adjusted EBITDA rose to $105 million, up $3 million from last quarter, which was the third straight jump.
Image source: Getty Images.
Driving these improvements were sales of equipment to the North American land market, especially products in its wellbore technologies and completion and production solutions segments:
Data source: National Oilwell Varco.
Leading the way was the completion and production solutions segment. Not only did revenue increase 8% versus last quarter and 16% versus the year-ago period but adjusted EBITDA surged 12% and 60%, respectively, over those same periods.
Another positive was sales in the wellbore technologies segment, which rose 5% versus last quarter and fueled a 90% surge in adjusted EBITDA. That said, revenue and adjusted EBITDA were both down 12% year over year.
Meanwhile, the company's other two segments, rig systems and rig aftermarket, continued to decline because both focusheavily on the offshore market, which hasn't yet hit bottom. Actual results, though, differed significantly from the company'sexpectationsheading into the quarter. For example, it thought that rig systems revenue would drop 10% to 12% through aggressive cost management would keep the profit decline to a minimum. However, while the sales decrease of 8% beat guidance, adjusted EBITDA plunged 42% versus last quarter. Meanwhile, rig aftermarket experienced a similar result as the 5% slump in revenue matched expectations for a mid-single-digit decline. However, the company expected profits to flatten out thanks to a more favorable sales mix, which didn't happen since adjusted EBITDA tumbled another 11%.
What management had to say
While the company delivered mixed results overall, management seemed pleased that they at least continued to head in the right direction. CEO Clay Williams pointed out in the press release that "the Company posted its second consecutive quarter of rising revenues and its third consecutive quarter of rising adjusted EBITDA." Furthermore, he noted that the driving force behind that improvement was the North America land market, which "generated solid sequential improvements in profitability and are growing quickly. This lifted National Oilwell Varco's consolidated mix of land revenues to 57% during the first quarter of 2017." That shift toward land is worth nothing because the offshore market had dominated the company's sales for most of the past several years. Due to the strong drilling economics of North American shale plays, though, drillers are allocating most of their capital to those regions right now.
That increase in spending is having a noticeable impact on service companies. Halliburton (NYSE: HAL), for example, saw a 30% uptick in its U.S. land revenue last quarter, which offset continued activity declines in international markets. Meanwhile, Baker Hughes (NYSE: BHI) CEO Martin Craighead noted that the "onshore rig count increase in North America has been more robust than many had expected." Both companies expect this trend to continue, which bodes well for National Oilwell Varco.
International and offshore activities remain a different story, however. As Halliburton President Jeff Miller noted, "We are in the midst of a unique and challenging cycle with very different dynamics between the North American and international markets... I am excited by the activity I see in North America and confident in our ability to manage through any challenges in the international markets." Meanwhile, Craighead said that "we expect there to be headwinds offshore throughout the rest of 2017." That said, as National Oilwell Varco's CEO put it, the global market as a whole "is slowly grinding higher," which is a good thing after the challenges of the past two years.
10 stocks we like better than National Oilwell VarcoWhen investing geniuses David and Tom Gardner have a stock tip, it can pay to listen. After all, the newsletter they have run for over a decade, Motley Fool Stock Advisor, has tripled the market.*
David and Tom just revealed what they believe are the 10 best stocks for investors to buy right now... and National Oilwell Varco wasn't one of them! That's right -- they think these 10 stocks are even better buys.
Click here to learn about these picks!
*Stock Advisor returns as of April 3, 2017
Matt DiLallo owns shares of National Oilwell Varco. The Motley Fool owns shares of and recommends National Oilwell Varco. The Motley Fool has a disclosure policy.