National Instruments Finds New Growth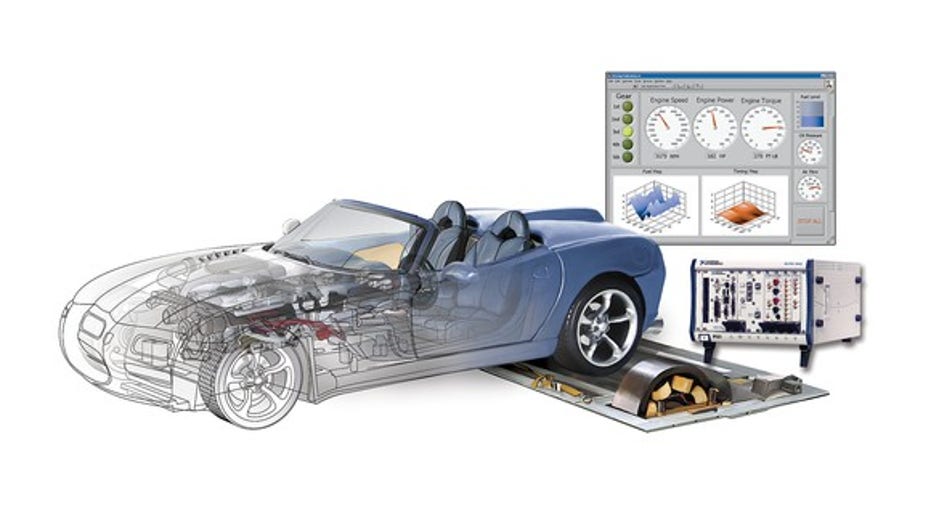 Solving problems is what science is all about, and National Instruments (NASDAQ: NATI) has made it its business to help scientists and engineers by giving them the tools they need to do their work. That ties NI's success to that of the industries that it serves, and that hasn't always been positive. A sluggish report last quarter made some investors nervous about the company's future prospects.
Coming into Thursday's first-quarter financial report, National Instruments investors were looking to see substantial gains in sales that would produce extremely strong earnings performance, and NI delivered with even better gains than expected. Moreover, near-term guidance suggests that the engineering and scientific support specialist should see good results continue. Let's take a closer look at National Instruments to see how it did and what's next for the company.
Testing systems for autonomous vehicles. Image source: National Instruments.
National Instruments starts 2017 strong
National Instruments' first-quarter results got the company's positive momentum back in gear. Sales were up 5%, to $300 million, matching expectations and reversing a sales decline last quarter. Net income nearly doubled, to $18.1 million, and adjusted earnings came in at $0.21 per share, far above the $0.13 per-share consensus forecast among those following the stock.
A closer look at NI's numbers reveals some interesting insights. Every quarter, NI discusses how its largest customer makes up a considerable piece of its business, and big moves can affect the company's entire financial statement. This quarter, the big customer had $5 million in orders, down a sixth from year-ago levels, but more than double what it ordered in the fourth quarter of 2016.
Beyond that big customer, NI did even better. Order growth, excluding the largest customer, came in at 9%, with orders for more than $100,000 soaring by 22% from year-ago levels. Mid-sized orders of $20,000 and $100,000 climbed by 9%, and even small orders under $20,000 were able to grow at a 4% clip in terms of comparable value.
National Instruments saw relatively consistent performance between its two main businesses. Product sales were up 5% from the year-ago quarter, while software maintenance revenue climbed at a 3% rate. Margin on software revenue is much higher, and overall, NI boosted its gross margin by a full percentage point, approaching the 75% mark.
Geographically, the Americas area was the best performer among NI's regions, seeing 7% sales growth. The Europe, Middle East, India, and Africa segment boosted its top line by 3% in dollar terms and 5% in local currencies. Asia-Pacific brought up the rear with 3% growth both in dollar and local currency terms.
What's next for NI?
CEO Alex Davern was happy about the company's recovery. "Our growth has come from an improving industrial economy," Davern said, "and a sharp focus on key growth areas within our markets." The CEO pointed specifically to 5G wireless, semiconductor testing, connected vehicles, and the Internet of Things as key concentration areas going forward.
Moreover, NI is optimistic about the future. The company expects to maintain its disciplined focus, and investments in the wireless, semiconductor, and software arenas should continue to pay off as industry growth in those target areas accelerates.
NI's guidance was mixed on the top line, but encouraging in terms of profits. For the second quarter, the company expects sales of $305 million to $335 million, which looks slightly weak compared to the consensus forecast for about $326 million in revenue. However, adjusted earnings projections of $0.19 to $0.33 per share could be a lot better than the $0.22 per share that most investors are expecting.
NI stock didn't react dramatically to the news in after-market trading following the announcement. From a longer-term perspective, though, the quarter's results show that National Instruments is working hard at redirecting itself toward its best opportunities. If it can continue to remain disciplined and focused, then further fundamental success could easily come in the future.
10 stocks we like better than National InstrumentsWhen investing geniuses David and Tom Gardner have a stock tip, it can pay to listen. After all, the newsletter they have run for over a decade, Motley Fool Stock Advisor, has tripled the market.*
David and Tom just revealed what they believe are the 10 best stocks for investors to buy right now... and National Instruments wasn't one of them! That's right -- they think these 10 stocks are even better buys.
Click here to learn about these picks!
*Stock Advisor returns as of April 3, 2017
Dan Caplinger has no position in any stocks mentioned. The Motley Fool recommends National Instruments. The Motley Fool has a disclosure policy.