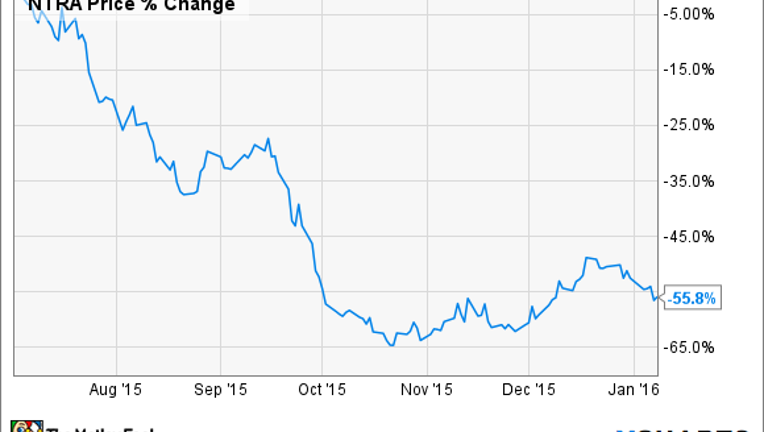 What:Investors in Natera ,acompany focused on non-invasive genetic testing, finally had a month to celebrate. The company's shares soared 20% higher in December,according to data from S&P Capital IQ.
So what:News broke during the month thatMedGenome, a clinical genomic testing company based in India, is now performing the company's Panorama non-invasive prenatal test in its genetics laboratory inBangalore. This represents Natera's first entrance into India, and investors cheered.
Now what:Natera has been a rough stock to own. Shares are down more than 50% since they first hit the public markets.
The sell-off appears to have been caused by pricing pressure concerns. Although the company is successfully growing its testing volume, reimbursement issues have prevented that growth from translating into revenue. The company also faces some serious competition in the space as it is competes directly withIllumina's Verinata Health division. Like Natera, Illumina also offers prenatal testing services that are used to spotchromosomal abnormalities. Competing with a well-financed giant like Ilumina is no small task, so investors should keep a close eye on this rivalry.
Until Natera can prove that it can translate testing volume growth into revenue growth, I'm content to watch this story unfold from the sidelines.
The article Natera, Inc. Surged 20% Higher in December. Here's Why. originally appeared on Fool.com.
Brian Feroldi has no position in any stocks mentioned. The Motley Fool recommends Illumina. Try any of our Foolish newsletter services free for 30 days. We Fools may not all hold the same opinions, but we all believe that considering a diverse range of insights makes us better investors. The Motley Fool has a disclosure policy.
Copyright 1995 - 2016 The Motley Fool, LLC. All rights reserved. The Motley Fool has a disclosure policy.