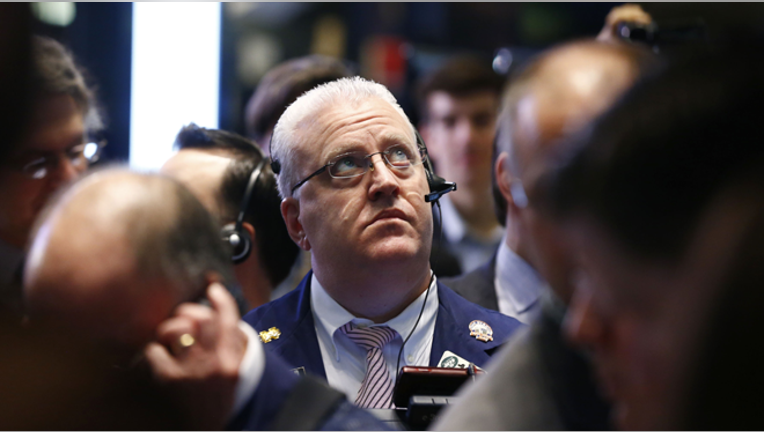 FOX Business: Capitalism Lives Here
U.S. stocks skidded on Monday as traders ditched cyclical stocks and scooped up defensive plays in the utilities and consumer staples sectors.
Today's Markets
As of 2:57 p.m. ET, the Dow Jones Industrial Average fell 120 points, or 0.73%, to 16293, the S&P 500 dipped 16.3 points, or 0.87%, to 1849 and the Nasdaq Composite slumped 45.2 points, or 1.1%, to 4083.
The Nasdaq plummeted 2.6% on Friday in its worst day since early February. The tech-heavy index also posted its worst two-week decline since 2012. The move has come on the back of an intense selloff in once high-flying technology and biotechnology names. Stocks that took a beating on Friday included Google (NASDAQ:GOOG), Amazon.com (NASDAQ:AMZN), and Intuitive Surgical (NASDAQ:ISRG).
That trend continued on Monday as traders sold off shares of economically-sensitive companies, like consumer discretionary, industrial, financial and materials firms. Meanwhile, defensive names in segments such as utilities and consumer staples performed well. Traders also bid up U.S. Treasury bonds, sending the yield on the 10-year bond down 0.034 percentage point to 2.691%.
The sudden shift comes as traders move money from growth stocks into more defensive dividend-paying shares, such as utilities. Peter Boockvar, chief market analyst at The Lindsey Group, said concerns that the economy is still sluggish, yet still growing quickly enough for the Federal Reserve to continue tapering its bond-buying program, was at least partly to blame. This comes at a time when analysts are increasingly discussing a potential bond-purchasing program from the European Central Bank to combat very light inflation in the eurozone.
The U.S. economic calendar is fairly light on the day, with a report from the Federal Reserve on consumers' use of credit due out in the afternoon.
A report out of Europe showing German industrial production slowed to a month-over-month pace of 0.4% in February from 0.7% in January did little to ease traders' nerves.
In corporate news, earnings season kicks off later this week, with companies such as J.P. Morgan Chase (NYSE:JPM), Wells Fargo (NYSE:WFC) and Alcoa (NYSE:AA) set to report. Procter & Gamble (NYSE:PG) also hiked its quarterly dividend by 7%.
Elsewhere, U.S. crude oil futures fell 43 cents, or 0.43%, to $100.71 a barrel. Wholesale New York Harbor gasoline dipped 0.61% to $2.913 a gallon. Gold slipped $3.90, or 0.3%, to $1,300 a troy ounce.