NASCAR Stocks: International Speedway vs. Speedway Motorsports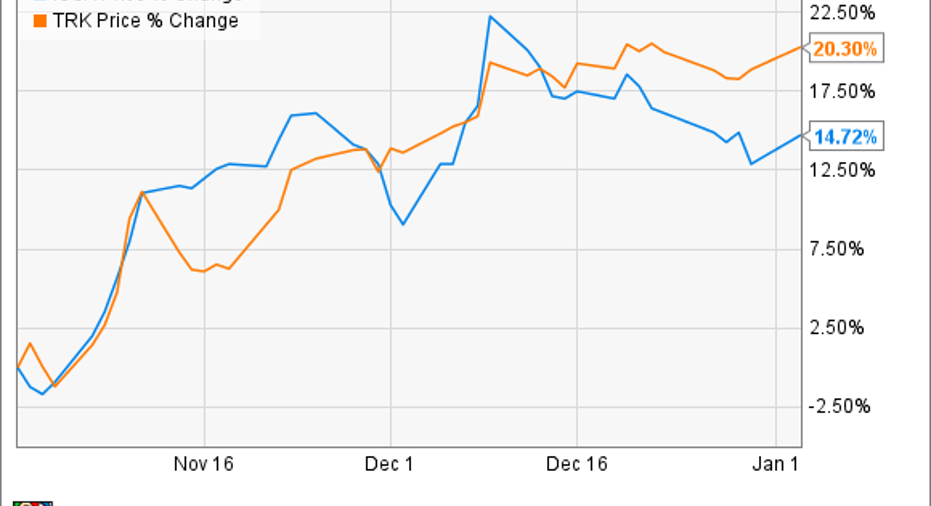 NASCAR stocksInternational Speedway(NASDAQ: ISCA) andSpeedway Motorsports(NYSE: TRK)have both seen double-digit gains since the start of November, with some of the momentum likely tied to Donald Trump's election victory. This may have put them on investors' radar, but there's lots to know before dipping your toe in this sector of the market.
While NASCAR hosts the most-attended live sporting events in America, the racing league has seen customer traffic at its tracks and television broadcast ratings decline. With these pressures at hand, investing in racing sports stocks like International Speedway and Speedway Motorsports comes with added risk. However, NASCAR's uncertain outlook might also provide opportunities for investors willing to bank on a turnaround. With that in mind, which of the two leading NASCAR track stocks would make a better buy?
International Speedway owns the best locations, but could be spending too much
Both International Speedway and Speedway Motorsports generate roughly 95% of their revenues from racing-related businesses, and get the majorityof their motorsports revenues from selling television rights to races at their respective tracks.
Each company has a NASCAR broadcast deal in place through 2024, but an aging fan base and declining television ratings have both track companies trying to build non-motorsports business. International Speedway owns the most tracks at 13, and looks better suited to diversification thanks to its location holdings, but it's unclear whether the company's big investments in track renovations and new businesses will payoff.
The company recently completed a $400 million update to the Daytona track -- installing more comfortable seating and new social centers. While improvements to Daytona should help the company command higher admission prices, the renovations are expected to add only $30 million in EBITDA across the combined 2016 and 2017 fiscal years, raising questions about whether the investment in the property will be worth it.
Image source: Getty Images.
International Speedway is targeting capital expenditures of roughly $500 million from 2017 to 2021, with much of the spending anticipated to go toward renovations at its Phoenix track. The company is also investing $90 million between 2016 and 2017 on the One Daytona mixed-use residential, lodging, shopping, dining and entertainment area, with expectations to generate $9 million in EBITDA for 2016 and $12 million for 2017 -- so it's making big investments that will take a long time to recoup at a time when the core business looks shaky.
Locations such as Daytona and Hollywood Casino at Kansas Speedway probably stand the best chance of attracting year-round business outside the sport, but these contributions might not make a big difference in light of broader NASCAR trends. Across three quarters in fiscal 2016, total non-motor-events revenues accounted for just $24.8 millionof the company's roughly $416 million in sales.
Speedway Motorsports operates eight NASCAR tracks, with its standout locations being Bristol, Texas, and Charlotte, N.C. Like International Speedway, the company is making a push to build new business avenues. Speedway Motorsports recently hosted a college football game at its Bristol track, but additional games have yet to be scheduled, and racing events will continue to be its primary business drivers for the foreseeable future.
Substantial contribution from non-racing business seems to be a ways off for both companies, so while International Speedway owns locations that are better-suited to diversification efforts, this advantage does not look decisive at the moment.
Speedway Motorsports is less expensive and has a better dividend
International Speedway has a market cap of roughly $1.7 billion, while Speedway Motorsports is valued at roughly $900 million. International Speedway also trades at a higher earnings multiple, with a forward price-to-earnings ratio of roughly 23 compared to Speedway Motorsports' forward P/E ratio of 20. It's not a huge difference, but based on this metric, International Speedway has further to fall if negative trends in NASCAR persist and efforts to further leverage track real estate for concerts, festivals, and other events fall short.
On the dividend side, Motorsports crushes International, with a 2.7% yield compared with the larger company's 1.1% yield. The smaller company has posted roughly 19% more free cash flow than International Speedway over their last 12-month reporting periods despite recording 21% less revenue than International Speedway. With big capex plans for the foreseeable future, International Speedway's free cash flow will probably continue to be depressed -- so big dividend increases appear unlikely.
Speedway Motorsports has seen bigger attendance declines than International Speedway, but with plans for capex between $35 million and $40 million for the current fiscal year, it looks like the smaller company will continue to generate better cash flow than its larger rival.
Which NASCAR stock looks best?
Speedway Motorsports has fewer valuable holdings than International Speedway, but its cheaper valuation means it would probably see a bigger bump from a strengthened NASCAR, and its dividend provides some cushion to ride out rough patches. Alternatively, the development of Daytona and other locations as attractions outside of NASCAR could eventually give International Speedway its own form of protection, and the company's earnings should start to improve as it emerges from its heavy spending period.
With continuing declines for the popularity of NASCAR appearing likely, both companies look like risky long-term investments, but I'd go with Speedway Motorsports for its valuation, cash flow, and dividend advantages.
Forget the 2016 Election: 10 stocks we like better than International Speedway Donald Trump was just elected president, and volatility is up. But here's why you should ignore the election:
Investing geniuses Tom and David Gardner have spent a long time beating the market no matter who's in the White House. In fact, the newsletter they have run for over a decade, Motley Fool Stock Advisor, has tripled the market.*
David and Tom just revealed what they believe are the ten best stocks for investors to buy right now... and International Speedway wasn't one of them! That's right -- they think these 10 stocks are even better buys.
Click here to learn about these picks!
*Stock Advisor returns as of November 7, 2016
Keith Noonan has no position in any stocks mentioned. The Motley Fool has no position in any of the stocks mentioned. Try any of our Foolish newsletter services free for 30 days. We Fools may not all hold the same opinions, but we all believe that considering a diverse range of insights makes us better investors. The Motley Fool has a disclosure policy.