NASA Wants a Robotic 3D Printer in Space; These 3 Companies Are Building It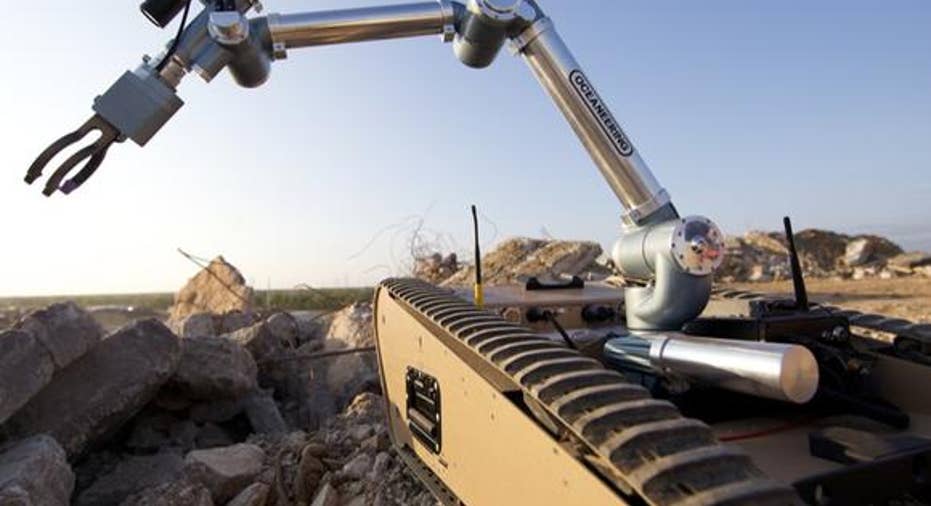 Made In Space's concept of "Archinauts" 3D-printing satellite components in space. Image source: Made In Space.
Made In Space is surely working away on "Archinaut," its most-recent contract win with NASA that involves building a robotic 3D printer with parts aggregation and assembly capabilities for the International Space Station (ISS). The start-up is fresh off its historic achievement in late March of supplying the first permanent 3D printer that's commercially available to the orbiting lab.
Just as 3D Systems and Stratasys are the leaders of the diversified 3D-printing industry on Earth, privately held Made In Space is on track to become the leader in off-Earth 3D printing. Here's what you should know.
Project ArchinautMade In Space was awarded a two-year, $20 million contract with NASA late last year for a project officially known as "Versatile In-Space Robotic Precision Manufacturing and Assembly System," though aptly dubbed "Archinaut." The project is part of NASA's Tipping Points program, which funds demonstrations of space technologies on the threshold of offering significant benefits for government and commercial applications.
Archinaut's ambitious aim is to develop the necessary technologies and subsystems to enable the first 3D printing, aggregation, and assembly of large and complex systems in space without astronaut extravehicular activity. In other words, Archinaut involves building a robotic 3D printer that can autonomously 3D-print a portion of a structure in orbit, grab non-3D-printed parts from orbit, and assemble all the parts to construct large and complex space structures.
If all goes well, the ISS will eventually house Archinaut, a robotic 3D printer in an external pod. Image source: NASA.
Phase I of Archinaut will conclude in 2018 in a series of technology demonstrations involving 3D-printing and assembling a large, complex structure. If these tests are successful, Made in Space hopes to continue the project by enlarging the 3D printer for the ISS, and ultimately equipping it with three robotic arms, according to SpaceNews.com.These arms would be able to grab parts sent into orbit from Earth, and also be able to snatch parts from decommissioned orbiting spacecraft for reuse, and then assemble the final product.
NASA's ultimate goal is to be able to construct spacecraft and other large space structures -- such as antennas and base stations -- in orbit, rather than having to launch them from Earth, which is very pricey and limits design possibilities. Archinaut will also provide entirely new space capabilities for commercial entities, such as satellite manufacturers and emerging space platforms.
An Oceaneering robotic arm. Image source: Oceaneering International.
Made in Space's Archinaut teammatesMade In Space, founded in 2010 and based at NASA's Ames Research Laboratory, is teaming up on Archinaut with aerospace and defense giant Northrop Grumman and Oceaneering Space Systems, part of Oceaneering International . Made In Space will lead the team and develop the 3D printer, while Northrop Grumman will provide expertise in systems engineering and software, and Oceaneering will design and build the manipulator arm.Oceaneering has considerable experience developing various robotic systems.
Benefits of in-orbit manufacturingThe benefits of manufacturing large, complex structures in orbit rather than launching them from Earth include:
Faster delivery time
Cost savings
Ability to revolutionize the design of space structures
The cost-savings potential is illustrated by the fact that it costs roughly $10,000 to launch just one pound of payload into orbit, according to NASA. However, the true cost is likely far higher because all materials and parts going to the ISS have to go through a lengthy and costly certification process.
Further cost savings will be possible if and when matter from space bodies, such as the Moon, Mars, and asteroids, is able to be harvested for use as feedstock for in-space 3D printing. Several companies, such as Planetary Resources and Deep Space Industries, have formed with this goal. Planetary Resources counts billionaires Larry Page, CEO and co-founder of Alphabet,and Sir Richard Branson, founder of the Virgin Group, among its founding investors.
Most exciting, perhaps, is that in-space manufacturing opens up greatly increased design possibilities for spacecraft and other structures. The design of structures launched from Earth is severely limited because they must be made to withstand the powerful gravitational and vibrational forces of the launch, not to mention the Earth's gravitational forces in general, and must be constructed in such a way as to fit inside a rocket.
Investing opportunities?There will certainly be opportunities for individuals to profit from off-Earth 3D printing, or, more broadly, the space economy.Made In Space is a private company, but there's always the possibility that it could go public to raise capital to help fuel further expansion.
The same is true of the asteroid-mining companies. While Northrop Grumman and Oceaneering International are publicly traded companies, they're so huge that their participation in Archinaut isn't likely to notably move the needle with respect to their financial and stock-price performances. That said, it's certainly a positive that they're getting in on the ground floor of the in-space manufacturing industry.
The article NASA Wants a Robotic 3D Printer in Space; These 3 Companies Are Building It originally appeared on Fool.com.
Suzanne Frey, an executive at Alphabet, is a member of The Motley Fool's board of directors. Beth McKenna has no position in any stocks mentioned, though wouldn't mind a manipulator arm that could autonomously pull weeds. The Motley Fool owns shares of and recommends Alphabet (A and C shares). The Motley Fool recommends 3D Systems, Oceaneering International, and Stratasys. Try any of our Foolish newsletter services free for 30 days. We Fools may not all hold the same opinions, but we all believe that considering a diverse range of insights makes us better investors. The Motley Fool has a disclosure policy.
Copyright 1995 - 2016 The Motley Fool, LLC. All rights reserved. The Motley Fool has a disclosure policy.