Mylan sees 3Q loss due to settlement for EpiPen overcharges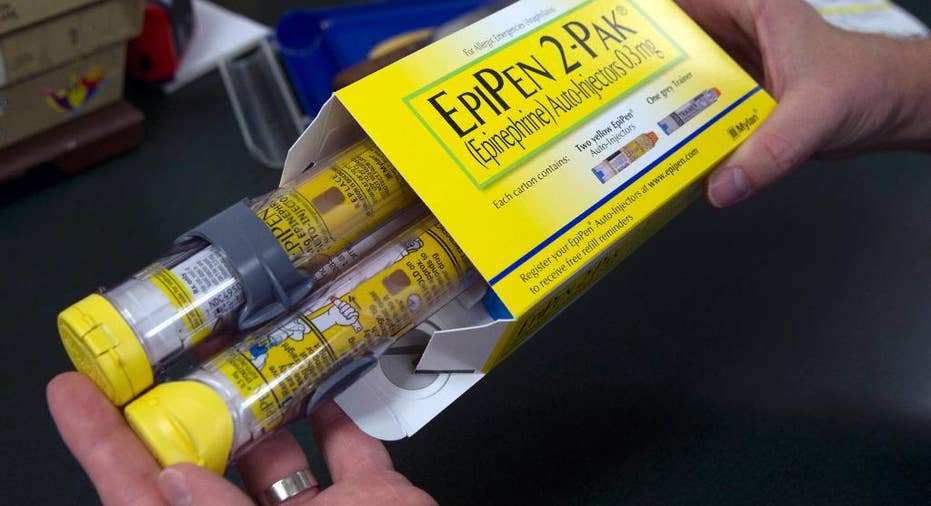 Drugmaker Mylan Inc. swung to a third-quarter loss, mainly due to a big settlement for overcharging the federal government for its controversial EpiPen, the emergency allergy injector whose price Mylan has repeatedly jacked up. The results missed Wall Street expectations, and Mylan reduced its 2016 profit forecast.
In early October, Mylan said it would pay $465 million to settle allegations that it overbilled Medicaid for years for its life-saving EpiPen. The settlement with the Department of Justice follows news that EpiPen has been incorrectly classified since late 1997 as a generic product under the Medicaid health program for the poor and disabled, rather than as a brand-name drug, which requires rebates to Medicaid nearly twice as high as for generic medicines.
That charge, other litigation costs and higher spending on marketing, administration and research doubled Mylan's operating expenses in the latest quarter.
On Wednesday, Mylan reported a third-quarter loss of $119.8 million, or 23 cents per share, after reporting a $428.6 million profit in the same period a year earlier. Earnings, adjusted for non-recurring costs, came to $1.38 per share, well below the $1.50 per share analysts expected.
Mylan has become the latest poster child for pharmaceutical industry price-gouging, for hiking the price of a pair of EpiPens from $94 in 2007, when it acquired the product, to $608 this year, despite making no substantive improvement to EpiPens over that stretch. Meanwhile, analysts and others have estimated that it costs less than $10 to produce one EpiPen.
Mylan, which mostly makes generic drugs, posted revenue of $3.06 billion in the third quarter, also missing Street forecasts, which averaged $3.23 billion.
Mylan said it now expects full-year earnings in the range of $4.70 to $4.90 per share, down from its Aug. 9 forecast of $4.85 to $5.15 per share.
In after-hours trading, Mylan shares dipped 2 cents to $38.90, after rising $1.81, or 4.9 percent, to $38.92 in regular trading, when drugmakers and much of the broader markets were up.
_____
Elements of this story were generated by Automated Insights (http://automatedinsights.com/ap) using data from Zacks Investment Research.
___
Follow Linda A. Johnson at www.twitter.com/LindaJ_onPharma